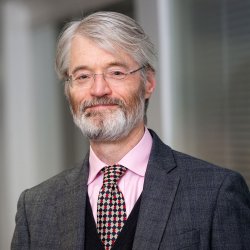 Professor Jeremy Allam
---
Professor of Ultrafast Optoelectronics
Biography
Jeremy Allam obtained his first degree in Physics from the University of Oxford, and his PhD from Surrey. After working for two years at AT&T Bell Laboratories and for three years as a postdoc sponsored by British Telecom, in 1990 he joined the newly-formed Hitachi Cambridge Laboratory where he formed a group working in Femtosecond Optoelectronics. In April 2000 he was appointed to a Chair in Ultrafast Optoelectronics.
University roles and responsibilities
FHEQ Level 6/7 Year Coordinator (Final Year)
Research
Research interests
Jeremy's research interests include ultrafast carrier dynamics in semiconductors for optoelectronic devices, high-speed photonic measurement technologies, and high-field carrier transport. He has recently commissioned a a new ultrafast laser facility comprising laser oscillators and amplifiers, parametric oscillators and amplifiers, and frequency mixers, providing a capability for <100 fs optical pulses from UV to the mid-IR wavelengths.
My teaching
Module leader for PHY3047 Photonics and Nanotechnology.
My publications
Publications
Litvinenko KL, Nikzad L, Allam J, Murdin BN, Pidgeon CR, Harris JJ, Zhang T, Cohen LF
(2007)
Spin lifetime in high quality InSb epitaxial layers grown on GaAs,
JOURNAL OF APPLIED PHYSICS
101
(8)
AMER INST PHYSICS
O'Rourke C, Allam J, Baxter D, Boehringer K, Klaedtke A, Hamm J, Hess O
(2006)
Coherent generation and control of long-lived ultra-short transients in a semiconductor laser - art. no. 61840M,
Semiconductor Lasers and Laser Dynamics II
6184
61840M
pp. M1840-M1840
SPIE-INT SOC OPTICAL ENGINEERING
We investigate the evolution of short-duration pulses injected into laser diodes biased above threshold with the use of spectrally and temporally resolved experimental and numerical methods. We show that stable transients may be formed as a result of spatially re-distributing the cavity energy. By controlling the phase of injected pulses with respect to the diode cavity radiation we show through simulation that it is possible to directly generate and control stable streams of pulses.
Litvinenko KL, Murdin BN, Clowes SK, Nikzad L, Allam J, Pidgeon CR, Branford W, Cohen LF, Ashley T, Buckle L
(2008)
Density and well-width dependence of the spin relaxation in n-InSb/AlInSb quantum wells,
NARROW GAP SEMICONDUCTORS 2007
119
pp. 19-21
SPRINGER
We have grown a series of bulk GaInNAs p-i-n diodes and identified some of the dark current mechanisms present in our devices. With a nitrogen composition of ~4 %, the band gap can be reduced to 0.94 eV. We also demonstrate that low dark current density is achievable without compromising the absorption and hence quantum efficiency up to 1.4 mum.
Two issues with using InGaAsN as absorber in avalanche photodiodes (APDs) for 1310nm wavelength applications are addressed here. Firstly, we demonstrated InGaAsN p-i-n diodes with stable photoresponse around 1310nm but reverse leakage current density slightly above the acceptable limit of ~0.2mA/cm2 at 150kV/cm. We also investigated whether or not InGaAsN as absorber is compatible with Al0.8Ga0.2As (the proposed avalanche material in our separate-absorption-multiplication APD design) in terms of the relationship between ± and ² in InGaAsN. Our observations suggest ± ~ ² in InGaAsN, making it compatible with Al0.8Ga0.2As.
The anomalous behavior of impact ionization in dilute-nitride GaInNAs photodiodes with a range of nitrogen content below 4% is investigated. The ratio of hole- and electron-initiated ionization coefficients, k = ²/±, is enhanced by a factor up to