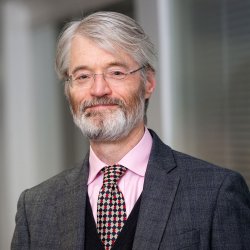 Professor Jeremy Allam
---
Professor of Ultrafast Optoelectronics
About
Biography
Jeremy Allam obtained his first degree in Physics from the University of Oxford, and his PhD from Surrey. After working for two years at AT&T Bell Laboratories and for three years as a postdoc sponsored by British Telecom, in 1990 he joined the newly-formed Hitachi Cambridge Laboratory where he formed a group working in Femtosecond Optoelectronics. In April 2000 he was appointed to a Chair in Ultrafast Optoelectronics.
University roles and responsibilities
FHEQ Level 6/7 Year Coordinator (Final Year)
Research

Research interests

Jeremy's research interests include ultrafast carrier dynamics in semiconductors for optoelectronic devices, high-speed photonic measurement technologies, and high-field carrier transport. He has recently commissioned a a new ultrafast laser facility comprising laser oscillators and amplifiers, parametric oscillators and amplifiers, and frequency mixers, providing a capability for <100 fs optical pulses from UV to the mid-IR wavelengths.
Teaching
Module leader for PHY3047 Photonics and Nanotechnology.