Dr Joanna Gough
---
Lecturer in Translation Studies
Biography
Joanna holds an MA in English Philology from Adam Mickiewicz University, Poland and an MA in Translation from University of Surrey. In 2016 she completed her PhD which examined the patterns of interaction between professional translators and online resources. Shortly after that she was appointed as a Lecturer in Translation Studies at the University of Surrey. Joanna's research interests encompass a variety of language and technology related subjects, such as tools and resources for translators, process oriented translation research, the evolution of the Web and its impact on translation and many more. Joanna is also interested in the business and industry aspects of the translation profession and is a keen advocate of cooperation between academia and industry.
News
In the media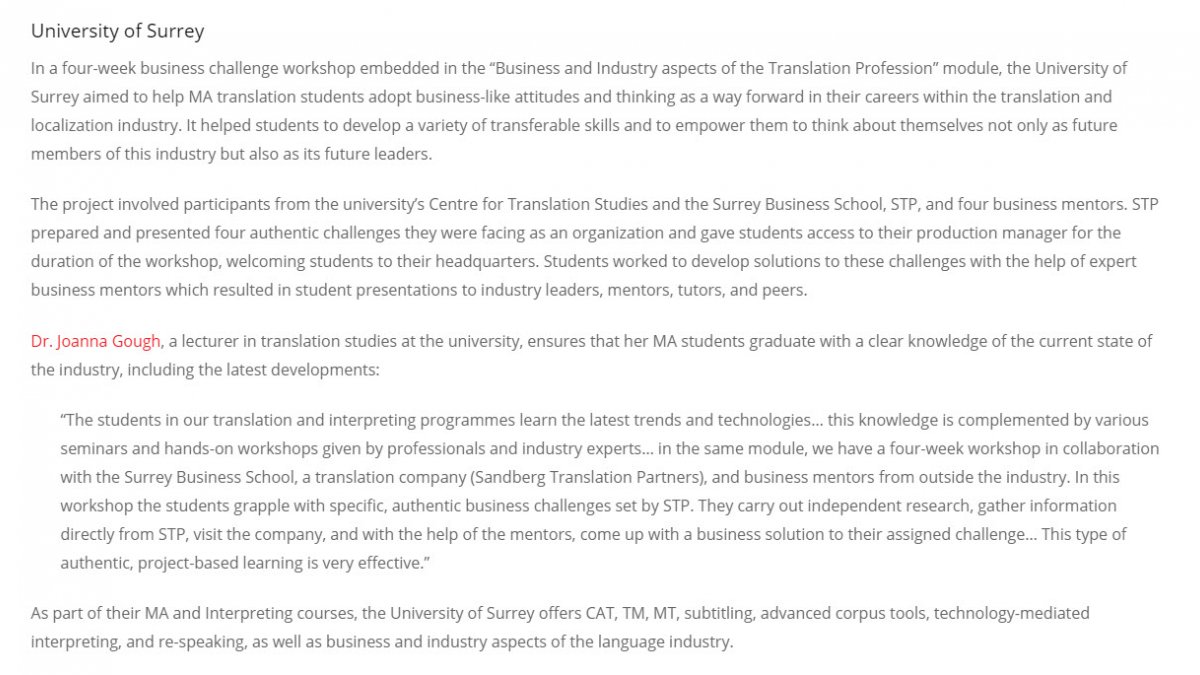 Research
Research interests
Translation technology and its impact on the translation process
Individual differences and translator styles
Process-oriented translation research
Translation-oriented research activities 
Human-computer interaction in translation
Evolution of the Web and implications for translation
Collaborative and distributed translation workflows
My teaching
Teaching:
Business and Industry Aspects of the Translation Profession
Research Methods in Translation Studies 
Introduction to the Translation Profession 
Introduction to Translation Methodology 
Multilingual workshops
Dissertation seminars
PhD Supervision:
Gu, Yi - English to Chinese Corpus - Design, Analysis and Application
Singureanu, Diana - The role of Emotional Intelligence in renegotiating the virtual space in videoconference based remote interpreting
My publications
Highlights
Gough, Joanna (2019) Developing translation-oriented research competence: what can we learn from professional translators?, The Interpreter and Translator Trainer, 13:3, 342-359, DOI: 10.1080/1750399X.2019.1656404
Publications
Peer-reviewed articles
Gough, Joanna and Perdikaki, Katerina (2018) 'Concurrent translation - reality or hype?', Translating and Computer 40 E-Proceedings, London, ASLING 
Gough, Joanna (2011) 'An empirical study of professional translators' attitudes, use and awareness of Web 2.0 technologies, and implications for the adoption of emerging technologies and trends', in: Linguistica Antverpiensia, New Series, 10/2011 Themes in Translation Studies
Book chapter
Gough, Joanna (2018) 'Investigating the use of resources in the translation process', in Gloria Corpas Pastor and Isabel Durán Muñoz (eds.) Trends in e-tools and resources for translators and interpreters. Brill Publishing.
Book chapter review
Corpas, G & Saldhana, G (2015) 'Translation Technology', in: Oxford Handbook of Computational Linguistics, 2nd Edition, Mitkov R (ed.), Oxford University Press
PhD Thesis
Gough, Joanna (2016) The patterns of interaction between professional translators and online resources. PhD Thesis. University of Surrey
Journals/professional bodies articles
Gough, Joanna; Stelmaszak, Marta; Slobodzian-Taylor Katarzyna (2013) 'Web-based tools and resources for translators', in: Managing Information, Vol. 20, Issue 5/6
Gough, Joanna (2013) 'From Translator's black box to Translator's tool box', in: ITI Bulletin, May 2013
Gough, Joanna (2011) 'Interoperability', in: ITI Bulletin, May 2011
Gough, Joanna (2011) 'Imagine you are a translation graduate', 2011, in: TAUS
Gough, Joanna (2011) 'A troubled relationship: the compatibility of CAT Tools', 2010, in: TAUS
Gough, Joanna (2010) 'What options do translators really have?' 2010, in: TAUS
Oral presentations
Gough, Joanna (2018) 'Teaching concurrent translation in a collaborative, cloud-based environment', 1st Annual APTIS Conference, Aston University, Birmingham
Gough. Joanna (2018) 'Translator Styles - do they exist and do they matter in the digital age?', Translation Studies seminar series, University of Manchester
Gough, Joanna and Perdikaki, Katerina (2018) 'Concurrent translation - reality or hype?', Translating and Computer 40, London
Gough, Joanna (2018) 'Translating in the era of digital innovation, automation and AI – opportunities and challenges', FASS Research Festival, University of Surrey
Gough, Joanna (2017) 'Resource types and research styles – the patterns of interaction between professional translators and online resources', 8th International Symposium for Young Researchers in Translation, Barcelona
Gough, Joanna (2016), 'Investigating the 'externalisation' phenomenon - studying the patterns of reusing of the external data in the translation process. Next Generation Translation Tools workshop, Swansea
Gough, Joanna (2013) 'Patterns of interaction between professional translators and online resources. The importance of research in translation studies', TriKonf2013, the Tri-national Translation Conference, Freiburg, Germany 
Gough, Joanna (2013) 'Web-based tools and resources for translation professionals', Mediterranean Editors & Translators Meeting, Tarragona, Spain
Gough, Joanna (2013) 'Web-based tools for translators', ITI Infotech Network Seminar, London 
Gough, Joanna (2013) 'From translator's black box to translator's tool box. Patterns of interaction between the professional translators and on-line search tools and resources', poster presentation at the Postgraduate Research Conference, University of Surrey
Gough, Joanna (2012) 'Tools and Resources for Translation Professionals', The Translating and the Computer Conference 34, London 
Gough, Joanna (2012) 'How can Semantic Web technologies enrich computer-based translation?', poster presentation at the Postgraduate Research Conference, University of Surrey
Gough, Joanna (2011) 'Changing patterns of working: collaboration and its implications for training', EMT Workshop, Guildford 
Gough, Joanna (2011) 'The Implications of Web 2.0 Technologies Based on Openness, Sharing and Collaboration for Professional Translators and their Future', poster presentation given at the ITI Conference based on MA Dissertation, Birmingham (Peer-reviewed)