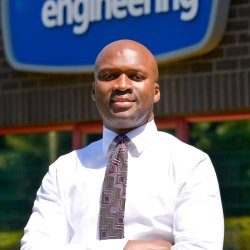 Dr Kajally Jobe
---
Visiting Lecturer of Industrial Chemistry
BSc (Hon), MSc, PhD, CChem, CSci, MRSC
About
Biography
Dr Kajally Jobe is a senior R&D Executive, Chartered Scientist (CSci), Chartered Chemist (CChem) and CIM-Qualified Marketier. He holds a PhD in Chemistry (2009-2013) from Queen Mary University of London (QMUL) under the supervision of Prof. Michael Watkinson (QMUL) and Prof. Stephen Goldup (University of Southampton). He received a BSc (Hon) in Medicinal Chemistry (First Class, Wolverhampton) and an MSc in Synthetic Chemistry with Industrial Collaborations from University of Warwick (Dixon Group). 
Dr Jobe worked as an Innovate UK Research Associate (2014-2017) at the University of Surrey, collaborating with Dr Scott Turner and Dr David Watson, before his appointment as a Visiting Lecturer in 2017. He has led pedagogic developments relating to learning and teaching of Chemistry at a level recognised externally for excellence. He is tasked with contributing to the development and achievements of the University, Faculty and Chemistry Department within the context of an international, research-intensive institution.
Research Interests
Dr Jobe has a proven commercial product development experience, gained managing a 3-year, £220K project between the UK Government, University of Surrey and Advanced Engineering Ltd. This Knowledge Transfer Partnership (KTP) was awarded the highest grade of "Outstanding" by Innovate UK Grading Panel in 2017, for its achievement in meeting the objectives (Certificate No. KTP009427). This completion has enabled the establishment of networks of UK/EU customer channels for innovative chemical products and business metrics to manage them.
Dr Jobe also works as the Head of R&D at Advanced Engineering, specialising in chemicals for the Heating and the Cooling industries, with the aim of increasing food hygiene (biocides), energy efficiency, and reducing equipment downtime. His interest pivots around the interactions between STEM subjects and the 7Ps of Marketing, and how these interfaces add value to the consumer lifestyle. His commercial innovations include CondenCide®, VerteX®, HydroFoam® 2.0, EasyCare®, RTU™ ECD, Ice 'n' Clean®,  D10 Ultimo® and Jally® strips (named after him). Jally® strips are slow-release biocidal products for condensate tray treatment in refrigeration systems. These market-leading antimicrobial agents provide 12 months protection against bacteria, fungi, and algae that cause mal-odour and blockages in cooling systems.
Notable Publications
Affiliations and Memberships
Royal Society of Chemistry - Chartered Chemist, Member (CChem, MRSC)
Science Council - Chartered Scientist (CSci)
Chartered Institute of Marketing - Professional Member
Chartered Management Institute - Affiliate Member
STEMNET - STEM Ambassador
Professional Qualifications
Lean 6-Sigma
Leadership and Management (CMI level 5)
Professional Marketing (CIM Level 4) 
Agile Project Management (Practitioner License No. 2000277844)