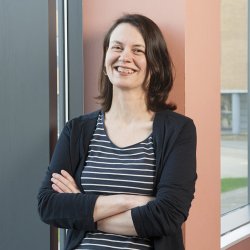 Biography
Kate Burningham is a Reader in Sociology of the Environment; a joint appointment between the Department of Sociology and the Centre for Environment and Sustainability (CES) at the University of Surrey.
Her research interests focus on the social construction of environmental problems, public environmental knowledge, environmental inequalities and sustainable lifestyles.
Research
Research interests
Kate is a co-investigator and Deputy Director of the multi-disciplinary ESRC Research Centre, Centre for Understanding Sustainable Prosperity (CUSP) led by Professor Tim Jackson. Kate leads one of the work themes focusing on the social and psychological dimensions of prosperity exploring how people negotiate their aspirations for the good life https://www.cusp.ac.uk/themes/s1/. One of the projects within this theme is an international study CYCLES: Children and Youth in Cities—Lifestyle Evaluations and Sustainability www.cusp.ac.uk/CYCLES. CYCLES involve research in collaboration with partners in India, Bangladesh, New Zealand, South Africa, Japan and Brazil.
Kate was recently a co-investigator in both the ESRC research group on Lifestyles, Values and Energy Consumption (RESOLVE) and the ESRC, Defra and Scottish Government funded Sustainable Lifestyles Research Group (SLRG) in which she led a qualitative longitudinal project Exploring Lifestyle Changes in Transition (ELiCiT). Past funded research includes: for the ESRC, 'Beyond NIMBY: A Multidisciplinary Investigation of Public Engagement with Renewable Energy Technologies' and 'Understanding Lay Environmental Knowledge in Industry' ; for The Joseph Rowntree Foundation, 'Vulnerability to heat and drought in the South West of England' and 'Rainforests are a long way from here: the environmental concerns of disadvantaged groups'; for the Environment Agency projects researching vulnerability to flooding, public responses to flood warnings, and environmental inequalities and a project for the ESRC, The Environment Agency and Hull City Council exploring children's experiences of flooding in Hull. Kate supervises a number of PhD students located in the Department of Sociology and in CES.
My teaching
In the Sociology Department Kate teaches on a number of research methods modules, offers options on the Sociology of the Environment and on Everyday Consumption and its Consequences and co-ordinates the final year dissertation process. In CES she teaches an introductory module on Social Research Methods for masters and doctoral students.
Supervision
Postgraduate research supervision
I supervise students in sociology of environment, sustainability and consumption. Many of the projects I supervise are multidisciplinary, in collaboration with the Centre for Environment and Sustainability. I am currently supervising 4 students:
Education for environmental citizenship.  Claire Waterfall
Exploring young people's discourses of the good life.  Anastasia Loukianov
Transformation of the Transport System through New Mobility Practices: Intermodal E-Carsharing in the Rhine-Main Region. Anne Scholz
Towards more sustainable food systems: transitioning to plant-based school meals. Elisabeth Guaker
I have supervised 13 students to completion:
A study of personal narratives in community energy. Anna Godleman
The roles of communities and local authorities in the UK sustainable energy transition: a commons and multi-stakeholder governance perspective. Emilia Melville
Promoting Industrial Symbiosis: Analysing Context and Network Evolution during Biowaste-to-Resource Innovations.  Anne Velenturf
Commercialising Zero Carbon Housing Design: Towards an Economic and Socio-Technically Informed Approach. Rehan Khodabuccus
The Swap Model: Policy And Theory Applications For Agent-Based Modelling of Soil and Water Conservation Adoption.  Peter Johnson
Communicating Climate Change: A Study of the Roles of Media and Public Perceptions in Thailand.  Supoj Suttirat
The Improvement Of Greenspace Creation On Brownfield Land.  Gail Atkinson
Constructions of the Environment in Nepal: Environmental  Discourses on Air and on the Ground. Sangita Shreshtha
Examining the social context of land regeneration: a social constructionist approach. Vanesa Castan Broto
Evaluating the sustainability of brownfield redevelopment projects. Kalliope Pediaditi
Stakeholder participation in company approaches to sustainable development.  Abigail Oxley Green
Definition and experience of flooding : residents' and officials' perspectives. Simon McCarthy
Economy class syndrome as a case study in the construction of blame. Claire Haggett