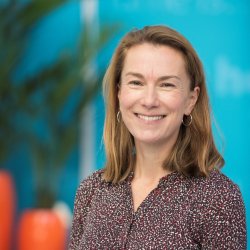 Dr Kate Relph
---
Postdoctoral Reseach Fellow
BSc.PhD
Biography
Biography
Kate currently works within the laboratory of Professor Hardev Pandha at the Postgraduate Medical School. Her role involves writing review articles and book chapters as well as helping the scientists to write and submit their original research papers. In addition to this she is responsible for administering the group's grant applications.
Kate studied Biochemistry at the University of Bristol and spent a year at Roche Pharmaceuticals as part of her industrial sandwich placement. Following this she went on to study for a PhD at the University of Oxford. Her thesis was entitled 'Analysis and exploitation of hypoxia response elements for targeted gene therapy' and part of her time was spent working in the biotechnology company Oxford BioMedica. After this she went on to do a postdoctoral fellowship at the Ludwig Institute for Cancer Research where she developed retrovial vectors to immortalise primary breast cells within the laboratory of Professor Parmjit Jat.
Having had her first child she decided she wanted to move away from the bench but stay in science and began working for Professor Pandha at St George's, University of London as a science writer. When Professor Pandha gained his chair at the University of Surrey Kate moved with him to help set up his group.
Research interests
Gene Therapy - In particular Viral Vectors
Cancer
Immunotherapy
My publications
Publications
Comins C1, Simpson GR1, Rogers W1, Relph K1, Harrington K2, Melcher A2, Roulstone V2, Kyula J2, Pandha H3. Synergistic antitumour effects of rapamycin and oncolytic reovirus. Cancer Gene Ther. 2018 May 3.
Simpson GR, Relph K, Harrington K, Melcher A, Pandha H. Cancer immunotherapy via combining oncolytic virotherapy with chemotherapy: recent advances. Oncolytic Virother. 2016 Jan 6;5:1-13.
Michael A, Relph K, Annels N, Pandha H. Prostate cancer vaccines. Expert Rev Vaccines. 2013 Mar;12(3):253-62.
Heinemann L, Simpson GR, Boxall A, Kottke T, Relph KL, Vile R, Melcher A, Prestwich R, Harrington KJ, Morgan R, Pandha HS Synergistic effects of oncolytic reovirus and docetaxel chemotherapy in prostate cancer. BMC Cancer. 2011 Jun 6;11:221.
■ Promotional leaflet for The Fountain Centre, St Luke's Cancer Centre, Royal Surrey County Hospital, to inform prostate cancer patients of new developments in research and clinical trials. Dec 2007
■ Promotional leaflet for Prostate Project charity to describe the work carried out by our research group Dec 2007
■ Viruses for Cancer Gene Therapy 2008. Edited by Hardev Pandha, Kevin Harrington and Richard Vile. Chapter: Adenoviruses. Kate Relph
■ Treatment of Cancer 5th Edition 2008. Edited by Pat Price Karol Sikora and Timothy Illidge. Chapter: Gene Therapy Kate Relph, Kevin Harrington, Hardev Pandha.
n Sunday Times articles on ageing - Windows on Life. Sunday 16 November 2003
■ Michael A, Relph K, Pandha H Emergence of potential biomarkers of response to anti-angiogenic anti-tumour agents. Int J Cancer 2010 Apr 14
■ Pandha H, D'Ambrosio C, Heenan S, Hyde N, Di Palma S, Nutting C, Relph K, Harrington K. Indium-labelled Autologous Dendritic Cells Migrate to Local Lymph Nodes after Intratumoural Injection in Head and Neck Cancer Patients. Clin Oncol (R Coll Radiol). 2009 Jan 20.
■ Agnieska Michael, Ekaterini Politi, Erik Havranek, Chris Anderson, Kate Relph, Konstantinos N Syrigos and Hardev Pandha. Prognostic significance of erythropoietin expression in human renal cell carcinoma. British Journal of Urology Aug;100(2):291-4. 2007
■ Agnieska Michael, Kate Relph, Eric Havranek, Chris Anderson, Andreas Polychronis, Cathy Corbishley, Hardev Pandha. Prognostic Impact of P53, EGFR and HER2/Neu Proteins on Renal Cell Carcinoma Internet Journal of Urology 1528-8390 2006 Vol4 No1
■ Hardev Pandha, Lindsay Birchall, Brendan Meyer, Natalie Wilson, Kate Relph, Christopher Anderson*, Kevin Harrington. Antitumour effects of aminobisphosphonates on renal cell carcinoma cell lines. Journal of Urology. 2006 Nov; 176(5):2255-61
■ Relph KL, Harrington KJ, Pandha H. Adenoviral strategies for the gene therapy of cancer.Review. Semin Oncol. 2005;32:573-82.Ref ID: 1
n Relph, K.L, Harrington, K and Pandha, H.S. Gene therapy using viral vectors; recent developments and current status in the United Kingdom.- BMJ. 2004 Oct 9;329(7470):839-42.
n Boast, K., Binley, K., Iqball, S., Price, T., Spearman, H., Kingsman, S.M., Kingsman, A. and Naylor, S. (1999) Characterisation of physiologically regulated vectors for the treatment of ischemic disease. Human Gene Therapy 10, 13 p2197-2208