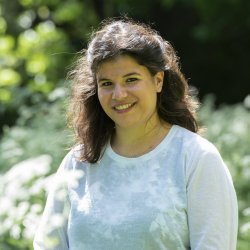 Dr Katerina Perdikaki
---
Associate Teaching Fellow
About
Biography
I completed my PhD entitled "Adaptation as Translation: Examining Film Adaptation as a Recontextualised Act of Communication" at the University of Surrey in 2016. In the same year, I completed the Graduate Certificate in Learning and Teaching, and in 2013, I was awarded an MA in Audiovisual Translation by the University of Surrey. Prior to that, in 2012, I obtained a first-class BA in English Language and Literature from the National and Kapodistrian University of Athens.
I have worked as a freelance subtitler and I am also involved in the membership committee of the International Association for Translation and Intercultural Studies (IATIS).
Research

Research interests

My research interests lie in the area of audiovisual translation, semiotics, as used in the analysis of multimodal and multimedial texts, and in intersemiotic acts of communication as that involved in the film adaptation process. Among my future research plans is to explore the emotional impact that subtitlers undergo when subtitling material of sensitive subject matter.
Teaching
I currently teach the following modules:
TRAM498 Audiovisual Translation I (MA module)
TRAM493 Professional Translation Practice (Greek) I (MA module)
TRAM494 Professional Translation Practice (Greek) IΙ (MA module)
I have also taught the following: Skills for Translating and Interpreting (UG module) and Introduction to Translation and Interpreting (UG module).