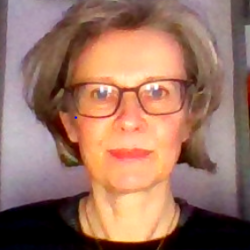 Dr Laura Simonds
---
Senior Lecturer and Academic Director - Clinical Psychology Doctorate
BSc (Hons), PGDipHE, PhD
About
Biography
Dr Laura Simonds has been training clinical psychologists since May 2003 firstly at the Salomons Centre for Applied Social and Psychological Development and subsequently at the University of Surrey from January 2008. She is currently Academic Director and Clinical Examinations Officer for the PsychD Clinical programme. Her research interests focus on decolonising clinical psychology which includes admission to the profession, teaching and training methods, as well as therapeutic practice (e.g. developing trust in therapy with marginalised and oppressed clients). She is co-lead of the clinical psychology doctorate Equality, Diversity, and Inclusion initiatives. From 2017-2021 she was Co-Executive Editor of Arts and Health.
Areas of specialism
Applied Psychology Research Design and Methods;
Equality, Diversity, and Inclusion;
Therapeutic help-seeking, trust, and disclosure
University roles and responsibilities
PsychD Clinical Academic Director

PsychD Clinical Examinations Officer
My qualifications
BSc (Hons) Psychology
PhD in Psychology
Postgraduate Diploma in Higher Education
Affiliations and memberships
Chartered Psychologist
Associate Fellow of the British Psychological Society
Fellow of the Higher Education Academy
Research

Research interests

My research focuses broadly on decolonising clinical psychology. Specific areas include, but are not limited to, the following:

The therapeutic relationship - specifically developing trust with clients from marginalised and oppressed groups; exploring the experience of -isms in therapy from the perspective of both clients and therapists; cultural factors in the recognition and repair of therapeutic ruptures

Decolonising therapeutic spaces - developing more culturally-sensitive therapy settings, techniques and models (challenging the psychology of individualism)

Gender and sexual minority stress - enhancing therapeutic sensitivity and tackling bias; the pathologisation of gender and sexual minority stress (e.g. the diagnosis of BPD)

Pedagogical research - decolonising the curriculum, teaching, and assessment methods
Supervision
Postgraduate research supervision
Teaching
Research Methods and Data Analysis in Applied Psychology
Research Supervision of Clinical Psychology Doctoral Trainees
Publications
Simonds, L.M. & Harvey, R.
(2020)
Evaluating the Acceptability of a Brief Self-Compassion Intervention for Mental Contamination Using a Mixed-Methods Feasibility Study Design