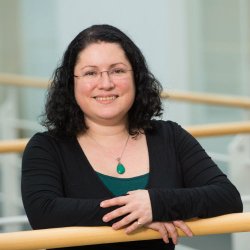 Laurie O'Broin
---
Senior Lecturer, Programme Leader: BSc Business Management - Level 5
MSc, MEng, AFHEA, MBPsS
About
Biography
Laurie O'Broin is a Senior Lecturer at Surrey Business School, University of Surrey, UK. She has research interests in leadership and the importance of interpersonal skills in cross-functional project teams. She is a process-improvement engineer turned organisational psychologist with an MSc in Work & Organisational Psychology from Aston University and an MEng in General Engineering from the University of Durham. She worked for a number of years in process improvement and change management before returning to academia. She is a co-author of a systematic review article on how organisational cognitive neuroscience can aid understanding in managerial decision-making in the Journal of International Management Reviews
Teaching
Semester 1:
MAN3090: International Business Strategy
MAN1103: Foundations of Business Management
MAN1091: Business Skills
MANM009: International Business Management
MANM360: Psychological Assessment In the Workplace
Semester 2:
MAN3110: Globalisation of Emerging Markets (Module Convener)
MAN1089: Business Decision Making
MAN2135: Business & Organisational Psychology
MANM358: Applying Psychology at Work
University roles and responsibilities
Programme Leader: BSc Business Management - Level 5

Academic Integrity Officer
Publications
Butler, M. J.R., O'Broin, H. L.R., Lee, N. and Senior, C. (2016), How Organizational Cognitive Neuroscience Can Deepen Understanding of Managerial Decision-making: A Review of the Recent Literature and Future Directions. International Journal of Management Reviews, 18: 542-559. doi:10.1111/ijmr.12071
Martin, R., Epitropaki, O., & O'Broin, L. (2017). Methodological Issues in Leadership Training Research: In Pursuit of Causality. In Methodological Challenges and Advances in Managerial and Organizational Cognition (pp. 73-94). Emerald Publishing Limited.