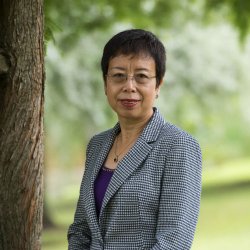 Dr Lian Liu
---
Research Centre manager
PhD
Biography
Dr. Lian Liu joined the University of Surrey in May 2016 as the research center manager and senior research fellow at the Department of Chemical and Process Engineering. Dr. Liu obtained her PhD from the University of Queensland in Australia in 1991 and worked in Carrier Transicold in Singapore for three years after her PhD. She then moved back to the University of Queensland and spent most of her academic career in the same University before moving to the University of Surrey.
Dr. Liu's research expertise is in particle technology and formulations for health applications. Her expertise in particle technology ranging from comminution (particle breakage process) to granulation process (particle size enlargement process) as well as bulk powder flow and compaction and crystallisation. Her expertise on formulations includes novel topical formulations for anti-ageing and wounds healing. Dr. Liu also has a keen interest in advanced nano materials for various applications. She has worked with a wide range of industries such as minerals, agricultural and pharmaceutical and biotech companies.
Affiliations and memberships
University of Queensland, Australia
Honorary senior fellow
Zheng Zhou University, China
Visiting Professor
Chinese University of Mining and Technology
Visiting Professor
Research
Research interests
Milling and grinding - Characterization and modeling
Powder flow and compaction in pharmaceutical formulation engineering
Granulation and crystallization  process  modelling
Topical formulations for anti-ageing and wounds healing
Research projects
Novel formulations for effective and stable skin delivery of anti-aging nutrients
This project will look at the new formulations for effective delivery of anti-aging nutrient to the skin
A novel nanoemulsion for optimised wound recovery: A topical antibiotic-free approach
This project looks into novel formulations in nano emulsion form for topical application for enhanced wounds healing with antibiotics-free approach. This project is sponsored through Innovate UK's young scholar secondment program with host company Phytoceuticals Ltd.
Research collaborations
University of Queensland
Nanjing Tech University