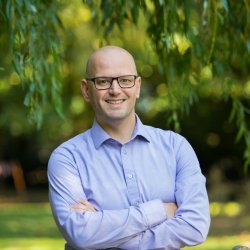 Dr Lorenzo Santorelli
---
Programme Director for Biological Sciences, Senior Teaching fellow in Zoology, Senior Tutor for International Placements
PGCert, MSc, PhD
About
Biography
I have been a biologist all my life, since my curiosity towards nature and animals (especially insects) started when I was really young.
My studies and my academic career made me an evolutionary biologist, a zoologist and microbiologist, and my passion is ethology, entomology and (quite recently) palaeontology. 
I graduate with honours at the University of Florence in Biological Sciences, then obtained MSc and PhD at Rice University (Texas, USA). 
I have worked at the University of Leeds and then University of Oxford, where I also became Junior Research Fellow for St Cross College and Associate Director of the Doctoral Training Centre.
Throughout my career I consistently studies the genetic basis of social behaviour in animals, using model organisms from different Kingdoms (Paper wasps, Social amoebae, Leaf-cutting ants and Pseudomonas aeruginosa) which highlights how some evolutionary processes are intrinsic in every form of life!
I am now focusing my career on teaching, trying to transmit my passion for biology, animals, and nature to our young students. I teach in the fields of zoology, ecology, animal behaviour, microbiology, and evolution. We have now so many pedagogical tools which we can use to improve students' learning, and in the past years I have been using teaching gamification and Virtual Reality.
University roles and responsibilities
Undergraduate Admissions Tutor

Senior Tutor for International Placements
Affiliations and memberships
Fellow of the Higher Education Academy
Member of the British Entomological and Natural History Society
Fellow of the Linnean society
Research

Research interests

My research field has been focusing on evolution of cooperative behaviour in macro and microorganisms using an interdisciplinary approach, involving entomology, molecular biology, genetics, animal behaviour and microbiology.

 
Teaching
During my career I have taught on several courses at graduate and postgraduate levels.
At the University of Surrey I teach on a range of modules for the School of Biosciences and Medicine including: Animal Diversity, Animal Behaviour, Evolutionary origin of Biodiversity, Animal Biology, Molecular Biology, Man and the Environment, Microbial Communities.
My primary focus is to develop courses in the field of Zoology for the programs of Biological Sciences and Veterinary Biosciences
Publications
Highlights
Gan JH, Santorelli LA (2021). Acupuncture in Post-Stroke Shoulder Pain Syndrome with Multiple Sclerosis: A Case Study. Journal of Acupuncture and Meridian Studies 14 (5), 174-175 
Gan JH, Santorelli LA (2016). The effectiveness of exercise programmes in patients with multiple myeloma: a literature review. Critical reviews in oncology/hematology 98, 275-289
Kümmerli R, Santorelli L, Granato E, Dumas Z, Griffin AS, West SA (2015). Co-evolutionary dynamics between public good producers and cheats in the bacterium Pseudomonas aeruginosa. Journal of Evolutionary Biology 28: 2264–2274
Jiricny N, Molin S, Foster K, Diggle SP, Scanlan PD, Ghoul M, Johansen HJ, Santorelli LA, Popat R, West SA, Griffin AS (2014) Loss of Social Behaviours in Populations of Pseudomonas aeruginosa Infecting Lungs of Patients with Cystic Fibrosis. PloS one, 9:1, e83124
Santorelli LA, Kuspa A, Shaulsky G, Queller, DC, Strassmann JE (2013) A new social gene in Dictyostelium discoideum, chtB. BMC Evolutionary Biology, 13:4 doi:10.1186/1471-2148-13-4
Constant N, Santorelli LA, Lopes JFS, Hughes WOH (2012) The effects of genotype, caste and age on foraging performance in Acromyrmex subterraneusleaf-cutting ants. Behavioral Ecology,
Nehring V, Evison S, Santorelli LA, D'Ettorre P, Hughes WOH (2011) Kin-informative recognition cues in ants. Proceedings of the Royal Society B 278, 1942-1948
Waddington S, Santorelli LA, Ryan F, Hughes WOH (2010) Genetic polyethism in leaf cutting ants. Behavioral Ecology. 21, 1165-1169
Khare A, Santorelli LA, Strassmann JE, Queller DC, Kuspa A, Shaulsky G (2009) Cheater-resistance is not futile. Nature. 461, 980-983
Santorelli LA, Thompson CRL, Villegas E, Svetz J, Dinh C, Parikh A, Sucgang R, Kuspa A, Strassmann JE, Queller DC, Shaulsky G. (2008) Facultative cheater mutants reveal the genetic complexity of cooperation in social amoebae. Nature. 451, 1107-1111
Fortunato A, Strassmann JE, Santorelli LA, Queller DC(2003) Co-occurrence in nature of different clones of the social amoeba, Dictyostelium discoideum. Molecular Ecology. 12, 1031-1038
Queller D.C, Zacchi F, Cervo R, Turillazzi S, Henshaw MT, Santorelli LA, Strassmann JE (2000) Unrelated helpers in a social insect. Nature. 405, 784-787