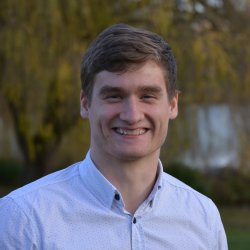 Dr Louie Slocombe
---
Postgraduate Research Student
MPhys (Hons)
About
My research project
The role of quantum tunnelling in point mutations in DNA

My PhD project in the Leverhulme Quantum Biology Doctoral Training Centre focuses on how mismatches between DNA base pairs can be caused by quantum tunneling. All within the framework of a noisy open quantum system. I have future aspirations to extend the model to other applications such as enzyme catalysis.

Supervisors
Teaching
I demonstrate the MODERN COMPUTATIONAL TECHNIQUES (PHY3042) computing labs.
Publications
Slocombe, L. L. and Lewis, R. A.
(2018)
Electrical Versus Optical: Comparing Methods for Detecting Terahertz Radiation Using Neon Lamps
Terahertz radiation impinging on a lit neon tube causes additional ionization of the encapsulated gas. As a result, the electrical current flowing between the electrodes increases and the glow discharge in the tube brightens. These dual phenomena suggest two distinct modes of terahertz sensing. The electrical mode simply involves measuring the electrical current. The optical mode involves monitoring the brightness of the weakly ionized plasma glow discharge. Here, we directly compare the two detection modes under identical experimental conditions. We measure 0.1-THz radiation modulated at frequencies in the range 0.1-10 kHz, for lamp currents in the range 1-10 mA. We find that electrical detection provides a superior signal-to-noise ratio while optical detection has a faster response. Either method serves as the basis of a compact, robust, and inexpensive room-temperature detector of terahertz radiation.