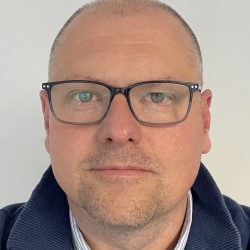 About
Biography
Dr Mark Crabtree is a Senior Lecturer in the School of Biosciences, Faculty of Health and Medical Sciences. After completing his BSc here at the University of Surrey, Mark did his PhD with Professor Steven Gross at Weill Medical College of Cornell University in New York, USA. In 2006 he moved to a Postdoctoral position with Professor Keith Channon in the Division of Cardiovascular Medicine at the University of Oxford. During his time in Oxford he held an Oxford Centre of Research Excellence Fellowship (2012-2014) and a British Heart Foundation Intermediate Fellowship (2015-2021). He returned to Surrey as a Senior Lecturer in 2022. 
His research group focuses on understanding the mechanisms of nitric oxide and redox signalling in molecular models of cardiovascular disease. He has published over 60 original articles in word-leading journals, and his work has been cited over 3000 times. He is an Editorial Board member of the British Journal of Pharmacology and is a regular contributor to the peer review process for FRBM, Nitric Oxide, Cardiovascular Research, ATVB and Circulation Research. 
Mark is an active council member for the Nitric Oxide Society and was the meeting Chair for the International Nitric Oxide Conference in Oxford, 2018.
Research

Research interests

NO-REDOX BALANCE IN CARDIOVASCULAR DISEASE

NO and ROS signal through chemical reactions with specific atoms of target proteins that lead to modification of metal centres and to covalent protein modifications. This notion of NO–Redox balance may be defined by the idea that reactive nitrogen species (RNS) and ROS work together in biological systems to achieve optimal signalling. NO-Redox imbalance arises when cellular signalling is disrupted by either increased ROS or decreased RNS. Moreover, cross-talk exists between the enzymes that produce ROS and RNS, so NO deficiency can in some cases result in increased ROS production. Thus, the interactions between ROS and RNS are multifaceted and strike a balance that can be disrupted at both the cell and organ levels in cardiovascular disease states, as within the dysfunctional endothelium.

A key concept in understanding redox balance in the cardiovascular system is that the effects of ROS and RNS depend on the location, amount, and timing of their production. A major objective of our group is to use novel approaches to investigate whether redox effects are 'transduced' throughout the cell having wider signalling implications in other loci, or whether redox signals remain localized around where the NO/ROS is produced.

 TETRAHYDROBIOPTERIN (BH4) AS A REDOX SENSOR AND EFFECTOR

The redox cofactor BH4 is a critical regulator of NOS function and NO-ROS signalling in cardiovascular disease, and provides an exemplar for studying the effects of altered NO and ROS action. In NOS catalysis, BH4 controls 'coupling' of the haem-oxygen intermediate to L-arginine oxidation, thus controlling the generation of either NO or superoxide and hence is a critical determinant of NO-ROS balance. Superoxide can be rapidly converted to other ROS such as peroxynitrite or hydrogen peroxide (H2O2), and the balance of NO vs. ROS production also influences NO redox state.

We are using models of altered BH4 availability to address the impact of perturbed NO-Redox balance on downstream redox-sensitive protein signalling to answer questions on the functional consequences that these effects may have on cardiovascular homeostasis and disease. These effects include, but are not limited to, protein oxidation, sulfenic acid modification of cysteine residues, and protein S-nitrosylation. Each regulatory mechanism may have unique downstream targets and result in BH4- and redox-dependent signalling via a variety of pathways. Recent findings from our laboratory have revealed that BH4 also has important non-canonical roles on cellular metabolism and mitochondrial function, independent of NOS and NO availability. Thus, BH4 regulation expands the repertoire of redox signalling to include not only NO, but also multiple ROS and NO-ROS effects that are potentially loci specific and important in cardiovascular disease pathogenesis.

We are using Mass Spectrometry based proteomics approaches, combined with the use of fluorescent biosensors to investigate how NO/ROS balance affects cell signalling, with the aim of identifying specific mechanisms and proteins that will provide new targets for future cardiovascular drug treatments. We are particularly interested in the wider impact of subcellular-specific changes on NO-redox balance and the discovery of new redox-related proteins and pathways that govern these effects.

 REGULATION OF MACROPHAGE METABOLISM BY NITRIC OXIDE AND ITACONATE

In cells, there is normally a fine balance between a group of chemicals collectively known as reactive oxygen species and another chemical, nitric oxide (termed NO-redox balance). Both of these chemicals are critical factors in cellular function, playing critical roles in cardiovascular and immune cell homeostasis. Dysregulation of these factors occurs in many disease states, being fundamental to the development of cardiovascular disease and cancer.

My group has recently demonstrated that NO-redox balance is important to preserve normal endothelial function in blood vessels, and orchestrates the metabolic response of immune cells (macrophages) to an inflammatory stimulus. We showed that NO-Redox balance directly regulates the TCA Cycle and the accumulation of the anti-inflammatory metabolite itaconate, via alteration of the synthetic protein cis-aconitate decarboxylase (CAD; Bailey et al, 2019). Linking NO-redox signalling with immune functions has the potential to reveal new regulatory mechanisms behind vascular function, macrophage reprograming and the immune response. Before these proteins and pathways can be harnessed for therapeutic benefit it is important to elucidate the basic and required functions of CAD, its regulation by redox mechanisms, its interaction with other proteins, and the impact that these mechanisms have on itaconate production, downstream signalling, and ultimately cell function. Furthermore, the effect of macrophage-derived itaconate on neighbouring endothelial cells remains unknown, and is an important focus of our current work.

We propose that the redox-regulated functions of CAD are required mechanisms; determining cell function either directly, or through paracrine effects such as macrophage-derived itaconate on endothelial cells. 

Research projects

KEY QUESTIONS...

 

How does subcellular localization of NO-ROS production affect downstream redox effects?

What is the role of the mitochondria in NO-Redox balance? 

What novel proteins and pathways are specifically regulated by changes in NO-Redox signalling?

What are the non-canonical roles of BH4 in regulating cellular homeostasis?

How do NO and CAD orchestrate cellular redox mechanisms and macrophage function?

By what mechanisms do NO and ROS determine CAD activity and itaconate levels?

Is CAD/itaconate a 'master regulator' of immunometabolism?

Research collaborations

 

University of Oxford:

Marina Diotallevi, Keith Channon Gillian Douglas and Craig Lygate (Division of Cardiovascular Medicine)

Benedikt Kessler and James McCullagh (Target Discovery Institute and Department of Chemistry)

 

Others:

Phil Eaton (King's College, London UK)

Melanie Madhani (Birmingham University, UK)

Daniel McVicar (NIH, USA)

Harry Ischiropoulos (University of Pennsylvania, USA)

Jillian Simon (Temple University, Philadelphia USA)
Supervision
Postgraduate research supervision
Supervision of PhD, Masters and BSc dissertation students.
Primary Supervisor:
Priyanka Patel - PhD student
Co-supervisor:
Rahme Safakli - PhD student
Please do get in touch if you are interested in working / studying in my group.