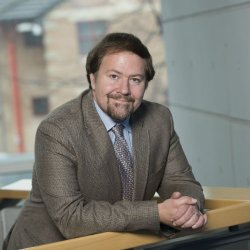 Professor Michael Hughes
---
Examinations Officer, Department of Mechanical Engineering Sciences
About
Biography
Originally from tiny Holy Island of the northwest coast of Wales, Mike Hughes was inspired to a life in science by the popular TV series Cosmos, in which the presenter (Carl Sagan) looked at the interconnected nature of the different aspects of science.  Faced with a choice between engineering and life sciences, he chose to do a degree the former but was able to combine both in his PhD of a newly emerging field of bioelectronics.  Following a brief period of postdoctoral study in Glasgow, Prof Hughes was appointed as a Lecturer in Biomedical Engineering at the University of Surrey in 1999, rising to the rank of Professor by 2008.  During that time, he has become preeminent in the field of bioelectronics; he has published over 80 journal papers on the topic (cited over 5000 times), as well as two books and five patents.  He was also Editor in Chief of one of the leading journals in the field, IEEE Tranactions on Nanobioscience, for 6 years.  His research has also led to the formation of a pair of companies (DEPtech and DEParator) making technology developed in his group at Surrey.
University roles and responsibilities
Director, Centre for Biomedical Engineering

Examinations Officer, Department of Mechanical Engineering Sciences
My qualifications
1992
MEng Electronic Engineering
University College of North Wales, Bangor
1995
PhD in Bioelectronics
University College of North Wales, Bangor
Research

Research interests

My research is in the area of bioelectronics, most specifically in a phenomenon of dielectrophoresis (DEP).  DEP is the name given to micro- or nano-particle movement due to the interaction with certain kind of electrical field; the speed and direction of movement depends on the resistance and capacitance of the particle and the frequency of the electric field; analysing the response as a function of frequency allows those properties to be measured, whilst mixtures of particles with different properties can be separated at frequencies where their responses are different. Whilst my group has looked at a range of particles including proteins, DNA, nanowires, carbon nanotubes and clay, the primary focus has been on cells - including cancer, stem cells, bacteria and yeast.  

My principal line of research is the development of new technology to exploit the DEP effect. We have developed a new chip technology - called the DEP-Well - which has dramatically increased the speed, accuracy and throughput of technology.  For example, we have built a tool for measuring the mean electrical properties of 20,000 cells in 10 seconds (current gold-standard technology measures one cell in 5 hours); and have recently build the world's fastest cell separator, capable of sorting 200,000 cells per second.  Both of these technologies require no special chemicals, needing only a low-cost disposable chip; both have also been commercialisd, with the former now being sold as the DEPtech 3DEP and the latter as the DEParator.

We have used the technology to meet a number of scientific needs, including an electrophysiology-based test for oral cancer and a new method for sorting blood cells.  Investigations using the technology have given new insights into cell death and responses to anti-cancr treatment.