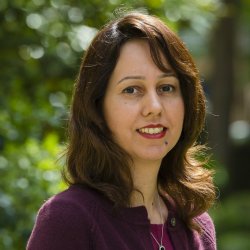 Dr Mona Chitnis
---
Senior Lecturer in Energy Economics
PhD, MSc, BSc
Biography
Biography
Mona is a Senior Lecturer in Energy Economics and Director of Surrey Energy Economics Centre (SEEC) at the School of Economics, University of Surrey where she joined as a Lecturer in 2014. She was a Lecturer in Economics at the Department of Economics, University of Aberdeen in 2013-2014. Mona was a Research Fellow in the multidisciplinary Sustainable Lifestyle Research Group (SLRG) and Research Group on Lifestyles, Values and Environment (RESOLVE) at the Centre for Environmental Strategy (CES), University of Surrey in 2006-2013. Before joining CES, she worked for almost ten years in the Macroeconomics Department of Management and Planning Organisation (Government) in Tehran as an Expert in Economics and State Planning, and lectured at Alzahra University in Tehran. Mona obtained her BSc, MSc and PhD (2005) all in Economics from the University of Tehran.
Research interests
General: energy economics, environmental economics, applied econometrics, applied microeconomics.
Current research interest: energy demand modelling, rebound effects, energy efficiency and emissions.
Teaching
Energy Economics and Technology (ECOM026-PGT)
Energy Economics (ECO3012-UG)
Departmental duties
Director of Surrey Energy Economics Centre (SEEC)
Member of the Faculty Ethics Committee
Member of the Faculty Equality, Diversity and Inclusion Committee (EDIC)
Awards
Faculty EC Teacher of the Year Award 2017
Research projects
Centre for Research into Energy Demand Solutions (CREDS), Theme: Digital Economy, EPSRC/ESRC.
STEP-IN: "Using Living Labs to roll out Sustainable Strategies for Energy Poor Individuals", EU H2020.
"Investigating the market for green heat", Surrey Living Lab.
"Free clean solar energy by 2035", Surrey Living Lab.