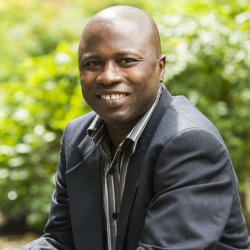 Dr Morro ML Touray
---
Research Fellow in Health Economics
MSc (GCU), MSc (LSE), PhD (USW)
Biography
Morro Touray gained an MSc in Development Management (with distinction) from Glasgow Caledonian University in 1999 and an MSc in Health Policy, Planning and Finance specialising in Health Economics from London School of Economics and Political Science in 2005. He also holds a PhD from the University of South Wales. His PhD focused on overweight and obesity and uses health, conventional and behavioural economic theories to explore demand for excess-weight related preventive goods by the UK's adult population.
Morro has worked in several countries and on various research projects. He has extensive working experiences in The Gambia, West Africa where he was a member of the Pneumococcal Polysaccharide Conjugate Vaccine Trial (PVT) with the Medical Research Council (UK) Laboratories. He designed and implemented the economic evaluation component of the study. PVT was one of the largest clinical trials in Africa and involved 17,437 participants aged 40–364 days. 
With the University of South Wales and Cardiff University, he worked on a number projects including:  DECIDE - a diabetes management trial, HELP - obesity intervention trial in pregnant and postpartum women, FRAGMATIC - a lung cancer clinical trial, and CONSTRUCT – a study on the comparison of infliximab and ciclosporin in steroid resistant ulcerative colitis. With University of Surrey, some of his projects include: RICHFIELDS – H2020 project intended to assess introduction of facilities, structures and services for provision of data on food production, preparation and consumption to inform research on health behaviours and PD_Manager – another Horizon 2020 funded project being implemented by a consortium of partners from different EU member countries with the aim of providing appropriate and timely information to support decision making in the care, treatment and management of Persons with Parkinson's.
Prior to joining the University of Surrey, Morro worked as a Research Fellow for the University of South Wales in the Health Economics and Policy Research Unit. He also held a Research Fellow position at Swansea University in the Swansea Centre for Health Economics. 
Affiliations and memberships
1. The Association for the Study of Obesity - UK (ASO)
2. The International Association for the Study of Obesity (IASO)
3. Welsh Health Economist Study Group (WHEG)
Research
Research interests
Morro's specific area of interest is in economic evaluations of health related to overweight / obesity and related issues, and the understanding of behavioural dimension of diseases (including cultural and traditional practices) and their influence on healthcare resources. He also has research interest in economic analysis along clinical trials; global health; zoonotic, tropical and infectious diseases; health policy and systems in low income and developing countries; health services and health outcomes research; health technology assessment; and evidence synthesis for decision making in healthcare.
My teaching
Advanced Topics in Health Economics (ECOM050)