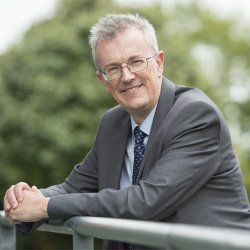 About
Biography
Nick Ridler is the Science Leader for Electromagnetics and a Principal Research Scientist at the UK's National Physical Laboratory.  His main area of research is high-frequency precision electromagnetic measurement. Nick is Chair of the IEEE MTT-S AdCom "Standards Coordinating Committee"; Chair of IEEE Standard Working Group P1785 "Waveguide for Millimeter and Submillieter Wavelengths", Vice-chair of IEEE Standard Working Group P287 "Precision Coaxial Connectors at RF, Microwave and Millimeter-wave Frequencies", and, Member of IEEE MTT-4 "Terahertz Technology and Applications" Technical Committee.
Nick is also a Past President of ARFTG (2011-2013), Emeritus Chair of IEEE MTT-11 "Microwave Measurements" Technical Committee (2010-2012) and Emeritus Chair of the IET "RF & Microwave Technology" Technical Professional Network (2009-2012).  He represents the IEC on the BIPM Joint Committee for Guides in Metrology (JCGM) Working Group 1 "Expression of Uncertainty in Measurement (GUM)".  Nick is an IEEE Fellow (FIEEE), IET Fellow (FIET) and Chartered Engineer (CEng).
Research

Research interests

High-frequency nonlinear device characterisation
Measurement errors and uncertainties
Measurements for THz electronics applications
High-speed digital Printed Circuit Board (PCB) measurement
RF and microwave measurement.