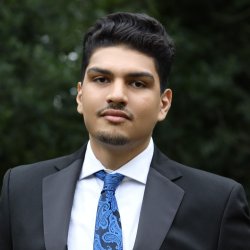 Omar Ismail
---
Postgraduate research student
About
My research project
A combined experimental and numerical study of powder flow through forced feeders in tableting systems

Omar Ismail was awarded a scholarship to study for a PhD at the Department of Chemical and Process Engineering in 2019. He previously obtained a BEng in Automotive Engineering from the University of Surrey in 2017 and then spent a couple of years working in the data analysis industry with companies like Autodesk and DXC technology. His PhD project is a collaborative endeavour between the Department of Chemical and Process Engineering at the University of Surrey and Genetech inc; a company based in San Francisco, California, USA. Genetech inc describes itself as a 'biotechnology company dedicated to pursuing ground-breaking science to discover and develop medicines for people with serious and life-threatening diseases'.

Omar's research focuses on developing and optimising die filling processes in the context of pharmaceutical tablet production. In the case of industrial-scale pharmaceutical tablet manufacture, tablets are produced in continuously operating rotary tablet presses in three key steps, these being: die filling, powder compaction and tablet ejection. Complete and consistent die filling is vital to ensure that the resulting tablets have an accurate and consistent weight and drug dosage. Small-scale linear die filling systems are often used for R&D purposes, as they are much easier to work with. The results can be then applied to full-scale rotary tablet presses using simple geometric corrections.

The key objective of his PhD is to understand and optimise an existing small-scale linear die filling system that uses combined suction and forced feeding; the Huxley Bertram compaction simulator feeder (HBF). Currently, there is no published literature relating to combined forced and suction fed linear die filling systems. Therefore, this work seeks to understand and then optimise this technology for the first time. Results and conclusions relating to the HBF will also relate to other linear die filling systems that use combined forced and suction feeding.