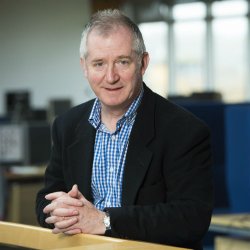 Paul Krause
---
Professor in Complex Systems, Director of Research
Biography
Biography
I graduated with First Class Honours in Pure Mathematics and Experimental Physics at Exeter University in 1977, before moving on to Study for a PhD in Geophysics under Geraint Rosser at the same university. Following that, I then moved on to spells at a number of major research laboratories: The National Physical Laboratory (1980-87); The University of Surrey (1987-89); the Imperial Cancer Research Fund (1989-1996); Philips Research Laboratories, UK (1996-2003). For the last two years at PRL I was working part-time at the University of Surrey before moving to full time at the latter at the beginning of 2003.
Since 1987, my research projects have involved a high degree of interdisciplinarity, although always involving the development of AI, Machine Learning and Data Analytic techniques, especially to the analysis of complex socio-technical systems.
Click here to see my Google Scholar Citation Profile.
I am a Fellow of the Institute of Mathematics and Its Applications (also conferring Chartered Mathematician status) and am also Editor (Computing and Software) of the IET's Open Access Journal of Engineering, and an Associate Editor of Soft Computing.
Research interests
Digital and Industrial Ecosystems as Complex Adaptive Systems
Use of ICT to support sustainable living and social change
Formal models of interactive computing
Practical applications of Machine Learning
Teaching
COM2039: Parallel Programming
COMM049: HTML5 and CSS3 for Mobile Web Applications
Departmental duties
Director of Research
Chair of Academic Misconduct Panel
Chair of Research Management Committee
Publication highlights
News
Media Contacts
---
Contact the press team
Email:
mediarelations@surrey.ac.uk
Phone: +44 (0)1483 684380 / 688914 / 684378 Out-of-hours: +44 (0)7773 479911
Senate House, University of Surrey
Guildford, Surrey GU2 7XH