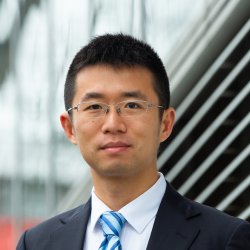 Dr Yunpeng Li
---
Lecturer in Artificial Intelligence
Biography
Areas of specialism

Bayesian inference; Monte Carlo sampling; Target tracking; Statistical machine learning
I am actively looking for PhD students with a strong interest and background in deep learning and Bayesian inference. Please contact me if you are interested in working with me.
Research
Research interests
I am interested in foundational machine learning topics motivated by applications aiming to improve human life and environment. I am currently working on improving the ability of deep neural networks to quantify uncertainty in their predictions, which can benefit vast data science domains, from disease diagnostics to autonomous driving. My work on Monte Carlo sampling and Bayesian classifier fusion has found applications in microwave breast cancer detection, device-free people tracking for smart home, and malaria-vectoring mosquito detection using low-cost mobile phones. My research is impact-driven and received media coverage from MIT Technology Review, Digital Trends, New Scientist, The Guardian, BBC, among other venues.
Research projects
Discover malaria-vectoring mosquitoes from their buzz.
Designing Monte Carlo methods effective for high-dimensional filtering.
Developing machine learning techniques for massive breast screening with microwave scans.
Multiple target tracking in a device-free tracking setting.
My teaching
I teach COM1033: Foundations of Computing II in 2018/19.
I am a Year 1 (undergraduate) Coordinator and Personal Tutor in 2018/19.