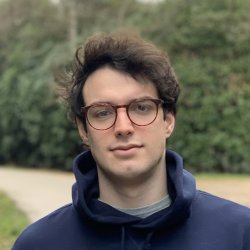 Georgios Papagiannis
"I believe the placement year is an important part of every student's experience at Surrey and crucial in discovering your next career goals."
What was your most useful experience at Surrey?
The most useful experience I've had at Surrey has been the research I conducted for my Final Year Project, which focused on Reinforcement Learning and Optimal Transport. As part of this research, we built a system that learns how to act in specific scenarios, which led to a conference paper submission.
I received tremendous support from my supervisor Dr Yunpeng Li and his PhD students, which went well beyond my research topic. This experience shaped my interest in research and my decision to pursue this path in the future.
How did your placement year influence your final year studies and your path after graduation?
I spend my Professional Training placement year doing research within Surrey's Department of Computer Science, focusing on Reinforcement Learning and Complex Networks control. This allowed me to immerse myself in the research process and confirmed that this is what I wanted to do in the future. It brought numerous challenges in terms of research process and producing good quality research output. I gained experience in how to frame a research question, all the way to addressing it and writing a research paper. I received constant support from my supervisor, Dr Sotiris Moschoyiannis, with whom I published a paper on Reinforcement Learning and control of Probabilistic Boolean Networks, which we presented in Lisbon, Portugal.
I believe the placement year is an important part of every student's experience at Surrey and crucial in discovering your next career goals.
What's your next step after graduation and what are looking forward to in that role?
After graduation I will be studying for an MPhil at the University of Cambridge, with the possibility of going on to a PhD. During my placement year and final year at Surrey I identified research questions in the broader field of Reinforcement Learning and more specifically Imitation and Inverse Reinforcement Learning which I'm really looking forward to addressing during my postgraduate studies.
I believe that during my time at Surrey I gained valuable experiences which have prepared me for becoming a researcher.
Do you have any other thoughts you'd like to share with prospective students?
I would encourage prospective students to get involved in research projects within the Department of Computer Science early on. The learning curve is steep and the experience you gain can be very helpful, regardless of whether you decide to pursue a career in research or in industry.
Doing research as an undergraduate really develops your problem solving skills and, in my experience, academics in the Department are more than happy to work with students who show an interest in research.
Discover our courses in computer science, including our BSc (Hons) Computer Science.