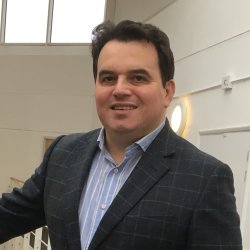 Mr Paul Schoonenberg
---
Senior Teaching Fellow in Professional Development and Employability
BA MBA PGCertHE M.Ed (Distinction) FHEA
About
Biography
Paul Schoonenberg is Senior Teaching Fellow in Professional Development and Employability in the Department of Strategy & International Business at Surrey Business School. He was previously with Aston Business School, teaching across MBA (and MSc) programmes, managing postgraduate employability across MBA and Masters degree programmes as well as Careers and Skills Development Module Lead for the Aston MBA Programmes (Full-Time, Executive, Executive Apprenticeships, Online). He had additional responsibility for delivering study programmes with overseas partner institution Toulouse Business School, in conjunction with the Toulouse Aerospace MBA and Airbus Industrie. He has additionally had experience lecturing and presenting across executive education through the BPS Leadership Development Programme.
Paul draws on over 15 years of professional experience within the private sector, working across the following industry sectors: Oil &Gas, Infrastructure, Banking and Finance, Asset Management, Media and Property. He has worked for and consulted to organisations including: Lloyds Banking Group, BlackRock, Commonwealth Bank of Australia, Abu Dhabi Investment Council, Jones Lang laSalle, Morgan Sindall, Kier Group, UIP, Universal, Siemens and BP. Prior to academia, he advised a wide range of financial, industrial and non-profit organisations, based in the City of London, around talent acquisition, development and management. Paul has significant exposure to a variety of geographical markets, having lived and worked across the UK (England, Scotland), Europe (France, Germany), Middle East (UAE, Oman) and Asia (India, China, Malaysia, Indonesia).
He serves on the UK Committee of the MBA Career Services and Employer Alliance (MBACSEA), is a guest speaker for The European Foundation for Management Development (EFMD) and is a Business school member of the Association of MBAs (AMBA). He has worked in a variety of pro bono activities, including as a Strategic Consultant to Grow Movement, advising African entrepreneurs around their business and professional development, in particular within the area of micro business growth. He was appointed by the late Sir Paul Judge as a member of the Foundation Advisory Board (2016-18) of Judge Business Academies in China, an initiative to assist Chinese pupils to enter and succeed at Western Universities.
Paul retains involvement with global member organisations including: The UK India Business Council, The 48 Group Club (China), IoD, The 88 Initiative, The Society for Competitive Intelligence Professionals (SCIP) and E2Exchange.
University roles and responsibilities
Senior Teaching Fellow in Professsional Development and Employability
Teaching
MSc International Retail Marketing
MSc Operations and Supply Chain in the Digital Era
MSc Human Resources Management
MSc Marketing Management
MSc Business Analytics
Module Leader: MANM422 | MANM423 | MANM424 | MANM425 | MANM426