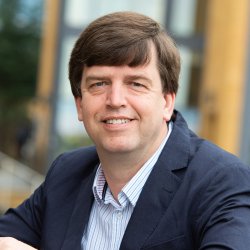 Professor Paul Sellin
---
Professor of Physics
FInstP, CPhys, MIEEE
About
Biography
Paul Sellin received his PhD in Nuclear Physics from University of Edinburgh (UK) in 1992 in the field of semiconductor nuclear detectors. His current  research interests at the University of Surrey include the development and characterisation of radiation detectors and detector materials for applications in nuclear physics, medical imaging, and security detection. His research group focuses on the characterisation and development of new detector materials, including plastic and organic scintillators for mixed field neutron/gamma detection, including digital instrumentation and SiPM readout for neutron/gamma sensitive scintillators. Other interests include radiation-hard materials for extreme radiation applications where high dose rate and/or high temperature capability is required and the application of detector technology to nuclear security science, including new modalities for hazardous material detection and identification.
Areas of specialism
Perovskite Radiation Detectors;
Materials Physics
University roles and responsibilities
Visiting Professor, Department of Medical Physics and Biomedical Engineering, UCL London

Visiting Professor, Department of Physics, University of Wollongong, Australia.
My qualifications
1988
BSc Physics (Hons.) First Class
University of Birmingham
1992
PhD in Experimental Nuclear PHysics, thesis entitled "Proton radioactivity measurements using a double-sided silicon strip detector".

University of Edinburgh
Previous roles
2010 -
2015
Head of Department of Physics
Research

Research interests

My research interests cover the development of radiation detectors and the physics of materials for new detector devices. I have more than 30 years' experience of developing new materials for use in radiation sensors, and the characterization of radiation detectors. My research team is now focussed on the study of perovskite materials for radiation detection applications, and we work on both perovskite semiconductor radiation sensors and also on perovskite scintillators. Our laboratories have well-equipped optical and electrical facilities for the characterization of perovskite materials. We fabricate prototype perovskite radiation detectors and characterise their performance using an extensive range of radioisotope sources and X-ray generators. The group works closely with colleagues in Chemistry and Materials Science to synthesise and develop new perovskite materials, and also with a large number of international partners. 

Research collaborations

Development of Nanocomposite Scintillators

A DTRA-funded project to explore the use of nanoparticles for use in scintillating materials

 

DTRA Interaction of Ionizing Radiation with Matter University Research Alliance.

University of Surrey is an international partner of the DTRA Interaction of Ionizing Radiation with Matter (IIRM) University Research Alliance, which is led by Penn State University.
Supervision
Completed postgraduate research projects I have supervised
My previous PhD students - access to the thesis is via the link:
"Boron-loaded organic semiconductors for thermal neutron detection", Prodromos Chatzispyroglou, 2020, https://openresearch.surrey.ac.uk/esploro/outputs/99512087302346
"Development of EJ-299 plastic scintillator detectors for neutron/gamma discrimination", Christopher Payne, 2020, https://doi.org/10.15126/thesis.00850623
"Light transport modelling of pulse shape discrimination within plastic scintillators", Michael W. J. Hubbard, 2020, https://doi.org/10.15126/thesis.00857773 
"CZT ring-drift detectors for hard x-ray spectroscopy: an investigation of design by experiment and modelling", Victoria H. Boothman, 2017, https://openresearch.surrey.ac.uk/esploro/outputs/99512659802346
"Silicon carbide and diamond neutron detectors for active interrogation security applications", Michael Hodgson, 2016, https://openresearch.surrey.ac.uk/esploro/outputs/99515305502346
"Fabrication and characterisation of gold contacts on CdZnTe radiation detectors", Steven J. Bell, 2015, https://openresearch.surrey.ac.uk/esploro/outputs/99515499902346
"Development of CdTe/CZT Drift Ring Detectors for X and γ Ray Spectroscopy", Aied Alruhaili, 2014, https://openresearch.surrey.ac.uk/esploro/outputs/99512458902346
"Experimental and Simulation Study of Charge Sharing in Pixelated CdZnTe Radiation Detectors Using the PIXIE ASIC", Dimitrios. Kitou, 2013, https://openresearch.surrey.ac.uk/esploro/outputs/99515764402346
"X-Ray Beam Studies of Charge Sharing in small pixel spectroscopic CdZnTe Detectors", Christopher Allwork, 2013, https://openresearch.surrey.ac.uk/esploro/outputs/99514382302346
"Charge Transport and Radiation Induced Defects in Single-Crystal CVD Diamond", Spyridon Gkoumas, 2012, https://openresearch.surrey.ac.uk/esploro/outputs/99511725402346
"Fabrication and Characterisation of Graphite Electrodes for Diamond X-ray Dosimeters"
Hussain Albarakaty, 2011, https://openresearch.surrey.ac.uk/esploro/outputs/99514133102346
"Electric field studies on Cadmium Zinc Telluride Materials"
Georgios Prekas, 2010, https://openresearch.surrey.ac.uk/esploro/outputs/99514084802346  
"Properties of CdMnTe as a room temperature semiconductor radiation detector"
James Parkin, 2009, https://openresearch.surrey.ac.uk/esploro/outputs/99513933002346 
"Charge Transport and Low Temperature Phenomena in Single Crystal CdZnTe"
Matthew Veale, 2009, https://openresearch.surrey.ac.uk/esploro/outputs/99511699002346
"Charge Carrier Transport in THM grown CdTe"
Andrew Davies, 2008, https://openresearch.surrey.ac.uk/esploro/outputs/99512577002346
"Digital Data Acquisition Techniques for Fast Neutron Detection using Liquid Scintillator"
Ghulam Jaffar, 2007, https://openresearch.surrey.ac.uk/esploro/outputs/99511496502346
"Temperature dependent charge transport studies in polycrystalline and single crystal CVD diamond detectors", Annika Lohstroh, 2006, https://openresearch.surrey.ac.uk/esploro/outputs/99515886002346
"Characterisation of Semi-Insulating GaAs and InP for use in Radiation Detection"
Hanan El-Abbassi, 2004, https://openresearch.surrey.ac.uk/esploro/outputs/99516553302346
"Development of CVD Diamond Radiation Detectors"
Arnaldo Galbiati, 2003, https://openresearch.surrey.ac.uk/esploro/outputs/99516676602346
"Development of a Capture-Gated Fast Neutron Detector with Pulse Shape Discrimination using Digital Pulse Processing", Saddig Jastaniah, 2003, https://openresearch.surrey.ac.uk/esploro/outputs/99513766602346
"Design of a GaAs X-ray imaging sensor with integrated HEMT readout circuitry", David Boardman, 2002, https://openresearch.surrey.ac.uk/esploro/outputs/99513741102346
Teaching
My current teaching responsibilities are focused on second year undergraduate programmes in solid state physics, and general physics laboratory classes. I current teach the following modules:
Second Year Solid State Physics Lecture Course
Second Year Physics Laboratory Classes
Masters Research Projects in Detector Physics