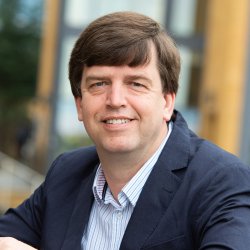 Professor Paul Sellin
---
Professor of Physics
FInstP, CPhys, MIEEE
Biography
Paul Sellin received his PhD in Nuclear Physics from University of Edinburgh (UK) in 1992 in the field of semiconductor nuclear detectors. His current  research interests at the University of Surrey include the development and characterisation of radiation detectors and detector materials for applications in nuclear physics, medical imaging, and security detection. His research group focuses on the characterisation and development of new detector materials, including plastic and organic scintillators for mixed field neutron/gamma detection, including digital instrumentation and SiPM readout for neutron/gamma sensitive scintillators. Other interests include radiation-hard materials for extreme radiation applications where high dose rate and/or high temperature capability is required and the application of detector technology to nuclear security science, including new modalities for hazardous material detection and identification.
Areas of specialism
Detector Physics;
Materials Physics
University roles and responsibilities
Visiting Professor, Department of Medical Physics and Biomedical Engineering, UCL London

Visiting Professor, Department of Physics, University of Wollongong, Australia.
My qualifications
1988
BSc Physics (Hons.) First Class
University of Birmingham
1992
PhD in Experimental Nuclear PHysics, thesis entitled "Proton radioactivity measurements using a double-sided silicon strip detector".

University of Edinburgh
Previous roles
2010 -
2015
Head of Department of Physics
Research
Research interests
My research interests cover the development of radiation detectors and the physics of materials for new detector devices. This work covers a range of topics, including:
Organic materials for use as radiation sensors and organic electronics, including thick film semi-conducting polymers and organic crystals.

High-Z compound semiconductor materials (eg. GaAs, InP, CdTe, CdZnTe) for X-ray and nuclear medicine imaging detectors.

New semiconductor materials for use in extreme conditions, (eg. diamond, silicon carbide, gallium nitride) where high dose rate and/or high temperature capability is required.

Nanostructured scintillators for high efficiency gamma and neutron spectroscopy, with applications in nuclear security and environmental monitoring. 
Research collaborations
Development of Nanocomposite Scintillators
A DTRA-funded project to explore the use of nanoparticles for use in scintillating materials
My teaching
My current teaching responsibilities are focused on second year undergraduate programmes in solid state physics, and general physics laboratory classes. I current teach the following modules:
Second Year Solid State Physics Lecture Course
Second Year Physics Laboratory Classes
Masters Research Projects in Detector Physics