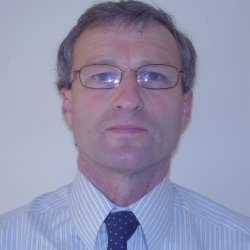 Professor Peter Cockcroft
---
Head of Veterinary Education
About
Biography
Qualifications:
BA (Cantab.)MA (Cantab.)Vet. MB (Bachelor of Veterinary Medicine, University of Cambridge)MSc (Tropical Animal Health and Production, University of Edinburgh)Dip. Dat. (Diploma in Data-metrics, University of Southern Africa)DVM&S (Doctorate of Medicine and Surgery, University of Edinburgh)DCHP (RCVS Diploma in Cattle Health and Production)FHEA (Fellow of the Higher Education Academy)Dip. ECBHM (Diploma European College of Bovine Health ManagementMBA (Australian Institute of Business)
Peter is Professor and Head of Veterinary Education within the School of Veterinary Medicine. He is an experienced production animal clinician and academic. He is a diplomate of the European College of Bovine Health Management and a European Veterinary Specialist.
His most recent position was at the School of Animal and Veterinary Sciences, University of Adelaide, South Australia where he was Professor of Ruminant Health. He held the positions of Head of the Production Animal Health Department and Associate Head (academic). He was responsible for the design and implementation of the DVM program curriculum, the production animal capital projects and the production animal veterinary health business centre during the start-up phase of the veterinary school. Previously Peter has held academic positions within the Department of Veterinary Medicine, University of Cambridge and the Medical University of Southern Africa. He has spent 8 years in private practice and was director of a production animal health CPD company.
Peter has published 5 veterinary books: 'Clinical Examination of Farm Animals' 'A Handbook of Evidence-based Veterinary Medicine'; 'Handbook of Clinical Veterinary Research' 'A handbook of Pig Medicine and 'Bovine Medicine'.
Research interests
Peters' current pedagogical research interests include clinical reasoning, clinical research methodology, evidence-based veterinary medicine and Models of Engaged Learning and Teaching (MELT). Peter's current production animal research interests include improved methods of targeted disease monitoring and surveillance for Johnes' disease (Mycobacterium avium partuberculosis) and Bovine TB (Mycobacterium bovis) using colostral antibodies and BVDV infections in sheep and alpacas.
Publications
Recent publications 2014-present
Cockcroft,P, Mackie,I, Perry,J, Caraguel,C, Townsend,K, Reichel,M, 2016, Cross-sectional observational survey of serum biochemistry values in a population of 69 adult female alpacas (Vicugna pacos) in South Australia, Australian Veterinary Journal, 94, 4, 125-126 10.1111/avj.12421
Evans,CA, Cockcroft,PD, Reichel,MP, 2016, Antibodies to bovine viral diarrhoea virus (BVDV) in water buffalo (Bubalus bubalis) and cattle from the Northern Territory of Australia, Australian Veterinary Journal, 94, 11, 423-426 10.1111/avj.12517
Jenvey,CJ, Reichel,MP, Cockcroft,PD, 2016, The diagnostic performance of an antibody enzyme-linked immunosorbent assay using serum and colostrum to determine the disease status of a Jersey dairy herd infected with Mycobacterium avium subspecies paratuberculosis, Journal of Veterinary Diagnostic Investigation, 28, 1, 50-53 10.1177/1040638715612873
Cockcroft,PD, Dornin,LE, Lambert,RC, Perry,J, Reichel,MP, 2015, Serological survey for antibodies against bovine viral diarrhoea virus and Neosporum caninum in a population of South Australian alpacas (Vicugna pacos), Australian Veterinary Journal, 93, 12, 476-478 10.1111/avj.12374
Jenvey,CJ, Cockcroft,PD, Reichel,MP, 2015, Production Animal Diseases: The Diagnostic Utility of Colostrum, Springer Science Reviews, 3, 2, 141-151 10.1007/s40362-015-0036-4
Cockcroft,P, Sorrell,E, 2015, Twinning in Holstein-Friesian Dairy Cows: Proportion Carried to Term and Calf Sex Ratios, Veterinary Sciences, 2, 3, 131-134 10.3390/vetsci2030131
Cockcroft,P, Redfern,H, 2015, Bacterial Loads on Skin of Unclipped Gluteal Sites Following Treatment with 70% Isopropyl Alcohol-Soaked Swabs in Dairy Cows, Veterinary Sciences, 2, 3, 206-209 10.3390/vetsci2030206
Jenvey,C, Reichel,M, Lanyon,S, Cockcroft,P, 2015, Optimizing the measurement of colostrum antibody concentrations for identifying BVDV persistently infected calves, Veterinary Sciences, 2, 1, 26-31 10.3390/vetsci2010026
Jenvey,CJ, Reichel,MP, Cockcroft,PD, 2015, Erysipelothrix rhusiopathiae and Mycoplasma hyopneumoniae: the sensitivities of enzyme-linked immunosorbent assays for detecting vaccinated sows of unknown disease status using serum and colostrum, and the correlation of the results for sow serum, colostrum, and piglet serum, Journal of Veterinary Diagnostic Investigation, 27, 2, 211-216 10.1177/1040638714568111
Jenvey,CJ, Weir,AM, Reichel,MP, Cockcroft,PD, 2015, Performance characteristics of ELISA to detect bovine viral diarrhea virus (BVDV) antibodies using colostrum, Open Journal of Veterinary Medicine, 5, 02, 35-41 10.4236/ojvm.2015.52006
Jenvey,CJ, Reichel,MP, Cockcroft,PD, 2015, Investigation of the comparative sensitivity of serum, colostrum and whey for the detection of specific antibodies in sheep vaccinated against Johne's disease, Small Ruminant Research, 123, 1, 193-195 10.1016/j.smallrumres.2014.10.006Cockcroft,PD, Jenvey,C, Reichel,MP, 2014, Role for colostrum and whey in testing for bovine TB and Johne's disease?, Veterinary Record, 175, 23, 597- 10.1136/vr.g7579
Jenvey,CJ, Van Wettere,WHEJ, Reichel,MP, Cockcroft,PD, 2014, Investigation of the impact of oral rennet supplementation on serum globulin concentration in neonatal piglets, Journal of Swine Health and Production, 22, 6, 282-286
Lanyon,SR, Sims,SK, Cockcroft,PD, Reichel,MP, 2014, Comparison of serum, ear notches, and nasal and saliva swabs for Bovine viral diarrhea virus antigen detection in colostrum-fed persistently infected (PI) calves and non-PI calves, Journal of Veterinary Diagnostic Investigation, 26, 6, 783-787 10.1177/1040638714550181