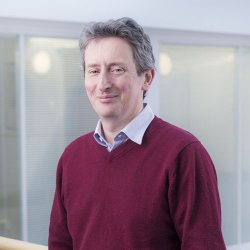 Professor Philip Evans
---
CVSSP and NPL Professor of Medical Radiation Imaging
DPhil CPhys CMath FInstP FIMA FIPEM
Biography
I am Professor of Medical Radiation Imaging in The Centre for Vision Speech and Signal Processing (CVSSP). I joined the university in 2012 with a track record of 25 years in the field of medical radiation imaging and radiotherapy technology. Joining a world leading centre in CVSSP, and a university with such a great portfolio of science and engineering activity as Surrey, was a great opportunity to contribute to the development of the next generation of medical technology.
I have a first degree from The University of Aston and a DPhil from The University of Oxford. I have published over 150 papers in primary journals and over 500 papers in total. I have won grant funding from: Cancer Research UK, The Wellcome Trust, The National Institute for Healthcare Research, The Medical Research Council, EPSRC and STFC.
I am mamber of the Trial Management Group for the IMPORT LOW and IMPORT HIGH Breast Radiotherapy Trials. For more information see: http://www.cancerresearchuk.org/about-cancer/find-a-clinical-trial/a-trial-comparing-different-ways-of-giving-radiotherapy-for-low-risk-early-stage-breast-cancer http://www.cancerresearchuk.org/about-cancer/find-a-clinical-trial/a-trial-comparing-different-ways-of-giving-radiotherapy-for-early-stage-breast-cancer My main interest in these trials has been in medical imaging. This work has led to a NIHR/MRC funded project, IMPORT-IGRT and national recommendations for imaging to verify the accuracy of radiotherapy for breast cancer: https://www.journalslibrary.nihr.ac.uk/programmes/eme/0915016/#/
I am a member of The National Cancer Research Institute CTRad (Clinical and Translational Radiotherapy Research Working Group) since 2015 I have been joint chair of Workstream 4 and an Executive Board Member. For more information see: http://ctrad.ncri.org.uk/
In January 2018 I took on the role of CVSSP and NPL (National Physical Laboratory) Professor of Medical Imaging. The purpose of this activity is to develop the relationship between Surrey University and NPL in medical related research and other activities. 
Research
Research interests
My main research interests involve the application of physics and engineering to medical imaging problems, particularly in radiotherapy. Below are listed some of my current projects:
With researchers at The Royal Surrey Hospital, Alliance Medical Limited and The National Physical Laboratory we are developing quantitative radiomics methods with application to cancer. The main application is to lung cancer where we have developed some promising biomarkers and have evaluated the robustness of some common raidomics markers. In this context there is strong evidence that some features in medical images are a good indication of the likely outcome of the treatment. Such features include metabolism and measures of texture. We are investigating how this may be used to improve patient treatments and predict outcome. We are also investigating how methods of analysis of "big data" might be used to provide greater power in understanding the relationship between imaging and other patient measurements and the success of the treatment.
A major project has evaluated the use of imaging during treatment to improve accuracy of breast radiotherapy. This was carried out as part of a national trial called IMPORT HIGH: http://www.cancerresearchuk.org/about-cancer/trials/a-trial-comparing-different-ways-of-giving-radiotherapy-for-early-stage-breast-cancer. The results of the study are shortly to be published by The National Institute of Healthcare Research and show a clear benefit from using "image guidance" in terms of reduced dose to non-target tissues: http://www.nets.nihr.ac.uk/projects/eme/0915016.
With Elekta Limited and the National Physical Laboratory we are developing methods to allow standardisation of imaging and treatment in MRI guided radiotherapy to support the exciting new concept of the MR Linac dveloped by Elekta.
Ultrasound is a very important imaging method in cancer. It is often used in in conjunction with CT in a treatment called brachytherapy, in which radioactive sources are placed inside the body. Our collaborators at the Royal Surrey are leaders in this treatment method. We are investigating how new approaches to ultrasound, tracking methods and image processing may be used to help develop highly accurate treatments in image guided brachytherapy.
Proton beam radiotherapy is an advanced form of cancer treatment that is seeing great investment in the UK. A major challenge with proton radiotherapy is imaging the patient to ensure the treatment is delivered accurately. Ideally this would be carried out using the proton beam, but this presents several major challenges. The CVSSP medical imaging group were originating members of the Pravda consortium which has developing new imaging methods to obtain 3D images of the patient using the proton beam. This work combining novel detectors and methods of "reconstructing" an image of the patient. Surrey's contribution is in developing the image reconstruction: We presented our work at the 2014 Royal Society Summer Science Exhibition: http://sse.royalsociety.org/2014. This work continues with collaborations within the university and with proton radiotherapy providers.
Research collaborations
The National Physical Laboratory
The Royal Surrey Hospital NHS Foundation Trust
The Royal Marsden Hospital NHS Foundation Trust and The Institute of Cancer Research
Ashford and St Peter's Hospitals NHS Foundation Trust
University Hospitals Birmingham NHS Foundation Trust
The University of Birmingham
iThemba laboratories
Alliance Medical Limited
Elekta Limited
Supervision
Postgraduate research supervision
Aaron Axford is researching for a PhD in "Standardisation of Magnetic Resonance Imaging in Radiotherapy". This project is in partnership with Elekta Limited and The National Physical Laboratory
Helen Wang is researching for a PhD in "Texture Analysis in Radiotherapy". This project is in partnership with Alliance Medical Limited, The Royal Surrey Hospital and The National Physical Laboratory
George Papachristodoulou is researching for a PhD in "New Imaging Techniques for Brachytherapy". This project is in partnership with The Royal Surrey Hospital
Dr Sheaka Alobaidli completed a PhD in "Functional Imaging and Texture Analysis in Radiotherapy Planning (FiNiTe RT)". This project was in partnership with The Royal Surrey Hospital and Alliance Medical Limited
Postgraduate research supervision
Greg Smyth at the Royal Marsden NHS Foundation Trust and Institute of Cancer Research is research for a PhD in "Dynamic couch rotation during volumetric modulated arc therapy (DCR-VMAT)". His supervisors and Dr James Bedford and Prof Jeff Bamber at RMH/ICR and me.
My teaching
BEng/MEng - Electronics 1: Electronic Circuits
BEng/MEng - Electronics 2: Analogue and Digital Electronics
MSc - Therapy Physics
My publications
Publications
Gildersleve J, Dearnaley DP, Evans PM, Swindell W
(1995)
Reproducibility of patient positioning during routine radiotherapy, as assessed by an integrated megavoltage imaging system.,
Radiother Oncol
35
(2)
pp. 151-160
A portal imaging system has been used, in conjunction with a movie measurement technique to measure set-up errors for 15 patients treated with radiotherapy of the pelvis and for 12 patients treated with radiotherapy of the brain. The pelvic patients were treated without fixation devices and the brain patients were treated with individually-moulded plastic shells. As would be expected the brain treatments were found to be more accurate than the pelvic treatments. Results are presented in terms of five error types: random error from treatment to treatment, error between mean treatment position and simulation position, random simulation error, systematic simulator-to-treatment errors and total treatment error. For the brain patients the simulation-to-treatment error predominates and random treatment errors were small (95%
Swindell W, Morton EJ, Evans PM, Lewis DG
(1991)
The Design of Megavoltage Projection Imaging Systems: Some theOretical Aspects,
Medical Physics
18
(5)
pp. 855-866
This study investigates factors associated with the imaging of a patient using a high-energy radiotherapy treatment beam. Both single-stage (e.g., solid-state detector) and two-stage (e.g., scintillation screen plus TV) systems are considered. First an expression is derived that relates dose at the buildup depth in the object to the structure of the object, the scatter-to-primary signal-variance ratio and the differential-signal-to-noise ratio in the image. Second the number of bits required to digitize the image is derived. Third the effect of scattered radiation is investigated for photon counting, photopeak, and Compton detector types. Fourth the effect of noise in the detection process is considered. Finally, the relationship between x-ray source size, detector aperture, and image magnification is derived. The optimum magnification for given source size and detector aperture is discussed in terms of the system transfer function. The study indicates that at a primary beam energy of 2 MeV, a dose of 10-3cGy is required to detect reliably the presence of a bone section of area 10 x 10 mm and thickness 4 mm in 250 mm of soft tissue. For this example, it is also estimated that a digitization accuracy of 10 bits is required. The calculations indicate that for a Compton detector, the scatter-to-primary signal-variance ratio drops from a value of around 30% at the exit surface of the object to 5% at a distance of 80 cm from the object with a consequent small reduction in the dose required to form the image. © 1991, American Association of Physicists in Medicine. All rights reserved.
Tahavoria F, Adams E, Dabbs M, Aldridge L, Liversidge N, Donovan E, Jordan T, Evans PM, Wells K
(2015)
Combining Marker-less Patient Setup and Respiratory Motion Monitoring Using Low Cost 3D Camera Technology,
MEDICAL IMAGING 2015: IMAGE-GUIDED PROCEDURES, ROBOTIC INTERVENTIONS, AND MODELING
9415
SPIE-INT SOC OPTICAL ENGINEERING
Bohndiek SE, Blue A, Cabello J, Clark AT, Guerrini N, Evans PM, Harris EJ, Konstantinidis A, Maneuski D, Osmond J, O'Shea V, Speller RD, Turchetta R, Wells K, Zin H, Allinson NM
(2009)
Characterization and Testing of LAS: A Prototype 'Large Area Sensor' With Performance Characteristics Suitable for Medical Imaging Applications,
IEEE TRANSACTIONS ON NUCLEAR SCIENCE
56
(5)
pp. 2938-2946
IEEE-INST ELECTRICAL ELECTRONICS ENGINEERS INC
Evans PM, Donovan EM, Fenton N, Hansen VN, Moore I, Partridge M, Reise S, Suter B, Symonds-Tayler JR, Yarnold JR
(1998)
Practical implementation of compensators in breast radiotherapy.,
Radiother Oncol
49
(3)
pp. 255-265
BACKGROUND AND PURPOSE: A method of using electronic portal imaging to design compensators for tangential breast irradiation has been developed. We describe how this has been implemented. MATERIALS AND METHODS: The compensator design method generates wedged and unwedged beam weights, in conjunction with templates for multiple lead-sheet compensators and pseudo-CT outlines. The latter describe the breast and lung profiles in a set of transverse slices. The layers of the compensator and pseudo-CT outlines are transferred to a treatment planning system for verification. The accuracy of the planning system for the high transmission blocks used to describe the compensators has been verified using a plotting tank system. Dose volume histogram data and transaxial and sagittal plan slices have been compared for both standard and compensated treatments for a sample set of five patients. RESULTS: The planning system predicted the dose at depths of 1.5 and 5 cm to within 2% for the compensators tested. The biggest source of discrepancy was a consequence of the planning system requiring blocks to have integer percentage transmission. For all patients studied, the compensated treatment resulted in a significant reduction in the percentage volume outside the 95-105% dose, with an average reduction of 10.2%. The percentage volume outside the 95-107% dose was also reduced by typically 3.4%. The implementation was found to yield a convenient automatic method of designing compensators using electronic portal imaging and verifying the results using a planning system. CONCLUSIONS: These results indicate that this method of implementation can be used in practice. The dosimetric accuracy of the treatment planning system is limited by the requirement that blocks should be of integer transmission, but this effect is small.
Zin HM, Konstantinidis AC, Harris EJ, Osmond JPF, Olivo A, Bohndiek SE, Clark AT, Turchetta R, Guerrini N, Crooks J, Allinson NM, Speller R, Evans PM
(2010)
Characterisation of regional variations in a stitched CMOS active pixel sensor,
NUCLEAR INSTRUMENTS & METHODS IN PHYSICS RESEARCH SECTION A-ACCELERATORS SPECTROMETERS DETECTORS AND ASSOCIATED EQUIPMENT
620
(2-3)
pp. 540-548
McQuaid D, Partridge M, Symonds-Tayler JR, Evans PM, Webb S
(2009)
Target-tracking deliveries on an Elekta linac: a feasibility study,
PHYSICS IN MEDICINE AND BIOLOGY
54
(11)
pp. 3563-3578
Purpose: In Part 1 of this two-part work, predictions for light transport in powdered-phosphor screens are made, based on three distinct approaches. Predictions of geometrical optics-based ray tracing through an explicit microscopic model (EMM) for screen structure are compared to a Monte Carlo program based on the Boltzmann transport equation (BTE) and Swank's diffusion equation solution. The purpose is to: (I) highlight the additional assumptions of the BTE Monte Carlo method and Swank's model (both previously used in the literature) with respect to the EMM approach; (II) demonstrate the equivalences of the approaches under well-defined conditions and; (III) identify the onset and severity of any discrepancies between the models. A package of computer code (called phsphr) is supplied which can be used to reproduce the BTE Monte Carlo results presented in this work.Methods: The EMM geometrical optics ray-tracing model is implemented for hypothesized microstructures of phosphor grains in a binder. The BTE model is implemented as a Monte Carlo program with transport parameters, derived from geometrical optics, as inputs. The analytical solution of Swank to the diffusion equation is compared to the EMM and BTE predictions. Absorbed fractions and MTFs are calculated for a range of binder-to-phosphor relative refractive indices (n = 1.1-5.0), screen thicknesses (t = 50-200 ¼m), and packing fill factors (pf = 0.04-0.54).Results: Disagreement between the BTE and EMM approaches increased with n and pf. For the largest relative refractive index (n = 5) and highest packing fill (pf = 0.5), the BTE model underestimated the absorbed fraction and MTF50, by up to 40% and 20%, respectively. However, for relative refractive indices typical of real phosphor screens (n d 2), such as Gd2O2S:Tb, the BTE and EMM predictions agreed well at all simulated packing densities. In addition, Swank's model agreed closely with the BTE predictions when the screen was thick enough to be considered turbid.Conclusions: Although some assumptions of the BTE are violated in realistic powdered-phosphor screens, these appear to lead to negligible effects in the modeling of optical transport for typical phosphor and binder refractive indices. Therefore it is reasonable to use Monte Carlo codes based on the BTE to treat this problem. Furthermore, Swank's diffusion equation solution is an adequate approximation if a turbidity condition, presented here, is satisfied.
This study investigates the use of a mechanically-swept 3D ultrasound (3D-US) probe for soft-tissue displacement monitoring during prostate irradiation, with emphasis on quantifying the accuracy relative to CyberKnife® x-ray fiducial tracking. An US phantom, implanted with x-ray fiducial markers was placed on a motion platform and translated in 3D using five real prostate motion traces acquired using the Calypso system. Motion traces were representative of all types of motion as classified by studying Calypso data for 22 patients. The phantom was imaged using a 3D swept linear-array probe (to mimic trans-perineal imaging) and, subsequently, the kV x-ray imaging system on CyberKnife. A 3D cross-correlation block-matching algorithm was used to track speckle in the ultrasound data. Fiducial and US data were each compared with known phantom displacement. Trans-perineal 3D-US imaging could track superior-inferior (SI) and anterior-posterior (AP) motion to d0.81 mm root-mean-square error (RMSE) at a 1.7 Hz volume rate. The maximum kV x-ray tracking RMSE was 0.74 mm, however the prostate motion was sampled at a significantly lower imaging rate (mean: 0.04 Hz). Initial elevational (right-left; RL) US displacement estimates showed reduced accuracy but could be improved (RMSE
Donovan EM, Yarnold JR, Adams EJ, Morgan A, Warrington APJ, Evans PM
(2008)
An investigation into methods of IMRT planning applied to breast radiotherapy,
BRITISH JOURNAL OF RADIOLOGY
81
(964)
pp. 311-322
BRITISH INST RADIOLOGY
Seco J, Evans PM, Webb S
(2002)
An optimization algorithm that incorporates IMRT delivery constraints.,
Phys Med Biol
47
(6)
pp. 899-915
An intensity-modulated beam optimization algorithm is presented which incorporates the delivery constraints into the optimization cycle. The optimization algorithm is based on the quasi-Newton method of iteratively solving minimization problems. The developed algorithm iteratively corrects the incident, pencil-beam-like, fluence to incorporate the delivery constraints. In the present study, the goal of the optimization algorithm is to achieve the best deliverable radiotherapy plan, subject to the constraints of the delivery technique described by a leaf-sequencing algorithm being applied concurrently. In general, if they are applied after, rather than during, the optimization cycle, the delivery constraints associated with the IMRT technique can produce local variations up to 6% in the 'optimized' dose (i.e., distribution without applied constraints) and reduce the degree of conformity, of the dose, to the PTV region. The optimization method has been applied to three IMRT delivery techniques: dynamic multileaf (DMLC), multiple-static-field (MSF) and slice-by-slice tomotherapy (NOMOS MIMiC). The beam profiles were generated for a prostate tumour with organs at risk being the rectum, bladder and femoral heads. The optimization method described was shown to generate optimum and deliverable IMRT plans for these three delivery techniques. In the case of the DMLC and MSF the optimization converged within 3-5 iterations to a mean PTV dose of 69.60 +/- 1.34 Gy and 69.71 +/- 1.34 Gy, respectively, while for NOMOS MIMiC approximately 10 iterations were needed to obtain 69.68 +/- 1.55 Gy. In addition to this, the IMRT optimization also yielded optimum fluence profiles when clustering was performed concurrently with the leaf-sequencer. An optimum between 8 and 15 clusters of equal fluence 'intensity' was shown to establish the best compromise between the number of fluence levels and the PTV dose coverage.
Castellano IA, Dance DR, Skinner CL, Evans PM
(2005)
Patient radiation doses for electron beam CT,
MEDICAL PHYSICS
32
(8)
pp. 2517-2527
AMER ASSOC PHYSICISTS MEDICINE AMER INST PHYSICS
Yamold J, Donovan E, Bleackley N, Reise S, Peckitt C, Patel S, Sharp G, Ross G, Tait D, Evans P
(2005)
Randomised trial of standard 2D radiotherapy (RT) versus 3D intensity modulated radiotherapy (IMRT) in patients prescribed breast radiotherapy,
EJC SUPPLEMENTS
3
(2)
pp. 390-390
PERGAMON-ELSEVIER SCIENCE LTD
The characteristics of an Elekta Precise treatment machine with a gating interface were investigated. Three detectors were used: a Farmer ionization chamber, a MatriXX ionization chamber array and an in-house, single pulse-measurement ionization chamber (IVC). Measurements were made of dosimetric accuracy, flatness and symmetry characteristics and duty cycle for a range of beam-on times and gating periods. Results were compared with a standard ungated delivery as a reference. For all beam-on times, down to 0.5 s, dosimetric differences were below +/-1% and flatness and symmetry parameter variations were below +/-1.5%. For the shorter beam-on times the in-house detector deviated from the other two detectors, suggesting that this device should be used in conjunction with other detectors for absolute dosimetry purposes. However, it was found to be useful for studying gated beam characteristics pulse by pulse.
Evans PM, Hansen VN, Swindell W
(1997)
The optimum intensities for multiple static multileaf collimator field compensation.,
Med Phys
24
(7)
pp. 1147-1156
A method of determining the optimum beam intensities for compensation using multiple static multileaf collimator fields is presented. In this method a histogram of the number of beam pixels against beam intensity is generated for the intensity-modulated beam (IMB). The intensity of each beam to be used is chosen to minimize the mean square deviation between each bin in the histogram and the closest beam intensity. This method has been applied to sample IMBs possessing one maximum and two maxima. For both cases, the use of uniform beam intensity increments is shown to be close to optimal. In the case with two maxima, the efficacy of irradiating both peaks simultaneously, rather than separately, has been studied and shown to be of potential benefit. The optimum intensities for an IMB for breast radiotherapy are also presented.
Coolens C, Evans PM, Seco J, Webb S, Blackall JM, Rietzel E, Chen GT
(2006)
The susceptibility of IMRT dose distributions to intrafraction organ motion: an investigation into smoothing filters derived from four dimensional computed tomography data.,
Med Phys
33
(8)
pp. 2809-2818
This study investigated the sensitivity of static planning of intensity-modulated beams (IMBs) to intrafraction deformable organ motion and assessed whether smoothing of the IMBs at the treatment-planning stage can reduce this sensitivity. The study was performed with a 4D computed tomography (CT) data set for an IMRT treatment of a patient with liver cancer. Fluence profiles obtained from inverse-planning calculations on a standard reference CT scan were redelivered on a CT scan from the 4D data set at a different part of the breathing cycle. The use of a nonrigid registration model on the 4D data set additionally enabled detailed analysis of the overall intrafraction motion effects on the IMRT delivery during free breathing. Smoothing filters were then applied to the beam profiles within the optimization process to investigate whether this could reduce the sensitivity of IMBs to intrafraction organ motion. In addition, optimal fluence profiles from calculations on each individual phase of the breathing cycle were averaged to mimic the convolution of a static dose distribution with a motion probability kernel and assess its usefulness. Results from nonrigid registrations of the CT scan data showed a maximum liver motion of 7 mm in superior-inferior direction for this patient. Dose-volume histogram (DVH) comparison indicated a systematic shift when planning treatment on a motion-frozen, standard CT scan but delivering over a full breathing cycle. The ratio of the dose to 50% of the normal liver to 50% of the planning target volume (PTV) changed up to 28% between different phases. Smoothing beam profiles with a median-window filter did not overcome the substantial shift in dose due to a difference in breathing phase between planning and delivery of treatment. Averaging of optimal beam profiles at different phases of the breathing cycle mainly resulted in an increase in dose to the organs at risk (OAR) and did not seem beneficial to compensate for organ motion compared with using a large margin. Additionally, the results emphasized the need for 4D CT scans when aiming to reduce the internal margin (IM). Using only a single planning scan introduces a systematic shift in the dose distribution during delivery. Smoothing beam profiles either based on a single scan or over the different breathing phases was not beneficial for reducing this shift.
McNair H, Harris E, Evans P
(2005)
An investigation into the efficacy of automatic marker detection methods applied to intra-fractional prostate motion tracking.,
RADIOTHERAPY AND ONCOLOGY
76
pp. S58-S58
ELSEVIER IRELAND LTD
Mukesh MB, Harris E, Collette S, Coles CE, Bartelink H, Wilkinson J, Evans PM, Graham P, Haviland J, Poortmans P, Yarnold J, Jena R
(2013)
Normal tissue complication probability (NTCP) parameters for breast fibrosis: Pooled results from two randomised trials,
Radiotherapy and Oncology
108
(2)
pp. 293-298
Introduction The dose-volume effect of radiation therapy on breast tissue is poorly understood. We estimate NTCP parameters for breast fibrosis after external beam radiotherapy. Materials and methods We pooled individual patient data of 5856 patients from 2 trials including whole breast irradiation followed with or without a boost. A two-compartment dose volume histogram model was used with boost volume as the first compartment and the remaining breast volume as second compartment. Results from START-pilot trial (n = 1410) were used to test the predicted models. Results 26.8% patients in the Cambridge trial (5 years) and 20.7% patients in the EORTC trial (10 years) developed moderate-severe breast fibrosis. The best fit NTCP parameters were BEUD3(50) = 136.4 Gy, ³50 = 0.9 and n = 0.011 for the Niemierko model and BEUD 3(50) = 132 Gy, m = 0.35 and n = 0.012 for the Lyman Kutcher Burman model. The observed rates of fibrosis in the START-pilot trial agreed well with the predicted rates. Conclusions This large multi-centre pooled study suggests that the effect of volume parameter is small and the maximum RT dose is the most important parameter to influence breast fibrosis. A small value of volume parameter 'n' does not fit with the hypothesis that breast tissue is a parallel organ. However, this may reflect limitations in our current scoring system of fibrosis. © 2013 Elsevier Ireland Ltd. All rights reserved.
Bodey RK, Evans PM, Flux GD
(2005)
Spatial aspects of combined modality radiotherapy.,
Radiother Oncol
77
(3)
pp. 301-309
BACKGROUND AND PURPOSE: A combined modality radiotherapy (CMRT) incorporates both external beam radiotherapy (EBT) and targeted radionuclide therapy (TRT) components. The spatial aspects of this combination were explored by utilising intensity modulated radiotherapy (IMRT) to provide a non-uniform EBT dose distribution. PATIENTS AND METHODS: Three methods of prescribing the required non-uniform distribution of EBT dose are described, based on both physical and biological criteria according to the distribution of TRT uptake. The results and consequences of these prescriptions are explored by application to three examples of patient data. RESULTS: The planning procedure adopted allowed IMRT plans to be produced that met the prescription requirements. However, when the treatment was planned as a CMRT, compared with the use of EBT alone, more satisfactory target doses could be achieved with lower doses to normal tissues. The effects of errors in EBT delivery and in the functional data were found to cause a non-uniform prescription to tend towards the uniform case. CONCLUSIONS: The methods and results are relevant for more general biological treatment planning, in which IMRT may be used to produce dose distributions prescribed according to tumour function. The effects of delivery and dose calculation errors can have a significant impact on how such treatments should be planned.
Smyth G, Evans PM, Bamber JC, Saran FH, Mandeville HC, Bedford JL
(2015)
Fluence-Based Trajectory Optimization for Non-Coplanar VMAT,
MEDICAL PHYSICS
42
(6)
pp. 3434-3434
AMER ASSOC PHYSICISTS MEDICINE AMER INST PHYSICS