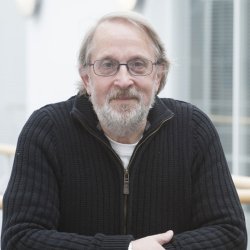 Professor Roger Webb
---
Director of Ion Beam Centre, Professor of Ion Beam Physics
---
Academic and research departments
About
Biography
Roger joined the Department in 1983 as a Research Fellow with the SRC (as it was then - interesting how the EPSRC has gained letters over the years) Surrey Ion Beam Centre. He was employed to look after the computing facilities associated with the research group - a single pdp11, about half of the computer "power" in the department in those days.
Before this he had spent 3 years as a post doc at the Naval Postgraduate School in Monterey California, making Molecular Dynamics Studies and Computer Animations, which is still the main area of his research activities. He did his PhD work in the Electronic & Electrical Engineering Department of the University of Salford, on the Mathematical Modelling of Atomic Collisions in Solids.
He was made a Lecturer in the Department in 1986, promoted to Senior Lecturer in 1993 and then to Reader in 1997, reaching the dizzy heights of Professor of Ion Beam Physics in 2002. He is the current Director of the Surrey Ion Beam Centre.
He has performed research at Penn State College and the Chinese University of Hong Kong.
University roles and responsibilities
Director of the Surrey Ion Beam

Centre Chair of the Facilities Directorate
Affiliations and memberships
Institute of Physics
Member
Computer Simulation of Radiation Effects in Solids (COSIRES)
International Advisory Board
Ion Beam Analysis (IBA)
International Advisory Board
Ion Solid Interactions (ISI)
International Advisory Board
Radiation Effects in Matter (REM)
International Advisory Board
Research

Research interests

Main area of research is the interaction of energetic ion beams with solids.Current research activities include the use of Molecular Dynamics Simulations to predict the behaviour of cluster and molecular impacts on surfaces. As well as the use of more simple Binary Collisions simulations to predict the effects of energetic particle solid interactions, in particular ion implantation profiles in crystalline solids.

Cluster and molecular impacts include fullerene impact induced desorption of molecular solids. Other areas of interest are in automation and control of ion beam analysis equipment. This includes software to automate the collection of data from standard analyses using RBS, PIXE, PIGE, NRA and ERD.

He must also take some responsibility for the windows interface to the Data Furnace for the automated and rapid analysis of experimental ion scattering data. Developments in the use of MeV ion beams for Secondary Ion Mass Spectrometry (SIMS) is also of current interest.

Research Funding

Research Funding over past 10 years:

Knowledge Transfer Partnership on manufacturable X-Ray detectors with Gresham Scientific Instruments and RMGwilliam, £123,792 awarded June 2004.
BioMed Network for High Energy Ion Beams, May '04 - £63,109 - with KJKirkby, GWGrime, SReady, AClough, NSpyrou.
Marie Curie Training Network for Application of MeV Ion Beams to Cell Irradiation Jan '05 - £300,000 - with GWGrime, KJKirkby, NJKirkby - part of a £3M EU grant.
MeV Ion Nanobeams: Nanotechnology for the 21st Century, Sept '05 - £256,845 - with GWGrime, KJKirkby, AClough, RGwilliam, CJeynes.
New Developments in ToF-SIMS Surface Mass Spectrometry with ATR_IR Spectroscopy, Sept '05 - £227,208 - with KJKirkby - part of a £1.9M project with University of Manchester
University of Surrey Ion Beam Centre, March '06 - £2,271,580 - with BSealy, KKirkby, KHomewood, RGwilliam, CJeynes, GGrime.
The Non Scaling Fixed Field Alternating Gradient (NS-FFAG) Accelerator, April '07 - £7,489,380 - with 5 other University groups and KJKirkby.
Enhancing new developments in ToF-SIMS through researcher exchanges, Oct '07 - £109,825 - with JVickerman and NLockyer.
Laser Induced Beams of Radiation and their Applications (LIBRA), Nov '07 - £4,747,342 - with 4 other Universities and KJKirkby.
SPIRIT - Support for Public & Industrial Research Using Ion Beam Technology, March '09 - £1,069,314 (FP7 with 7 other centres, total value ~£5.5M).
Coherent Optical and Microwave Physics for Atomic Scale Spintronics in Silicon (COMPASSS) , February '10 - £6,106,847 - with BMurdin, RMGwilliam, JAl-Khalili and 3 other University groups.
Ambient Pressure Mass Spectrometry at the Sub Micron Scale (MeV-SIMS), December '11 - £1,278,391 - with NWard and KJKirkby.
Teaching
Multi Disciplinary Design Project module coordinator - stage 4 across the faculty MEng project
Instrumentation - 2nd Year Mech Eng Module
Fundamentals of Nanotechnology - MSc module
Fundamentals of Ion Solid Interactions - PG Training Course.