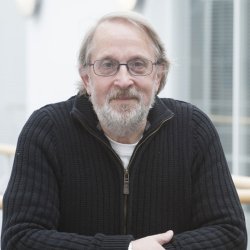 Professor Roger Webb
---
Director of Ion Beam Centre, Professor of Ion Beam Physics
Biography
Biography
Roger joined the Department in 1983 as a Research Fellow with the SRC (as it was then - interesting how the EPSRC has gained letters over the years) Surrey Ion Beam Centre. He was employed to look after the computing facilities associated with the research group - a single pdp11, about half of the computer "power" in the department in those days.
Before this he had spent 3 years as a post doc at the Naval Postgraduate School in Monterey California, making Molecular Dynamics Studies and Computer Animations, which is still the main area of his research activities. He did his PhD work in the Electronic & Electrical Engineering Department of the University of Salford, on the Mathematical Modelling of Atomic Collisions in Solids.
He was made a Lecturer in the Department in 1986, promoted to Senior Lecturer in 1993 and then to Reader in 1997, reaching the dizzy heights of Professor of Ion Beam Physics in 2002. He is the current Director of the Surrey Ion Beam Centre.
He has performed research at Penn State College and the Chinese University of Hong Kong
Research interests
Main area of research is the interaction of energetic ion beams with solids.Current research activities include the use of Molecular Dynamics Simulations to predict the behaviour of cluster and molecular impacts on surfaces. As well as the use of more simple Binary Collisions simulations to predict the effects of energetic particle solid interactions, in particular ion implantation profiles in crystalline solids. Cluster and molecular impacts include fullerene impact induced desorption of molecular solids.Other areas of interest are in automation and control of ion beam analysis equipment. This includes software to automate the collection of data from standard analyses using RBS, PIXE, PIGE, NRA and ERD.He must also take some responsibility for the windows interface to the Data Furnace for the automated and rapid analysis of experimental ion scattering data. Developments in the use of MeV ion beams for Secondary Ion Mass Spectrometry (SIMS) is also of current interest.
Teaching
Multi Disciplinary Design Project module coordinator - stage 4 across the faculty MEng project
Instrumentation - 2nd Year Mech Eng Module
Fundamentals of Nanotechnology - MSc module
Fundamentals of Ion Solid Interactions - PG Training Course
Departmental duties
Director of the Surrey Ion Beam Centre
Chair of the Facilities Directorate
Affiliations
Member of the Institute of Physics
On the International Advisory Boards of the following Conference Series:
Computer Simulation of Radiation Effects in Solids (COSIRES)
Ion Beam Analysis (IBA)
Ion Solid Interactions (ISI)
Radiation Effects in Matter (REM)
Research Funding
Research Funding over past 10 years
Knowledge Transfer Partnership on manufacturable X-Ray detectors with Gresham Scientific Instruments and RMGwilliam, £123,792 awarded June 2004
BioMed Network for High Energy Ion Beams, May '04 - £63,109 - with KJKirkby, GWGrime, SReady, AClough, NSpyrou
Marie Curie Training Network for Application of MeV Ion Beams to Cell Irradiation Jan '05 - £300,000 - with GWGrime, KJKirkby, NJKirkby - part of a £3M EU grant
MeV Ion Nanobeams: Nanotechnology for the 21st Century, Sept '05 - £256,845 - with GWGrime, KJKirkby, AClough, RGwilliam, CJeynes
New Developments in ToF-SIMS Surface Mass Spectrometry with ATR_IR Spectroscopy, Sept '05 - £227,208 - with KJKirkby - part of a £1.9M project with University of Manchester
University of Surrey Ion Beam Centre, March '06 - £2,271,580 - with BSealy, KKirkby, KHomewood, RGwilliam, CJeynes, GGrime
The Non Scaling Fixed Field Alternating Gradient (NS-FFAG) Accelerator, April '07 - £7,489,380 - with 5 other University groups and KJKirkby
Enhancing new developments in ToF-SIMS through researcher exchanges, Oct '07 - £109,825 - with JVickerman and NLockyer
Laser Induced Beams of Radiation and their Applications (LIBRA), Nov '07 - £4,747,342 - with 4 other Universities and KJKirkby
SPIRIT - Support for Public & Industrial Research Using Ion Beam Technology, March '09 - £1,069,314 (FP7 with 7 other centres, total value ~£5.5M)
Coherent Optical and Microwave Physics for Atomic Scale Spintronics in Silicon (COMPASSS) , February '10 - £6,106,847 - with BMurdin, RMGwilliam, JAl-Khalili and 3 other University groups
Ambient Pressure Mass Spectrometry at the Sub Micron Scale (MeV-SIMS), December '11 - £1,278,391 - with NWard and KJKirkby
My publications
Publications
The proton beam writing (PBW) technique was used to fabricate microfluidic structures in SU-8 resist. A network of the buried channels was fabricated as part of a project to develop functional microfluidic device for neuronal studies and self-powered microfluidics. Protons with energies between 2.5 MeV and 0.75 MeV were used to fabricate the buried channels with a minimum feature size of around 1 ¼m and depths of 40?55 ¼m. Roughness of channels sidewalls was around 2.5 nm rms. Exposure regime and examples of functional networks fabricated using PBW are described. COMSOL Multiphysics® software was used to model the flow characteristics of fluid in the SU-8 microchannels structured by PBW. The results obtained using PBW are compared with the structures fabricated by UV-lithography.
Webb RP, Harrison DE, Jakas MM
(1986)
The computer simulation of ion induced atomic collision cascades,
Nuclear Inst. and Methods in Physics Research, B
15
(1-6)
pp. 1-7
The use of computer simulation to understand the physics of atomic collision phenomenon has escalated in recent years. Even with this proliferation of simulation codes the majority of programs fall into two categories - the event store and the time step models. These models are discussed, and a hybrid formed from the two is described. The best uses of each model is indicated and some examples given. The event store simulations give an accurate method of evaluating range data and the time step models conveniently give information on cascade propogation and nonlinear behaviour. © 1986.
Webb RP, Harrison DE
(1982)
Near-threshold sputtering mechanisms from a computer simulation of argon- bombarded clean and oxygen-reacted copper single crystals,
Journal of Applied Physics
53
(7)
pp. 5243-5249
Normal incidence argon-copper sputtering mechanisms have been investigated for ion energies just above threshold. Identical mechanisms operate in both the (111) and (001) surface orientations. Adsorption of an ordered oxygen overlay on the surface does not destroy the ejection processes. Although the mechanisms produce similar ejected atom energy distributions, the processes may be experimentally distinguishable through the angular emission spectrum of the ejected copper atoms.
Carter G, Armour DG, Donnelly SE, Webb R
(1978)
Energy spike generation and quenching processes in ion bombardment induced amorphization of solids,
Radiation Effects
36
(1-2)
pp. 1-13
A detailed analysis of generation and potential recrystallization of amorphous zones resulting from ion irradiation of solid materials is given. The criterion for generation of such spikes is considered to be that sufficient energy is deposited locally to induce melting. Subsequently the heated zone is considered to cool via unperturbed thermal diffusion from an initial temperature distribution of Gaussian form, although the expected ellipsoidal geometry is idealized to spherical symmetry for analytical convenience. Recrystallization is considered to occur via a thermally activated process during spike quenching and criteria for crystallization at both zone boundaries and centers are deduced. These criteria are shown to correspond well to earlier analyses, but other parameters such as substrate temperature and energy deposition density are found to be of considerable importance. Suggestions for more accurate modeling are also examined.
Webb R, Garrison B
(2001)
Fifth International Conference on Computer Simulation on Radiation Effects in Solids,
NUCLEAR INSTRUMENTS & METHODS IN PHYSICS RESEARCH SECTION B-BEAM INTERACTIONS WITH MATERIALS AND ATOMS
180
pp. VII-VII
ELSEVIER SCIENCE BV
Barradas NP, Marriott PK, Jeynes C, Webb RP
(1998)
The RBS data furnace: Simulated annealing,
NUCLEAR INSTRUMENTS & METHODS IN PHYSICS RESEARCH SECTION B-BEAM INTERACTIONS WITH MATERIALS AND ATOMS
136
pp. 1157-1162
ELSEVIER SCIENCE BV
Kang DJ, Peng NH, Jeynes C, Webb R, Lee HN, Oh B, Moon SH, Burnell G, Stelmashenko NA, Tarte EJ, Moore DF, Blamire MG
(2003)
Josephson effects in MgB2 metal masked ion damage junctions,
IEEE TRANSACTIONS ON APPLIED SUPERCONDUCTIVITY
13
(2)
pp. 1071-1074
IEEE-INST ELECTRICAL ELECTRONICS ENGINEERS INC
Bright NJ, Willson TR, Driscoll DJ, Reddy SM, Webb RP, Bleay S, Ward NI, Kirkby KJ, Bailey MJ
(2013)
Chemical changes exhibited by latent fingerprints after exposure to vacuum conditions,
Forensic Science International
230
(1-3)
pp. 81-86
The effect of vacuum exposure on latent fingerprint chemistry has been evaluated. Fingerprints were analysed using a quartz crystal microbalance to measure changes in mass, gas chromatography mass spectrometry to measure changes in lipid composition and attenuated total reflection Fourier transform infrared spectroscopy (ATR-FTIR) to determine changes in the content of water, fatty acids and their esters after exposure to vacuum. The results are compared with samples aged under ambient conditions. It was found that fingerprints lose around 26% of their mass when exposed to vacuum conditions, equivalent to around 5 weeks ageing under ambient conditions. Further exposure to vacuum causes a significant reduction in the lipid composition of a fingerprint, in particular with the loss of tetradecanoic and pentadecanoic acid, that was not observed in ambient aged samples. There are therefore implications for sequence in which fingerprint development procedures (for example vacuum metal deposition) are carried out, as well as the use of vacuum based methods such as secondary ion mass spectrometry (SIMS) and matrix-assisted laser desorption ionisation (MALDI) in the study of fingerprint chemistry. © 2013 .
Bussmann U, Hemment PLF, Webb RP, Robinson AK
(1992)
Dynamic modelling of high dose oxygen profiles in SIMOX substrates,
Materials Science and Engineering B
12
(1-2)
pp. 73-76
During the past decade SIMOX (separation by implanted oxygen) has emerged as one of the leading SOI (silicon-on-insulator) technologies. The implantation involves such high doses that sputtering, swelling and the diffusion of excess oxygen within the synthesized layer of SiO2 all contribute to a major oxygen redistribution. The computer program IRIS (implantation of reactive ions into silicon) has been developed to enable fast calculations of these oxygen profiles to be made over a wide range of implantation energies, doses and masking oxide layer thickness. In this paper the model is extended into two dimensions and calculations are performed to simulate high dose implantation through thick patterned masking layers. The resulting oxygen distributions near mask edges are discussed. © 1992.
Kah M, Smith AJ, Hamilton JJ, Yeong SH, Columbeau B, Gwilliam R, Webb RP, Kirkby KJ
(2008)
A Comparative Study of Interaction of End of Range (EOR) Defect Band with Upper Buried Oxide (BOX) Interface for B and BF(2) Implants in SOI and Bulk Silicon with Pre-Amorphizing Implant,
ION IMPLANTATION TECHNOLOGY 2008
1066
pp. 51-54
AMER INST PHYSICS
Richard M, Kirkby KJ, Webb RP, Kirkby NF
(2006)
A mathematical model of cellular behavior under irradiation,
RADIATION RESEARCH
166
(4)
pp. 680-681
RADIATION RESEARCH SOC
Mody JD, Webb RP
(2011)
Modeling the interaction of keV clusters with molecular solids,
Surface and Interface Analysis
43
(1-2)
pp. 92-94
Chakarov I, Webb R
(1993)
The effect of beam divergence on single crystal implant profiles,
Vacuum
44
(3-4)
pp. 325-329
A single crystal implantation program (CRYSTAL) is used to investigate the behaviour of channelled implants of the major dopant ions (As, P, B) in silicon as a function of the divergence of the incident beam. Many experimental results are currently being published from commercially available implanters which have uncharacterized beam divergences. It is shown that the effects of beam divergence on implant profiles in initially single crystal targets can be substantial and should not be ignored in providing experimental details. A triple peak structure for implant profiles of high energy boron in well-channelled conditions is found to be caused by contributions from a randomized component, a planar channelled component and an axial channelled component. © 1993.
Development of topography in thin (55.5 ¼g cm-2) self-supporting aluminium films, caused by high fluence (