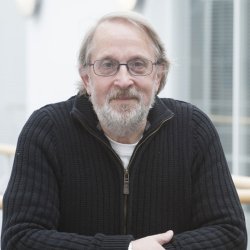 Professor Roger Webb
---
Director of Ion Beam Centre, Professor of Ion Beam Physics
---
Academic and research departments
About
Biography
Roger joined the Department in 1983 as a Research Fellow with the SRC (as it was then - interesting how the EPSRC has gained letters over the years) Surrey Ion Beam Centre. He was employed to look after the computing facilities associated with the research group - a single pdp11, about half of the computer "power" in the department in those days.
Before this he had spent 3 years as a post doc at the Naval Postgraduate School in Monterey California, making Molecular Dynamics Studies and Computer Animations, which is still the main area of his research activities. He did his PhD work in the Electronic & Electrical Engineering Department of the University of Salford, on the Mathematical Modelling of Atomic Collisions in Solids.
He was made a Lecturer in the Department in 1986, promoted to Senior Lecturer in 1993 and then to Reader in 1997, reaching the dizzy heights of Professor of Ion Beam Physics in 2002. He is the current Director of the Surrey Ion Beam Centre.
He has performed research at Penn State College and the Chinese University of Hong Kong.
University roles and responsibilities
Director of the Surrey Ion Beam

Centre Chair of the Facilities Directorate
Affiliations and memberships
Institute of Physics
Member
Computer Simulation of Radiation Effects in Solids (COSIRES)
International Advisory Board
Ion Beam Analysis (IBA)
International Advisory Board
Ion Solid Interactions (ISI)
International Advisory Board
Radiation Effects in Matter (REM)
International Advisory Board
Research

Research interests

Main area of research is the interaction of energetic ion beams with solids.Current research activities include the use of Molecular Dynamics Simulations to predict the behaviour of cluster and molecular impacts on surfaces. As well as the use of more simple Binary Collisions simulations to predict the effects of energetic particle solid interactions, in particular ion implantation profiles in crystalline solids.

Cluster and molecular impacts include fullerene impact induced desorption of molecular solids. Other areas of interest are in automation and control of ion beam analysis equipment. This includes software to automate the collection of data from standard analyses using RBS, PIXE, PIGE, NRA and ERD.

He must also take some responsibility for the windows interface to the Data Furnace for the automated and rapid analysis of experimental ion scattering data. Developments in the use of MeV ion beams for Secondary Ion Mass Spectrometry (SIMS) is also of current interest.

Research Funding

Research Funding over past 10 years:

UK National Ion Beam Centre Core Equipment 22/23, with Vladimir Palitsin and Luke Antwis, Jan 2023, EPSRC, £479,998
Route to high-precision positioning of single ion-implanted impurities in silicon, with Steve Clowes (PI), Dave Cox, Vlad Stolojan, Oct 2022, EPSRC, £186,759
 UK National Ion Beam Centre, with Melanie Bailey & Universities of Manchester and Huddersfield, Aug 2022, EPSRC, £2,454,938
UKNIBC Expanding the UK National High Energy Implant Facility, with Luke Antwis, March 2022, EPSRC, £2,194,906
UK National Ion Beam Centre Core Equipment 20/21, with Nianhua Peng and Vladimir Palitsin, Nov 2020, EPSRC, £425,000
High Resolution Ion Beam Analysis Facility, with Geoff Grime, Melanie Bailey and Dave Sampson, Jan 2020, EPSRC, £1,570,473
RADIATE - Research & Development with Ion Beams - Advancing Technology in Europe, with Mel Bailey, HZDR (PI) and 17 other EU partners, Jan 2019, EU Horizon 2020, £945,291
Vacancy-Rich Silicon as a Flexible Thermoelectric Material, with Nick Bennet HWU - PI), Nov 2016, EPSRC, £216,237
IBA-DAPNe: a new system for sub-micron scale molecular speciation and quantification, with Melanie Bailey (PI), Carol Crean and Mike Kearney, Nov 2016, EPSRC, £513,369
Quantum technology capital: Multi-species single-ion implantation, with Richard Currey (PI), Ben Murdin, Dave Cox and Mike Kearney, April 2016, EPSRC  £2,950,032
UK National Ion Beam Centre Mid Range Facility Funding, with Manchester & Huddersfield, Jan 2017, £8,836,433
Radiation Damage in Nanoporous Nuclear Materials, with Jonathan Hinks Huddersfield - PI), July 2015, £287,062
Marie Curie Research Training Network SPRITE, with Karen Kirkby (PI) and 7 other European Universities, Jan 2013, EU, £440,601
Teaching
Multi Disciplinary Design Project module coordinator - stage 4 across the faculty MEng project
Instrumentation - 2nd Year Mech Eng Module
Fundamentals of Nanotechnology - MSc module
Fundamentals of Ion Solid Interactions - PG Training Course.