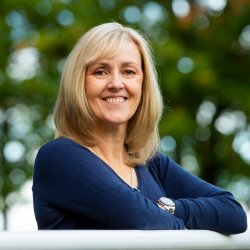 Sarah Roberts
---
Teaching Fellow, Lead for Student Admissions (Health Sciences)
RGN, SCPHN, PGCertEd
Biography
Following a long career in the NHS as an Adult Nurse and a Specialist Community Public Health Nurse, I joined the university in 2014 as a Teaching Fellow with the public health team. I undertook the role of Lead for Admissions in the School of Health Sciences in 2015.
University roles and responsibilities
Coordination of support for SCPHN/ SP Practice Teachers and mentors
My qualifications
Registered General Nurse (Adult)
St Georges Hospital, Tooting
2003
Diploma of Higher Education in Nursing Studies
University of London
2005
BSc (Hons) Public Health Nursing (Health Visiting)
University of Surrey
2013
Practice Teacher
University of Surrey
2016
Postgraduate certificate in education for professional practice
University of Surrey
Previous roles
2005 -
2014
Specialist Community Public Health Nurse and Practice Teacher
CSH Surrey
Affiliations and memberships
Council of Deans admissions working group
Member
United Kingdom Standing Council on Specialist Community Public Health Nurse education
Member
Research projects
Building knowledge, confidence and learning communities with Lego: two case studies with undergraduate nursing students at the University of Surrey
This project explores the potential of LEGO® and adapted LEGO® SERIOUS PLAY® activities for improving student engagement, dialogue and critical reflection, and encouraging rich participation in classroom-based learning activities.
My teaching
I am module lead for the undergraduate nursing module 'Public health: promoting health and well being' and the postgraduate modules 'Safeguarding children, young people and vulnerable adults' and 'Practice module for the practice teacher'.
I am a personal tutor to undergraduate adult nursing students and SCPHN (HV) students, and I act as a supervisor for undergraduate dissertation students.
My publications
Publications
Bick Debra, Taylor Cath, Bhavnani Vanita, Healey Andy, Seed Paul, Roberts Sarah, Zasada Magdelena, Avery Amanda, Craig Victoria, Khazaezadah Nina, McMullen Sarah, O?Connor Sheila, Bimpi Oki Bimpi, Oteng Ntim Eugene, Poston5 Lucilla, Ussher Michael
(2019)
Lifestyle information and access to a commercial weight management group to promote maternal postnatal weight management and positive lifestyle behaviour: the SWAN feasibility RCT,
NIHR Journals Library
Background: Increasing numbers of UK women have overweight or obese BMIs when they become pregnant, or gain excessive weight in pregnancy, increasing their risk of adverse outcomes. Failure to manage postnatal weight is linked to smoking, non-healthy dietary choices, lack of regular exercise, and poorer longer-term health. Women living in areas of higher social deprivation are more likely to experience weight management problems postnatally.
Objectives: To assess feasibility of conducting a definitive RCT to determine effectiveness of lifestyle information and access to a commercial weight management group focusing on self-monitoring, goal setting and motivation to achieve dietary change commencing 8 to 16 weeks postnatally to achieve and maintain weight management and positive lifestyle behaviours.
Design: A randomised two arm feasibility trial, with a nested mixed-methods process evaluation.
Setting: A single centre in an inner city setting in the south of England
Participants: Women with BMIs>25kg/m2 at antenatal booking and women with normal BMIs (18.5kg/m2) at antenatal booking who developed excessive gestational weight gain as assessed at 36 weeks gestation.
Feasibility objectives: Recruitment, retention, acceptability of study processes and identification of relevant economic data. The proposed primary outcome was difference between groups in weight 12 months postnatally, expressed as % weight change and weight loss from antenatal booking. Other proposed outcomes included assessment of diet, physical activity, smoking, alcohol, body image, maternal esteem, mental health, infant feeding and NHS costs.
Results: Most objectives were achieved. 193 women were recruited, 98 allocated to the intervention and 95 to the control. High follow up rates (>80%) were achieved to 12 months. A possible 8.8% benefit in weight change at 12 months compared with booking BMI was found among intervention women, compared with control (4.2% compared to 13.0% p=0.062) , 47% of whom attended at least one weight management session, with low risk of contamination between groups. Greatest benefit was among women who attended 10+ sessions. Barriers to attending sessions included opportunity, capability and motivation issues. Data collection tools were appropriate to support economic evaluation in a definitive trial, and economic modelling is feasible to quantify resource impacts and outcomes not directly measurable within a trial.
Limitations: The study only recruited from one site. It was not possible to recruit women with normal BMIs who developed excessive pregnancy weight gain.
Conclusion: It was feasible to recruit and retain women with overweight or obese BMIs at pregnancy commencement to a trial of postnatal weight management plus standard care compared to standard care only, and collect relevant data to assess outcomes. Approaches to recruit women with normal BMIs who gain excessive gestational weight need to be considered. Commercial weight management groups could support women?s weight management as assessed at 12 months postnatally, with likely greater benefit from attending 10+ sessions. Process evaluation findings highlighted importance of providing more information about the intervention on study allocation, extended duration of time to commence sessions following birth, and extended number of sessions offered to enhance uptake and retention.
Future work: Results support the conduct of a future effectiveness RCT.