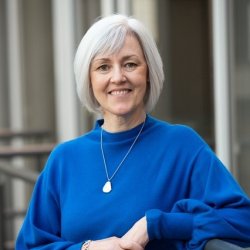 Sarah Roberts
---
Lecturer, Pathway Lead for Health Visiting
RGN, SCPHN, PGCertEd, MA Education for Health Professionals
About
Biography
Following a long career in the NHS as an Adult Nurse and a Specialist Community Public Health Nurse, I joined the university in 2014 as a Teaching Fellow with the public health team. I undertook the role of Lead for Admissions in the School of Health Sciences from 2015 - 2023 and the Pathway Lead for Health Visiting in 2022.
University roles and responsibilities
Coordination of support for SCPHN/ SP Practice Assessors and Practice Supervisors

Pathway Lead for Health Visiting
My qualifications
Registered General Nurse (Adult)
St Georges Hospital, Tooting
2003
Diploma of Higher Education in Nursing Studies
University of London
2005
BSc (Hons) Public Health Nursing (Health Visiting)
University of Surrey
2013
Practice Teacher
University of Surrey
2016
Postgraduate certificate in education for professional practice
University of Surrey
2021
Master of Arts Education for Health Professionals
University of Surrey
Previous roles
2005 -
2014
Specialist Community Public Health Nurse and Practice Teacher
CSH Surrey
Affiliations and memberships
United Kingdom Standing Council on Specialist Community Public Health Nurse education
Member
Institute of Health Visiting
Member
Research

Research projects

Building knowledge, confidence and learning communities with Lego: two case studies with undergraduate nursing students at the University of Surrey

This project explores the potential of LEGO® and adapted LEGO® SERIOUS PLAY® activities for improving student engagement, dialogue and critical reflection, and encouraging rich participation in classroom-based learning activities.
Teaching
I am module lead for the postgraduate modules:
Safeguarding children, young people and vulnerable adults
Higher level Communication
Advanced Communication Skills
Additional Field of Practice in SCPHN
I am a personal tutor to SCPHN (HV) students, and I act as a supervisor for undergraduate dissertation students.