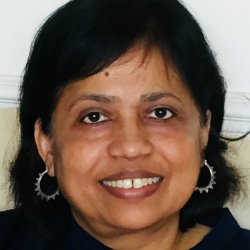 Professor Sarmistha Pal
---
Chair in Financial Economics
PhD(LSE)
Biography
Sarmistha Pal is a Professor of Financial Economics at the University of Surrey, Guildford (UK). Previously, she had taught Economics at the University of Wales at Aberystwyth and Cardiff Business School and subsequently at the Economics and Finance Department Brunel University in London.
Education:
BSc Economics, University of Calcutta;
MSc Economics, University of Calcutta;
MPhil Economics , St. John's College, University of Cambridge;
PhD Economics, London School of Economics.
Her research is in applied finance/economics area, analysing the impact of law, institutions and corporate/public policy on various economic agents (firms/banks, household, community, districts/province) using large data-sets and quasi-experimental methods for identification. As such her research broadly links to public economics, public finance and corporate finance, institutions and political economy, primarily in emerging market economies including Brazil, India, China and Russia; central and eastern European countries.
She is an IZA (University of Bonn, Germany) Research Fellow and also an academic member of the European Corporate Governance Institute.
She serves on the editorial board of the Journal of Development Studies (ABS 3*).
She is a member of ESRC peer review college and as such regularly referees grant and fellowship applications submitted to ESRC. She has also reviewed applications submitted to Nuffield Foundation, Leverhulme Trust and National Science Foundation (US).
She regularly does research consultancy for various national (Home Office, Department of Foreign and International Development (DFID), Department of Business, Innovations and Skills, UK) and international (World Institute of Development Economics Research (WIDER), World Bank (WB), UNESCO and the International Finance Corporation (IFC)) organisations. 
Affiliations
Research Fellow, IZA - Institute of Labour, University of Bonn, Germany;
Academic member, European Corporate Governance Institute
Member American Economic Association
Member Royal Economic Society
Member European Finance Association
Research
Research interests
Public Economics; Public Finance; Emerging Markets Finance; Institutions and Political Economy.
Her current and recent research in Finance explores the role of networking on firm financing and foreign ownership in corrupt host environment, role of transparency and disclosure laws on firm financing and firm performance, effects of share privatisation on firm performance, effects of managerial compensation on capital structure effect of institutional distance on cross-border acquisition of banks, effects of land reforms on land acquisition and corporate investment.
Her current research in Economics includes effects of private financing of schools, effect of health workers' dual practice on public health provision, effect of women friendly hospital environment on child mortality, effects of social and religious norms on public good provision, effects of old age pensions on elderly poverty, effects of democratisation and development under diversity, effects of group conflict on practice of untouchability.
Her research has been funded by the Economic and Social Research Council (UK), Leverhulme Trust, World Bank, European Bank for Reconstruction and Development, International Finance Corporation and the University Global Partnership Network (UGPN).
Research collaborations
I currently have collaborations with researchers at the City University London (UK), University of Durham (UK), University of Kent (UK), Universidad de Buenos Aires (Argentina), Paris School of Economics (France), Universidad Pablo de Olavide (Spain), Monash University (Australia), University of New South Wales (Australia), Indian Statistical Institute Delhi, Kolkata (India), University of Sao Paulo (Brazil) and Stevens Institute of Technology (USA) and the World Bank (USA).
Organisation of conferences/symposia
I organised ESRC funded (grant RES-000-22-0200) workshop on "Corporate Governance, Corporate Restructuring and Corporate Finance in Transition Economies" on 9-10 September 2005, Brunel University.
I organised Leverhulme Trust funded symposium on "School Privatisation and Universal Education in Asia" for the Oxford Conference on Education and Development, September 2009.
I organised ESRC funded special session on Globalisation and FDI at the Royal Economic Society Annual Conference March 2010.
I organised a symyposium on Institutions and Globalisation for the Association of the the Comparative Economic Studies as part of the ASSA meeting in Chicago, January 2012.
I organised the Surrey-IFABS 2016 conference on 'Firm Value Maximisation and Corporate Social Responsibility: Implications for Corporate Finance and Corporate Governance' on 15-16 September 2016
I organised the Surrey-UGPN conference on 'Youth Crime and Public Policy' between 6-7 July 2017
Policy Articles/Media Briefings
Brexit Bedlam for Businesses (jointly with Sugata Ghosh)
Financial Director April 2019
https://www.financialdirector.co.uk/2019/04/22/brexit-bedlam-for-businesses/
Government of India Budget 2020 – Futility of the Exercise
https://intheedition.wordpress.com/2020/02/09/e-c-o-n-o-m-i-s-t-s-s-p-e-a-k-2020-india-union-budget/?fbclid=IwAR2KP0sqHXAKb4A5KNB_UMSVk-6i0HDXiRK86xj8PfcbD7Mm0PraDhi11Vo
'Whither female disadvantage? An analysis of private school enrolment in India' October 2016 (forthcoming) Ideas for India Column, International Growth Centre LSE & Oxford.
Why demonetisation? Ideas for India Perspective December 1 2016
Why demonetisation? Business Standard December 1 2016
Dear PM Modi, Save Informal Sector from a Post Note Ban Recession (jointly with Kaushik Bhattacharya, Siddhartha Mitra and Bibhas Saha)The Quint, February 10 2017
Reviving the informal sector from the throes of demonetisation (jointly with Kaushik Bhattacharya, Siddhartha Mitra and Bibhas Saha)Ideas for India Perspective 13 February 2017
Land acquisition and corporate investment: Legacy of historical land ceiling legislations? (jointly with Tiago Pinheiro and Zoya Saher) Ideas for India Column April 23 2017
Why land ceilings hurt corporate investment? (jointly with Tiago Pinheiro and Zoya Saher)Business Standard April 23 2017
India's Cashless Society Participation in BBC World Service programme
Demonetisation and GST: Reckless Decisions that Cost the Economy? The Quint 28 November 2017
My research on Private schools in developing countries funded by the Leverhulme Research Fellowship 2008-09 has received a lot of attention since the publication of the DFID Rigorous Review and a follow-up article on the Guardian 16 March 2015. Find out more.
My teaching
Teaching
MSc Quantitative Method (MANM280)
PhD Supervision:
I am interested to supervise students aiming to work on Public Economics, Public Finance and Policy, Corporate policies and Finance, Culture, Institutions and Political Economy; Emerging markets.