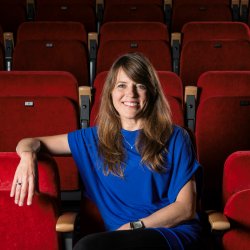 Dr Shantel Ehrenberg
---
Lecturer
PhD, MFA, MSc, HEA Fellow
Biography
Shantel joined the University of Surrey in Autumn 2013. Previously, she taught at Bath Spa University, Trinity Laban, and the University of California, Irvine. She gained her PhD in Dance Studies from the University of Manchester in 2013. Her PhD thesis, entitled The Dancing Self/Other: kinaesthesia and visual self-image in contemporary dance, interrogates the meaning and value of kinaesthesia and visual self-reflection in practice, from a small group of dancers' perspectives. Concurrent to her PhD, Shantel worked on Watching Dance, a high-profile AHRC-funded project using audience research and neuroscience to explore how dance spectators' respond to and identify with dance. Her eclectic career in dance has continually crossed practice and theory, including experience working with Claudia Gitelman, Don Redlich (Hanya Holm) and Donald McKayle (Martha Graham), making and presenting screen dance work internationally, and working with Professor Patrick Haggard and Dr Beatriz Calvo-Merino at University College London.
Areas of specialism
Kinaesthesia;
Visual Self-reflection in dance contexts (e.g. mirrors, video);
Dance Pedagogy;
Contemporary Dance Choreography;
Dance, Gender, and Leadership
University roles and responsibilities
FASS Equality, Diversity and Inclusion Committee
Research
Research interests
Shantel's research encompass the intersection of dance and philosophy (phenomenology and visual culture), choreography, dance pedagogy, kinaesthesia, kinaesthetic empathy (dancer and pedagogical perspectives), and screen dance. She has experience with phenomenological, sociological (ethnography), cognitive science, and practice research.
Research projects
Ideologies of motherhood are extremely limited in our culture, particularly in the mainstream media. My current practice-research project is helping to produce other, more sophisticated imaginations of what it means to be a woman related to (non)motherhood. As such, my work focuses on the subject of women's experiences of infertility or subfertility, particularly experience at the point of diagnosis in medical contexts, such as when presented with ultrasound scans and/or blood test results as 'proof' of the condition. As a dance artist and academic, I am interested in foregrounding the embodied, subjective, and emotional aspects of women's experiences of fertility-related issues, amongst ever-increasing technological innovations. In real terms, this means creating a series of workshops and performances, in collaboration with other women experiencing fertility-related issues, and specialists working across the fields of Psychology, Sociology and Medicine, to expand understanding of the shock that fertility-related issues blow to women's gendered identities. The use of my skills in performance and choreographic expression is critical to investigate and produce expressions of embodied experiences related to infertility or subfertility. The project aims to help women feel agency in a process that can be significantly alienating, when constantly amongst cold hard medical devices and medical expertise, despite it being their bodies that are under investigation.
Supervision
Postgraduate research supervision
Gemma Connell, PhD Candidate, 2018 start
My teaching
BA Dance Choreography I & II; Collaborative Choreography; Contemporary Dance Practices; PTY Placement Tutor; BA Dissertation Project
Previously taught (BA): Investigating Choreographic Practices; Arts & Society; Dance, Politics, & Identity; Research Methodologies; (MA): Performing Theories, Research Methodologies, Dissertation
My publications
Highlights
Please follow this link for current list of publications:
Publications