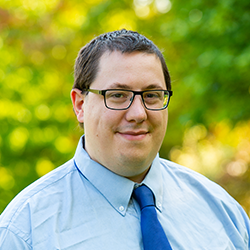 Dr Simon Hadfield
---
Associate Professor (Reader) in Robot Vision and Autonomous Systems
PhD, FHEA, AUS, MENG, Graduate Certificate in Teaching & Learning
About
Biography
My research focuses on using cutting-edge visual sensing technologies such as event cameras to solve machine learning/autonomy and 3D computer vision tasks.
I am a lecturer in robot vision and autonomous systems within the University of Surrey's Centre for Vision, Speech and Signal Processing (CVSSP). My long-term aim is to develop the first UK centre of excellence in perception and AI algorithms for asynchronous visual sensing.
Having studied for an MEng in Electronic and Computer Engineering at Surrey (finishing as the top student in my graduating year), I went on to do an EPSRC-funded PhD in computer vision at the University. Supervised by Professor Richard Bowden, this was entitled 'The estimation and use of 3D information, for natural human action recognition'. I remained at Surrey as a Research Fellow and became a lecturer in February 2016.
Areas of specialism
Machine learning;
Artificial Intelligence;
Deep Learning;
3D computer vision;
Event cameras;
Robot vision;
SLAM;
target tracking;
scene flow estimation;
stereo reconstruction;
robotic grasping
University roles and responsibilities
Manager of Dissertation allocation and assessment system for undergraduate and postgraduate taught programmes in the Department of Electrical and Electronic Engineering.

Undergraduate Personal Tutor

Health and Safety group – Representative for CVSSP labs (BA)
My qualifications
2014-2015
Graduate Certificate in Teaching and Learning
University of Surrey
2009-2013
EPSRC funded PhD in Computer Vision
University of Surrey
2004-2009
MEng (Distinction) in Electronic and Computer Engineering (Top student in the graduating year, average mark 75.1%)
University of Surrey
Affiliations and memberships
Member of the British Machine Vision Association (BMVA)
Member of the Institute of Electrical and Electronics Engineers (IEEE)
Member of the Institution of Engineering and Technology (IET)
Research

Research interests

My research is in the field of computer vision and machine learning, with a particular emphasis on the effective exploitation of novel visual sensors.

I focus on taking computer vision techniques 'out of the lab' and making them practically applicable to the real world. For example, I've proposed a new paradigm for efficient dynamic reconstruction with a computational overhead several orders of magnitude lower than previous techniques, which is an important step towards using these techniques in real-time robotics applications. This research was published in both the top journal and top international conference in the field, generating more than 100 citations to date.

Ultimately, my research in robotic perception and automation could impact a range of areas of modern life. In the manufacturing industry, automation techniques are urgently needed to reduce costs and enable manufacturers to adapt to changing environments, while autonomous vehicles require new types of visual sensor and perception algorithms to push safety to human levels and beyond. Medical robotics needs increasing levels of intelligence and automation in order to proceed beyond the capabilities of the human doctors operating them. And in the space sector, spaceborne robotics – which allow in-orbit assembly and servicing – are necessitating new approaches to visual perception.

Research projects

NIMROD: Analogue visual sensors'

Industrial project exploring perception algorithms for a new breed of adaptive visual sensor

ROSSINI: Reconstructing 3D structure from single images: a perceptual reconstruction approach

EPSRC project looking at 3D reconstruction techniques which maximize human perceptual quality

PROTEIN: PeRsOnalized nutriTion for hEalthy living

EU Horizon2020 project looking at automated machine learning and vision technologies for personal nutrition monitoring. Partners include: The University of Brussels, Ocado, University of Thessaloniki, Centre for Research and Technology Hellas and others

Driver behaviour modelling for assistance & automation

Industrial project with McLaren Automotive, exploring deep learning for driver monitoring, and the correlations with external driving factors

SMILE: Scalable Multimodal Sign Language Technology for Sign Language Learning and Assessment

Swiss National Science Foundation project exploring technologies to automate learning and practicing sign language at home

Industrial project with Tesco Labs looking at intelligent grasping and manipulation of warehouse packing

Industrial project looking at automation of marine vessels

Learning to Recognise Dynamic Visual Content from Broadcast Footage

EPSRC project exploring machine learning for automatically understanding TV footage, for search and archival purposes

The Internet of Surprise

EPSRC eFutures funding sandpit demonstrator project

Indicators of esteem

2018 – Winner of the Early Career Teacher of the Year (Faculty of Engineering & Physical Sciences )

Reviewer for more than 10 high impact international journals and conferences

2017 – Finalist for Supervisor of the Year (Faculty of Engineering & Physical Sciences) and the Tony Jeans Inspirational Teaching award

2016 – Second place in the international academic challenge on continuous gesture recognition (ChaLearn)

DTI MEng prize, for best all round performance of the entire graduating year, awarded by Department of Trade and Industry
Supervision
Postgraduate research supervision
Expected 2027 - Enis Baty - Satellite assisted autonomous vehicles
Expected 2027 - Isaac Baglin - Preventing deep leakage in federated learning
Expected 2027 - Alejandro Hernandez Diaz - Event-based vision for space situational awareness
Expected 2026 - Chris Thirgood - Raman spectroscopy for robot localization
Expected 2026 - Rogier Fransen - Learning to walk over complex terrain
Expected 2026 - Bucher Sahyouni - Fair and equitable recommender systems
Expected 2024 - Nikolina Kubiak - Relighting in video
Expected 2023 - Herman Yau - Explainable reinforcement learning
Expected 2023 - Violeta Menendez Gonzalez - Novel-view synthesis in video
Completed postgraduate research projects I have supervised
2023 - Xihan Bian -  Multi-task autonomy for Robotics
2023 - Yusuf Duman -  Active Sampling for Computer Vision
2022 - Lucy Elaine Jackson - Using Reinforcement Learning to Design and Control Free-Flying Space Robots
2022 - Jaime Spencer Martin -  Learning Generic Deep Feature Representations
2021 - Rebecca Allday - Machine Learning for Robotic Grasping
2021 - Peter Blacker -  Optimal Use of Machine Learning for Planetary Terrain Navigation
2020 - Celyn Walters -  Extrinsic sensor calibration systems and methods
2020 - N. Cihan Camgöz - Neural Sign Language Translation: Continuous Sign Language REcognition from a Machine Translation Perspective (PGR student of the year - VC awards 2018)
2018 - Matthew Marter - Learning to Recognise Visual Content from Textual Annotation
2017- Oscar Mendez - Collaborative Strategies for Autonomous Localisation, 3D Reconstruction and Pathplanning (Sullivan Thesis Prize finalist, top UK thesis in computer vision)
2016 - Karel Lebeda - 2D and 3D Tracking and Modelling (Sullivan Thesis Prize winner, top UK thesis in computer vision)
Teaching
I currently teach two modules to undergraduates in the Department of Electrical and Electronic Engineering:
C++ and Object-Oriented Design: Year 2 (EEE2047)
Robotics: Year 3 (EEE3043)
In my teaching, I focus heavily on practical hands-on experience interleaved with the traditional taught material, to ensure that students have the chance to practice and receive feedback on the techniques they are learning.
Every year I also supervise around four undergraduate projects in the areas of deep learning, robotics and computer vision. Historically, the projects I have helped supervise have often won or been nominated for external and internal prizes including the BAE prize, national 'hackaday' prizes and Surrey's Department of Electrical and Electronic Engineering prize.
I have received a number of awards and nominations for my supervision and teaching. These include winning the 2018 Early Career Teacher of the Year and being nominated for the 2017 Tony Jeans Inspiration Teaching award.