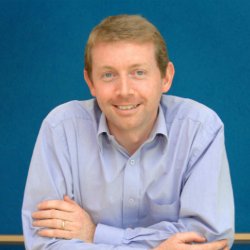 Prof Stephen Sweeney
---
Professor of Physics, Head of Department
Biography
Biography
Professor Stephen Sweeney obtained a BSc in Applied Physics and Qualified Teacher Status (QTS) from the University of Bath and a PhD in Semiconductor Laser Physics from the University of Surrey. Following his PhD and postdoctoral positions at Surrey, he joined Marconi Optical Components as a Scientist, becoming Lead Scientist of the Laser and Amplifier Technology group. In 2002, he returned to Surrey as a Lecturer, promoted to Chair in Physics in 2010. He led the photonics group based in the Advanced Technology Institute from 2010-2015. Working closely with industry, his research interests focus on developing new semiconductor systems for use in photonic devices such as lasers and photovoltaics and in the development of new photonic systems for use in communications, lighting, energy, biosciences, health and the emerging field of space-based photonics. His work has led to a large number of published and edited journal papers, book chapters and patents. In 2009 he was awarded a prestigious EPSRC Leadership Fellowship allowing him to focus on developing near- and mid-infrared laser technologies for applications in high efficiency optical communications, sensing and photonic integration.
In addition to his role at Surrey, he is the Chief Technology Officer for UK photonics start-up Zinir Ltd, he sits on the Editorial Boards of IEEE Journal of Quantum Electronics and Journal of Materials Science: Materials in Electronics, has guest edited IET Optoelectronics, IEEE Journal of Selected Topics in Quantum Electronics and IoP Semiconductor Science and Technology. He is a member of the EPSRC III-V National Centre Steering Committee, the EPSRC College and the Institute of Physics Semiconductor Physics committee. He serves as an expert international advisor for the EU and several national funding agencies such as the Department of Energy (USA), National Science Foundation (USA), Singapore Research Agency, Enterprise Ireland, Leibnitz Foundation amongst others. He sits on the committees for a number of international conferences and has chaired several conferences in semiconductors and photonics. In 2015 he was President of the Physics and Astronomy section of the British Science Festival.
Stephen is passionate about science and the role it plays in the health and wealth of people. He enjoys engaging with people of all ages and regularly gives talks at schools, interviews for the national press and is an advocate for UK science and technology globally.
Research interests
Stephen's primary research interests lie in the area of semiconductor materials for photonic devices. He has produced >300 journal papers and conference proceedings in this area including several invited papers. He has also published >10 patents and 5 book chapters in the field of photonics.
Recent research topics include:
novel semiconductor alloys such as bismides and nitrides for high efficiency photonic devices
silicon compatible lasers for future optical computing
semiconductor lasers for temperature insensitive operation (quantum dots, dilute-nitrides etc)
LED sources for solid-state lighting
vertical cavity surface emitting lasers and LEDs for plastic fibre systems
semiconductor lasers for optical pumping (EDFA, Raman) and printing and data storage applications
using photonic devices to sense chemical and biological samples (liquids and gases)
Information about currently available PhD projects can be found here
Research collaborations
Stephen collaborates with a wide range of international partners in both academia and industry, as can be seen from his publications list.
Teaching
Current:
Level 3 Semiconductor Physics and Technology (PHY3057)
Past:
Level 2 Solid State PhysicsLevel 2 Laboratories
Module Leader for PHY2068 Solid State Physics
Level 0 Foundation Year TutorialsLevel 1 Principles of Physics (1PP)Level 1 Electronics (1EL)Level 1 Physics Laboratories (1LAB)Level 3 Physics in Education (3PIE) [assessor]Level M Photonics and Nanotechnology (3PNT)Level D LabView
Departmental duties
Head of Department of Physics (2015-)
Head of Photonics group (2010-2015)
Departmental Management group (2010-)
Departmental Policy & Strategy group (2008-)
Departmental & Faculty Research Committee (2010-)
Chair, Physics Publicity & Marketing group (2010-13)
Chair of Physics Department Board of Studies (2008-10)
Chair of Physics Department BoS sub-committee (2008-10)
MPhys/BSc Physics Programme Coordinator (2008-10)
Physics with Foundation Year Co-ordinator (2003-2006)
Physics Schools Liaison Officer (2004-2008)
Physics Marketing group (2006-2008)
Physics MPhys research placements co-ordinator (2006-2010)
ATI Postgraduate Admissions Tutor (2002-2008)
FEPS PG Research committee (2002-2008)
Affiliations
Fellow of the Institute of Physics, Chartered Physicist and a Senior Member of the Institute of Electrical and Electronic Engineers.
Editorial Boards of the Journal of Quantum Electronics and the Journal of Materials Science: Materials in Electronics.
Proposal Reviewer/advisor: EPSRC College Member, EU Photonics 21 Member, US Dept of Energy, Singapore A* Research Agency, Lithuanian Research Council, Humbolt Foundation, Austrian research agency, EU-Framework projects and NSF (USA).
Research Grants
Stephen's research is funded from sources including EPSRC, EU, InnovateUK and commercial organisations.
Media Contacts
---
Contact the press team
Email:
mediarelations@surrey.ac.uk
Phone: +44 (0)1483 684380 / 688914 / 684378 Out-of-hours: +44 (0)7773 479911
Senate House, University of Surrey
Guildford, Surrey GU2 7XH
My publications
The automated ePrints publications feed is currently unavailable. Please check again later.