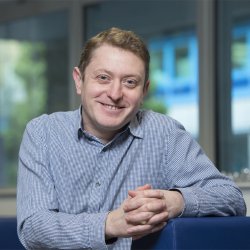 Dr Steven Clowes
---
Senior Lecturer, Photonics and Quantum Science Group
Biography
Research Interests
Magneto-transport and magneto-optics of compound semiconductors.
Spin dependent transport using optical orientation of electron spin.
Ultrafast spin dynamics in high spin-orbit coupled two dimensional systems.
III-V bismides for spintronic applications.
Quantum control of dopants in silicon for quantum information processing.
Silicon Solotronics- atomic scale electronic devices with THz control.
PhD opportunities are available in field of magento-transport and magneto-optics of narrowgap semiconductors, and soltronics. Please contact by email if interested.
Teaching
PHY2062 From Atoms to Lasera
PHY3057 Semiconductor Physics and Technology
PHY3056 Applied Magnetism and Superconductivity
PHYM062 Quantum Magnetism and Superconductivity
Departmental Duties
Programme Director for Physics with Quantum Technologies undergraduate course.  
Affiliations
Member of the Institute of Physics
Past and Current Grants
£675,777 EPSRC (PI) 'Non-magnetic semiconductor spintronics', Oct 2007- Sept 2012
££196,953 EPSRC (CI) 'Silicon based spintronics', Oct 2009-Sept 2012
£106,044 Leverhulme Trust (CI) 'Direct magnetic measurement of excitonic induced magnetization in colloidal nanocrystal' Nov 2011-Nov 2013
£54,639 TSB (PI) Short KTP with Plastipack Ltd., July 2012-July 2013.
£20,024 EPSRC (PI) Impact Acceleration Account, July 2013-Jun 2014
£230,000 TSB (PI) Classic KTP with Plastipack Ltd July 2014-July 2017
£373,196 EPSRC (CI) 'Functional Nitride Nanocrystals for Quantum-Enhanced Technologies' Feb 2015-Feb 2018
£6,382,161 EPSRC (CI) 'Atomically Deterministic Doping and Readout For Semiconductor Solotronics (ADDRFSS)' Feb 2015 - Feb 2020
My publications
Publications
Magnus F, Clowes SK, Gilbertson AM, Branford WR, Barkhoudarov ED, Cohen LF, Singh LJ, Barber ZH, Blamire MG, Buckle PD, Buckle L, Ashley T, Eustace DA, McComb DW
(2007)
Electrical characterization of MgO tunnel barriers grown on InAs (001) epilayers,
APPLIED PHYSICS LETTERS
91
(12)
ARTN 122106
AMER INST PHYSICS
Magnus F, Yates KA, Clowes SK, Miyoshi Y, Bugoslavsky Y, Cohen LF, Aziz A, Burnell G, Blamire MG, Josephs-Franks PW
(2008)
Interface properties of Pb/InAs planar structures for Andreev spectroscopy,
APPLIED PHYSICS LETTERS
92
(1)
ARTN 012501
AMER INST PHYSICS
Rahman ATA, Bräuer-Krisch E, Brochard T, Adamovics J, Clowes S, Bradley D, Doran S
(2010)
Creation of sophisticated test objects for quality assurance of optical computed tomography scanners,
Journal of Physics: Conference Series
250
pp. 215-219
Optical computed tomography (CT) shows great potential for radiation therapy dose verification in 3D. However, an effective quality assurance regime for the various scanners currently available still remains to be developed. We show how the favourable properties of the PRESAGE" radiochromic polymer may be exploited to create highly sophisticated QA phantoms. Five 60 mm-diameter cylindrical PRESAGE" samples were irradiated using the x-ray microbeam radiation therapy facility on the ID17 biomedical beamline at the European Synchrotron Radiation Facility. Samples were then imaged on the University of Surrey parallel-beam optical CT scanner and were designed to allow a variety of tests to be performed, including linearity, MTF (three independent measurements) and an assessment of geometric distortion. A small sample of these results is presented. It is clear that, although the method produces extremely high quality test objects, it is not practical on a routine basis, because of its reliance of a highly specialised radiation source. Hence, we investigated a second possibility. Two PRESAGE" samples were illuminated with ultraviolet light of wavelength 365 nm, using cheap masks created by laser-printing patterns onto overhead projector acetate sheets. There was good correlation between optical density (OD) measured by the CT scanner and the expected UV "dose" delivered. The results are highly encouraging and a proposal is made for a scanner test regime based on calibrated and well characterised PRESAGE" samples. © 2010 IOP Publishing Ltd.
Murdin BN, Merrick M, Litvinenko K, Murzyn P, Phillips PJ, Pidgeon CR, Zhang T, Clowes SK, Cohen LF, Buckle P, Ashley T
(2004)
Spin lifetimes in narrow gap semiconductors measured with free-electron and solid-state lasers,
STATE-OF-THE-ART PROGRAM ON COMPOUND SEMICONDUCTORS XL (SOTAPOCS XL) AND NARROW BANDGAP OPTOELECTRONIC MATERIALS AND DEVICES II
2004
(2)
pp. 253-258
ELECTROCHEMICAL SOCIETY INC
Singh LJ, Oliver RA, Barber ZH, Eustace DA, McComb DW, Clowes SK, Gilbertson AM, Magnus F, Branford WR, Cohen LF, Buckle L, Buckle PD, Ashley T
(2007)
Preparation of InAs(001) surface for spin injection via a chemical route,
JOURNAL OF PHYSICS D-APPLIED PHYSICS
40
(10)
pp. 3190-3193
IOP PUBLISHING LTD
Fobelets K, Alaudeen A, Ahmad MM, Clowes S, Zhang J
(2004)
Analysis of steam oxidation of crystalline SI1-XGEX using AFM and CABOOM,
Proceedings - Electrochemical Society
7
pp. 175-179
Characterization of the Ge concentration in a Si1-xGe x heterojunction for x varying from 5% to 40% in steps of 5% is done by beveling and wet thermal oxidation of the exposed layers. The resulting difference in oxide thickness as a function of Ge concentration is visualized due to light interference. Different Ge concentrations are seen as different colors through an optical microscope. CABOOM - Characterization of the Alloy concentration by Beveling, Oxidation and Optical Microscopy - in combination with AFM - Atomic Force Microscopy, is used as a tool to study the oxidation kinetics of unstrained, crystalline Si1-xGex by wet thermal oxidation.
Post-synthesis separation of metallic (m-SWNTs) and semiconducting (s-SWNTs) single-wall carbon nanotubes (SWNTs) remains a challenging process. Gel agarose chromatography is emerging as an efficient and large scale separation technique. However, the full (100%) separation has not been achieved yet, mainly due to the lack of understanding of the underlying mechanism. Here, we study the temperature effect on the SWNTs separation via gel agarose chromatography, for four different SWNT sources. Exploiting a gel agarose micro-beads filtration technique we achieve up to 70% m-SWNTs and over 90% s-SWNTs, independent of the source material. The process is temperature dependent, with yields up to 95% for s-SWNT (HiPco) at 6 °C. Temperature affects the sodium dodecyl sulfate surfactant-micelle distribution along the SWNT sidewalls, thus determining the effectiveness of the SWNTs sorting by electronic type. The sorted SWNTs are then used to fabricate transistors with very low OFF-currents (106) and charge carriers mobility