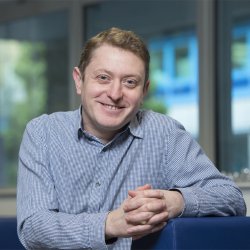 Professor Steven Clowes
---
Director of Physics, Quantum Foundations and Technologies Research Group
About
Research Interests
Single ion implantation and ion-beam direct-write techniques for quantum technologies.
Quantum control of dopants in silicon for quantum information processing.
Silicon Solotronics- atomic scale electronic devices with THz control.
Magneto-transport and magneto-optics of compound semiconductors.
Spin dependent transport using optical orientation of electron spin.
PhD opportunities are available, please contact me directly to discuss possible projects.
Teaching
PHY2062 From Atoms to Laser
Departmental Duties
Director of Physics, Programme Director for Physics with Quantum Technologies undergraduate course.
 
Affiliations
Member of the Institute of Physics
Past and Current Grants
£444,301 EPSRC (PI) RAISIN - QT Network for Single-ion Implantation Technologies and Science Feb 2022-Feb 2025
£312,499 (Co-I) Innovate UK "Rapid and Scalable Single Colour-Centre Implantation for SinglePhoton Sources" Oct 2021-Mar 2023
£202,399 EPSRC - New Horizons (Co-I) "Strained germanium photonic crystal membranes for scalable and efficient silicon-based photonic devices" (Co-I) Jan 2021-Jan 2023
£6,382,161 EPSRC (Co-I) 'Atomically Deterministic Doping and Readout For Semiconductor Solotronics (ADDRFSS)' Feb 2015 - Feb 2020
£373,196 EPSRC (Co-I) 'Functional Nitride Nanocrystals for Quantum-Enhanced Technologies' Feb 2015-Feb 2018
£230,000 TSB (PI) Classic KTP with Plastipack Ltd July 2014-July 2017
£20,024 EPSRC (PI) Impact Acceleration Account, July 2013-Jun 2014
£54,639 TSB (PI) Short KTP with Plastipack Ltd., July 2012-July 2013.
£106,044 Leverhulme Trust (Co-I) 'Direct magnetic measurement of excitonic induced magnetization in colloidal nanocrystal' Nov 2011-Nov 2013
£196,953 EPSRC (Co-I) 'Silicon based spintronics', Oct 2009-Sept 2012
£675,777 EPSRC (PI) 'Non-magnetic semiconductor spintronics', Oct 2007- Sept 2012