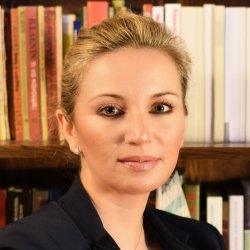 Dr Theopisti (Theti) Chrysanthaki
---
Lecturer in Integrated Care/ehealth
BA, MSc, PhD in Social Psychology
About
Biography
Expert in e-health, telehealth/telecare, integrated care, long-term conditions, quality of life and ageing. Theti is an expert in implementation and evaluation studies of policy and technology innovations in healthcare. She worked at Imperial College London where she was involved in the evaluation of the biggest randomised controlled trial of remote care/assistive technology (telehealth/telecare) undertook worldwide, the Whole System Demonstrator Programme (WSD) and the North West London CLAHRC evaluation. She also worked at the London School of Hygiene and Tropical Medicine (LSHTM) as a Healthcare Services and Policy Lecturer and as a study coordinator to a large evaluation DH funded project on the effectiveness of Memory Assessment Services in England for people with dementia and their carers (Using Patient Reported Outcome Measures (PROMs) to Improve Dementia Services: Evaluation of Memory Assessment Services). In collaboration with the team in Surrey, she is the PI of a project that explores the design and acceptability of using a digital story-based communication system for care home settings (TiME Matters UK Project see: https://www.surrey.ac.uk/digital-world-research-centre/funded-projects/time-matters ) and she is the Process Evaluation Lead of a large UK RCT study that investigates the effectiveness of an Internet of Things (IoT) integrated assistive technology solution (telehealthcare) to support people with dementia and their carers to live independently at home (TIHM for Dementia Test Bed Project see: https://www.sabp.nhs.uk/tihm). She is still a visiting fellow at Imperial College London and continues to search, consult and co-ordinate  large policy initiatives for government, applying social psychological and organizational theories to healthcare adoption and innovation processes.
Research

Research interests

My publications and research relate to barriers and facilitators in the use, implementation and scalability of remote care technologies and services for ageing population with dementia and long term care needs. I am currently working on projects that examine the views and practices of care home staff towards dementia and sexuality as well as the use of technology as a sustainable approach to improving quality of care and outcomes (i.e quality of life) for people living with dementia and their carers both in the home care environment and care home setting.

Research projects

Technology Integrated Health Management (TIHM)

Who is involved?

The project is led by Surrey & Borders NHS Foundation Trust working with the University of Surrey, Royal Holloway University of London, Kent, Surrey and Sussex Academic Health Science Network, the Alzheimer's Society, local Clinical Commissioning Groups, charities and ten technology companies.

The project will also have a user advisory forum made up of people who use health and social care services and their carers. It will also have an expert advisory forum, including representatives from industry, the voluntary sector and a Clinical Commissioning Group.

Patient population size

In Surrey 6,606 people have a formal diagnosis of dementia, although it is estimated that around 16,801 people have the condition. This project will work with around 700 people with dementia and their carers, with a view to scaling IoT for dementia across the 1.3m population of Surrey and NE Hampshire.

Description

People with dementia in Surrey and North East Hampshire will benefit from an innovative two year project that will use technology to enable them to live in their own homes for longer. Individuals and their carers will be provided with sensors, wearables, monitors and other devices, which will combine into an 'Internet of Things' to monitor their health at home. The information from these devices will help people take more control over their own health and wellbeing, with the insights and alerts enabling health and social care staff to deliver more responsive and effective services.

The 'Test Bed' project aims to prevent or delay the need for costly long term care in nursing homes. It also aims to reduce the need for unplanned hospital admissions or GP visits, thereby taking the pressure off other NHS services. In the long term it is hoped that this approach will improve the care and quality of life for vulnerable patients while helping to save the NHS money.

Website: www.sabp.nhs.uk/tihm

Time Matters UK: This will involve two focus groups with care home staff and family and friends of residents. It will aim to understand communication practices and problems, and gauge reaction to digital storytelling technology. A co-design workshop with a combination of formal and informal carers may also be run to re-design proposals for a communication system based on the results of the previous Brazil and UK studies. The work will be led jointly by Theti Chrysanthaki and David Frohlich, together with remote input and analysis from Brazilian colleagues Paula Castro, Ana Raquel Ruiz Abrahão, Paulinha Fernanda Carlos da Silva and Aline Gratão.  This will be conducted between January 2018 and July 2018. 

Research collaborations

Through my work I have established excellent links with a variety of stakeholders in academia (i.e. Imperial College London, LSHTM, UCL, LSE, Oxford University Strathclyde University, Manchester University Kingston University, Winchester University) practice and industry particularly the Department of Health, NHS, King's Fund, Innovate UK, NatCen, FrontierEconomics, e health innovators and networks and various NHS Trusts across the country.
Supervision
Postgraduate research supervision
I am supervising undergraduate, MSc dissertations and I am currently the lead supervisor in two PhD theses:
Mrs Tosan Edematie: Readiness for innovation in Public Healthcare and Service Delivery Organisations in the UK (PhD Status: Completed)
Mr Ramin Nilforooshan: Using AI and Big Data for Dementia Care: The TIHM study (PhD status: In progress)
Teaching
I am teaching both at postgraduate and undergraduate level at the University of Surrey. At postgraduate level, I lead Utilising Technologies and also Implementing Change in Practice Modules. I am also the co-leader of Innovation of Quality Improvement and Patient Safety module. At undergraduate level, I also teach on Innovation & Leadership, Understanding Research and Evidence Based Practice, Developing Skills and Supporting Quality Dementia Care in the Acute Environment and Managing Mental and Physical Health Challenges modules.