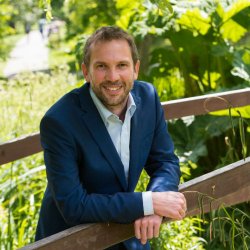 Dr Tom Bond
---
Senior Lecturer
PhD, MICE, FHEA
About
Biography
I joined the University of Surrey in March 2017 as a Lecturer in Civil and Environmental Engineering. My first degree is in chemistry from the University of Bristol. Subsequently I undertook a master's degree, then a PhD, in water engineering at Cranfield University. After finishing my PhD I worked as a science writer at the Royal Society of Chemistry, then as a postdoctoral researcher at Imperial College London. After a year as a research fellow at the University of KwaZulu-Natal in Durban, South Africa, researching the anaerobic digestion of sewage, I returned to Imperial College, developing an independent research programme as an Imperial College Research Fellow. My research has been funded by various sources, including EPSRC, Defra, UK water companies and the South African Water Research Commission. I am a Chartered Member of the Institution of Civil Engineers.
Research interests
My research has the ultimate goal of engineering solutions to the impacts of hazardous pollutants, through investigating the underlying chemical pathways which define their fate in aquatic systems. This involves addressing key research questions which link disciplines including civil engineering, public health, chemistry and sustainable development:
Drinking water disinfection byproducts - which byproducts, if any, can explain the association between bladder cancer and long-term exposure to chlorinated drinking water identified from epidemiological studies? How can their formation be controlled during potable water treatment? How will deterioration in raw water quality alter the profile of byproducts formed during drinking water disinfection?
Aquatic microplastics - what is the eventual fate of the vast amounts of plastic litter in both the ocean and freshwater? Do certain types of plastics degrade to more benign products than others?
Sustainable treatment technologies - which methods, ideally involving minimal consumption of energy and chemicals, have the potential to revolutionise the approaches used to purify water in both developing and developed countries?