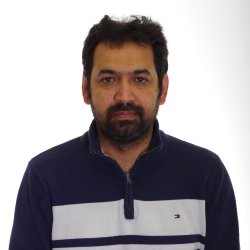 Dr Umer Chaudhry
---
Research Fellow - Molecular Parasitology
About
Biography
I have earned a bachelor degree (DVM) in Veterinary Medicine in 2005, since then I have established my research career in the field of Parasite Disease Epidemiology and Antiparasitic Drug Resistance. Therefore I pursue a MSc degree in Veterinary Parasitology, MSc in Molecular Biology, and MSc in Biomedicine from Sweden. I did my PhD in the field of Molecular Parasitology from the School of Veterinary Medicine, University of Calgary, Canada. Since defending my thesis in May 2015, I worked at the School of Veterinary Studies, Edinburgh, Scotland and recently moved to the School of Veterinary Medicine, Surrey, England.
Areas of specialism
Parasite Disease Epidemiology;
Antiparasitic Drug Resistance;
Population Genetics of Parasite
University roles and responsibilities
VMS2009- Concept of Infectious Diseases (BVM&S)

VMS3009- Veterinary Research Project (BVM&S)

VMS1007- Structure and Function-5: Reproductive System (BVM&S)

VMS2010- Animals in Society-3 Module (BVM&S)

VMS3011-Veterinary Medicine-2 Module (BVM&S)
My qualifications
PhD Molecular Parasitology
University of Calgary, Canada
MSc, Biomedicine
University of Skövde Sweden
MSc, Molecular Biology
University of Skövde Sweden
MSc, Parasitology
University of Veterinary Sciences Pakistan
Doctor of Veterinary Medicine
University of Veterinary Sciences Pakistan
Previous roles
Visiting Faculty
University of Edinburgh, Scotland, UK
13 August 2015 -
30 July 2020
Post Doctoral Research Scientist
University of Edinburgh, Scotland, UK
Research

Research interests

I took a lead for the development of novel high throughput 'haemoprotobiome' tool and applied it to quantify the protozoan infection in livestock and humans. I develop the novel 'tremabiome' tool for the identification of fluke parasites and the distribution of trematode infection in their definitive hosts. I have modified the 'nemabiome' tool, and develop the pyrosequencing tools to quantify the proportions of nematode parasites in various co-infection studies. Sensitive diagnostic tools are needed for better-informed disease surveillance and evaluating parasite responses to drug treatments.

Another key component of my work is to develop a novel multiplicity of infection (MOI) based genetic models to explain how the infection raises and transmitted in protozoan and fluke parasites of livestock. The information will contribute to the understanding of host-parasite relationships, influences of vectors and, or intermediate hosts, and climate change on the epidemiology of parasitic diseases, thereby aiding in the development of parasite control strategies.

I develop expertise to study the antigenic diversity in livestock and human parasites. The overall aim is to define the antigenic relationship between parasite populations for the foundation of future validation studies of antigenicity and immunogenicity of vaccine candidate loci capable of providing cross-protection against different parasite strains at the regional level.

I have led a research project to study the antiparasitic drug resistance in the nematode and protozoan parasites of livestock and humans. I have demonstrated the selective sweep based genetic model to explain how the antiparasitic drug resistance mutations could develop, allowing different predictions to be made about the consequences of selection pressures, fitness costs, and gene flow in the emergence and spread of resistance alleles in parasite populations. I worked on the construction of a genetic linkage map and XQTL analysis to aid in the identification of antiparasitic drug resistance loci that help to improve long-term sustainable resistance control measures.
Supervision
Postgraduate research supervision
I have supervised several PhD, MSc/VetMed Resident and undergraduate (BVM&S, BSC, MBChb) students in UK, in addition to overseas PhD and MSc students in Pakistan, Sweden, and France. To date, 4 of 6 PhDs, 9 of 10 MSc/VetMed Resident and 8 of 10 undergraduate students have successfully completed their degrees. I work with my students to develop their research projects, while concurrently trained them in research methods. My students have taken the research projects on the number of different topics including parasite disease epidemiology, population genetics of antiparasitic drug resistance, novel molecular diagnostic tools, bioinformatics, and phylogenetic modelling. They first begin to read broadly across relevant literature and identify a research project of interest and considers the best possible dataset methods needed to tackle the research questions. Once they become comfortable with research practices, our focus shifts to develop analytical methods and to the clear presentation of their research findings, with a goal of presenting their work at a conference or co-authorship. To date, 4 of 6 PhDs, and 8 of 10 MSc/VetMed Resident students are successful for the co-authorship in high-quality peer-reviewed scientific journals. In this professional environment, students are immersed in a research community where research experiences are intensified, but the processes and approaches of scientific understanding, careful analysis, and clear communication should be maintained.
Teaching
I contribute to the teaching of the parasitology module (BVM&S). A crucial component of this course is to demonstrate both the life cycles of parasites and the significance of parasites in their ecosystems. For example, my students have successfully explored the features of arthropods parasites in combination with clinical information. They recognise the structure and feeding mechanisms of tick, lice, flea, and flies. They can identify the ciliate and flagellate protozoa by their type of movement and distinguish the protozoan parasites in the stained smear. They learn the nematode egg morphology with faecal egg count methods. They examine the specimens of liver and rumens having fluke infestation and the specimens of lungs having tapeworms cyst.
I teach veterinary research project model for  BVM&S  students at the School of Veterinary Medicine, University of Surrey.  In this module, my students develop their research skills, while concurrently trained in research methods.   
I teach in the structure of the reproductive system module at the School of Veterinary Medicine, University of Surrey  BVM&S students. In this module, I contribute to the lambing, stomach tubbing, castration and tail docking simulation using cadaver neonatal lambs. I  also teach the animal in society module at the School of Veterinary Medicine, University of Surrey  BVM&S students. In this module, I contribute to the safe animal handling and restraining, TPRs, intravenous, intramuscular and subcutaneous injection learning.
I also contribute to the laboratory tools for the molecular biology module (MSc). This course aims to introduce the basic techniques required to work with DNA. In this course, my students start with pathogen-infected cells and extract the DNA followed by PCR amplification. They clone the PCR product in the plasmid and analysed by restriction digestion to ensure the cloning has been successful, before submitting the DNA for sequencing. They amplify the DNA by real-time quantitative PCR (qPCR) and assess the pathogen load in samples.