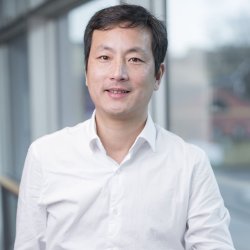 Dr Yi Ma
---
Reader in Cognitive Communications
Biography
Dr. Yi Ma is a Reader within the Institute for Communication Systems (ICS, formerly the Centre for Communication Systems Research, CCSR). He has extensive expertise in the areas of Signal Processing, Machine Learning and Information Theory, with their applications in Telecommunications.
Research
Research interests
Machine learning for future physical layer design 
Transceiver optimization for future communication systems such as URLLC.
Scalable Distributed MIMO technology
Opportunistic networking and cooperative communications
Hybrid data fusion and machine learning for mobile localization
Estimation, detection and synchronization 
Information theory and coding
Research projects
2017-2021 Artificial intelligence for future communications (Industry fund)
2013-2016 RESCUE (FP7 ICT Consortium)
2013-2014 LTE Machine-Type Communications: Phase II (Industry fund)
2012-2013 LTE Machine-Type Communications: Phase I (Industry fund)
2010-2013 WHERE2 (FP7 ICT Consortium)
2011-2012 Wi-Fi Indoor Positioning (EPSRC)
2010-2013 EXALTED (FP7 ICT Consortium)
2007-2010 WHERE (FP7 ICT Consortium)
2005-2007 WINNER2 (FP6 ICT Consortium)
2004-2005 4MORE (FP6 ICT Consortium)
2006-2009 Mobile VCE-Core 4 (EPSRC)
PhD Position
I am constantly looking for well self-motivated PhD candidates with excellent background in Physics, Mathematics, Wireless Communications, or Computer Science. Prior to submit your application, please make sure you have met the following University requirements :
A 1st class BSc degree or MSc with a Distinction (or equivalent to top 10% internationally).
A good research proposal (if ICS funding support is requested, please clearly indicate why the proposed research should be financially supported by the ICS).
For international students, it is essential to meet the University's English requirements (IELTS 6.5 or above (overall) with each section of 6.0 or above).
Supervision
Postgraduate research supervision
Current PhD Students:
Songyan Xue: Deep learning for future modem design
Ang Li: Deep learning for NOMA
Lifu Liu: Low-cost mmWave solutions
Jinfei Wang: Ultra-reliable low-latency communications (URLLC)
Ex-PhD Students:
Hongju Liu (04-08): Channel estimation for multicarrier transmissions
Na Yi (06-09): Cooperative communications
Yuanyuan Zhang (06-10): Adaptive cooperative relays
Mohammad Movahhedian (07-10): Frequency synchronization for multiuser multicarrier transmissions.
Parisa Cheraghi (09-12): Advanced spectrum sensing techniques
Ziming He (08-12): Advanced mobile positioning and tracking techniques
Hui Luo (07-11): Cooperative communications for satellite systems
Zhengwei Lu (09-13): Pilot-assisted fast spectrum sensing techniques
Jiancao Hou (10-14): Advanced multiuser-MIMO transmitter design
Chuyi Qian (10-14): Opportunistic relaying protocols
Erik Yngvesson (13-17): Coexistence of Massive MIMO in unlicensed bands
Juan Carlos De Luna Ducoing (14-17): Advanced modulations for scalable multiuser MIMO
Abdullah Alonazi (11-16): Less-calibrated indoor mobile localization
Guangyi Wang (12-17): Estimation of pilot contaminated channels
Raouf Yamani (15-17): Low-complexity vector perturbation for MIMO nonlinear precoding
My teaching
EEEM017: Fundamentals of Mobile Communications
EEE3006: Digital Communications
Personal and tutorial tutor for undergraduate students.
Year 1 and Year 2 undergraduate examination officer
My publications
Publications
Hou J, Ma Y, Tafazolli R
(2013)
Spatial interweave opportunistic spectrum reuse by employing distributed interference alignment,
IEEE Vehicular Technology Conference
Consider spatial interweave opportunistic spectrum reuse scheme, primary user with power constraints maximizes its achievable rate by water-filling its power on singular values of its channel links and leaving some eigen modes free to use. Therefore, secondary user can transmit using this free subspace in order to avoid interference at primary receiver. By employing transmit beamforming, secondary user can design its precoding matrix, where the interference to primary user can be aligned to the free subspace. As a result of non-degraded primary user's performance, perfect channel state information (CSI) is required at secondary transmitter. Unfortunately, this kind of CSI is hard to realize, it is therefore in this paper to investigate a limited CSI scheme. By secondary transmitter sensing the label of the Grassmannian quantized channel vectors, the proposed criterion can upper-bound the overall interference at primary receiver with a constant value, which is independent of secondary transmit power. We also study an alternative primary user power allocation strategy in order to balance the overall system performance. © 2013 IEEE.
Luo H, Ma Y, Evans BG
(2010)
Selective DF relaying for mobile satellite broadcasting,
IEEE International Symposium on Personal, Indoor and Mobile Radio Communications, PIMRC
pp. 2410-2414
This paper addresses mobile terminal (MT) relaying in order to improve the performance of mobile satellite broadcasting. It considers selective decode-and-forward (SDF) relaying with BICM-OFDM air interface. The BER upper bound was derived for the threshold-based SDF relaying in Rician fading channels. The suboptimal SNR threshold was then obtained by minimising this analytical upper bound. This scheme is compared in simulation with a conventional CRC and set threshold schemes. It is shown that the proposed suboptimal-SNR threshold scheme gives up to 1 dB performance gain compared to the conventional CRC-based scheme in the moderate Eb/No range (i.e., 2 dB
Hou J, Ma Y, Tafazolli R
(2013)
Intra-cell overlay opportunistic spectrum sharing by employing 1-bit feedback beamforming,
19th European Wireless Conference, EW 2013
This paper aims to investigate an intra-cell overlay opportunistic spectrum sharing scheme by employing 1-bit feedback beamforming. The work of interests is that base station broadcasts independent signal messages to two relay stations (RS-1 and RS-2). RS-2 decodes the signal messages in subcell 2 and attempts to share the spectrum of sub-cell 1 for its own transmission. For this reason, RS-2 makes a deal with RS-1 in sub-cell 1 to help RS-1 send its signal messages. As presented in the paper, by employing 1-bit feedback transmit beamforming, RS-2 can further improve RS-1's achievable rate and automatically eliminate the interference from RS-2 to subcell 1. Meanwhile, the achievable sum-rate upper bound of RS-2 is also analyzed. © VDE VERLAG GMBH.
Yi N, Ma Y, Tafazolli R
(2010)
Underlay Cognitive Radio with Full or Partial Channel Quality Information,
International Journal of Navigation and Observation
2010
105723
Cooperative communications can exploit distributed spatial diversity gain to improve link performance. When the message is coded at a low rate, source and relay can send different parts of a codeword to destination. This is referred to as the coded cooperation. In this paper, we propose two novel coded cooperation schemes for three-node relay networks, i.e., adaptive coded cooperation and ARQ-based coded cooperation. The former one needs the channel quality information available at source. The codeword splits adaptively to minimize the overall BER. The latter one is devised for relay network with erasure. In the first time slot, source sends a high-rate sub-codeword. Once destination reports the decoding errors, either source or relay can send one or two new bits selected from the mother codeword. Unlike random rateless erasure codes, such as Fountain code, the proposed scheme is based on the deterministic code generator and puncture pattern. It is experimentally shown that the proposed scheme can offer improved throughput in comparison with the conventional approach.
Movahhedian M, Ma Y, Tafazolli R
(2010)
Blind CFO Estimation for Linearly Precoded OFDMA Uplink,
IEEE TRANSACTIONS ON SIGNAL PROCESSING
58
(9)
pp. 4698-4710
IEEE-INST ELECTRICAL ELECTRONICS ENGINEERS INC
Liu H, Ma Y, Tafazolli R
(2009)
Enhanced linear interpolation schemes for chunk-based OFDMA uplink,
IEEE Vehicular Technology Conference
He Z, Alonazi A, Ma Y, Tafazolli R
(2013)
A cooperative positioning algorithm in cellular networks with hearability problem,
IEEE Wireless Communications Letters
2
(1)
pp. 66-69
The letter presents a cooperative positioning algorithm in cellular networks. Due to hearability problem, the distance between a mobile terminal (MT) and only its home base station can be utilized for positioning. Moreover, several MTs belongs to 3 adjacent cells cooperate with their nearby MTs for positioning. The simulation results show that the proposed algorithm outperforms the existing algorithms in the literature. © 2013 IEEE.
Lu Z, Ma Y, Tafazolli R
(2011)
A pilot-based spectrum sensing approach under unknown timing and frequency offset environments,
17th European Wireless Conference 2011, EW 2011
pp. 650-654
A pilot-based spectrum sensing approach in the presence of unknown timing and frequency offset is proposed in this paper. Our major idea is to utilize the second order statistics of the received samples, such as autocorrelation, to avoid the frequency offset problem. Base on the property of the pilot symbols, where the different symbol blocks usually have the same pilot symbols, some nonzero terms will appear in the frequency domain. To test the proposed approach, computer simulations are carried out for the typical Orthogonal frequency-division multiplexing (OFDM) system. It is observed that the proposed approach always outperforms the classic time domain Neyman-Pearson approach at least 4dB. Moreover, the proposed approach get the same performance as the weighted linear combination based approach when the transmitted data block size is equal to 2048, while a small computational cost is keep at the same time. Therefore, it can be said that the proposed approach can achieve a good trade-off between reliability, latency and the computational cost, when the transmitted data block size of the primary system is larger than 1000. © VDE VERLAG GMBH.
Ma Y, Tafazolli R, Zhang Y, Qian C
(2011)
Adaptive Modulation for Opportunistic Decode-and-Forward Relaying,
IEEE Transactions on Wireless Communications
10
(7)
pp. 2017-2022
IEEE
Orthogonal relay based cooperative communication enjoys distributed spatial diversity gain at the price of spectral efficiency. This work aims at improving the spectral efficiency for orthogonal opportunistic decode-and-forward (DF) relaying through employment of novel adaptive modulation scheme. The proposed scheme allows source and relay to transmit information in different modulation formats, while the MAP receiver is employed at destination for the diversity combining. Given the individual power constraint and target bit-error-rate (BER), the proposed scheme can significantly improve the spectral efficiency in comparison with the non-adaptive DF relaying and adaptive direct transmission.
Zhang Y, Ma Y, Tafazolli R
(2010)
Modulation-adaptive cooperation in Rayleigh fading channels with imperfect CSI,
IWCMC 2010 - Proceedings of the 6th International Wireless Communications and Mobile Computing Conference
pp. 148-152
Acute lymphoblastic leukemia (ALL) is the major pediatric cancer diagnosed in economically developed countries with B-cell precursor (BCP)-ALL, accounting for approximately 70% of ALL. Recent genome-wide association studies (GWAS) have provided the first unambiguous evidence for common inherited susceptibility to BCP-ALL, identifying susceptibility loci at 7p12.2, 9p21.3, 10q21.2, and 14q11.2. To identify additional BCP-ALL susceptibility loci, we conducted a GWAS and performed a meta-analysis with a published GWAS totaling 1658 cases and 4723 controls, with validation in 1449 cases and 1488 controls. Combined analysis identified novel loci mapping to 10p12.2 (rs10828317, odds ratio [OR] = 1.23; P = 2.30 × 10(-9)) and 10p14 marked by rs3824662 (OR = 1.31; P = 8.62 × 10(-12)). The single nucleotide polymorphism rs10828317 is responsible for the N215S polymorphism in exon 7 of PIP4K2A, and rs3824662 localizes to intron 3 of the transcription factor and putative tumor suppressor gene GATA3. The rs10828317 association was shown to be specifically associated with hyperdiploid ALL, whereas the rs3824662-associated risk was confined to nonhyperdiploid non-TEL-AML1 + ALL. The risk allele of rs3824662 was correlated with older age at diagnosis (P