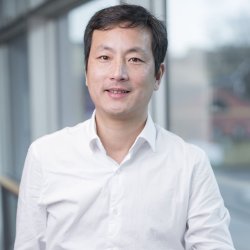 Dr Yi Ma
---
Reader in Cognitive Communications
About
Biography
Dr. Yi Ma is a Reader within the Institute for Communication Systems (ICS, formerly the Centre for Communication Systems Research, CCSR). He has extensive expertise in the areas of Signal Processing, Machine Learning and Information Theory, with their applications in Telecommunications.
Research

Research interests

Machine learning for future physical layer design 
Transceiver optimization for future communication systems such as URLLC.
Scalable Distributed MIMO technology
Opportunistic networking and cooperative communications
Hybrid data fusion and machine learning for mobile localization
Estimation, detection and synchronization 
Information theory and coding

Research projects

2017-2021 Artificial intelligence for future communications (Industry fund)
2013-2016 RESCUE (FP7 ICT Consortium)
2013-2014 LTE Machine-Type Communications: Phase II (Industry fund)
2012-2013 LTE Machine-Type Communications: Phase I (Industry fund)
2010-2013 WHERE2 (FP7 ICT Consortium)
2011-2012 Wi-Fi Indoor Positioning (EPSRC)
2010-2013 EXALTED (FP7 ICT Consortium)
2007-2010 WHERE (FP7 ICT Consortium)
2005-2007 WINNER2 (FP6 ICT Consortium)
2004-2005 4MORE (FP6 ICT Consortium)
2006-2009 Mobile VCE-Core 4 (EPSRC)

PhD Position

I am constantly looking for well self-motivated PhD candidates with excellent background in Physics, Mathematics, Wireless Communications, or Computer Science. Prior to submit your application, please make sure you have met the following University requirements :

A 1st class BSc degree or MSc with a Distinction (or equivalent to top 10% internationally).
A good research proposal (if ICS funding support is requested, please clearly indicate why the proposed research should be financially supported by the ICS).
For international students, it is essential to meet the University's English requirements (IELTS 6.5 or above (overall) with each section of 6.0 or above).
Supervision
Postgraduate research supervision
Current PhD Students:
Songyan Xue: Deep learning for future modem design
Ang Li: Deep learning for NOMA
Lifu Liu: Low-cost mmWave solutions
Jinfei Wang: Ultra-reliable low-latency communications (URLLC)
Ex-PhD Students:
Hongju Liu (04-08): Channel estimation for multicarrier transmissions
Na Yi (06-09): Cooperative communications
Yuanyuan Zhang (06-10): Adaptive cooperative relays
Mohammad Movahhedian (07-10): Frequency synchronization for multiuser multicarrier transmissions.
Parisa Cheraghi (09-12): Advanced spectrum sensing techniques
Ziming He (08-12): Advanced mobile positioning and tracking techniques
Hui Luo (07-11): Cooperative communications for satellite systems
Zhengwei Lu (09-13): Pilot-assisted fast spectrum sensing techniques
Jiancao Hou (10-14): Advanced multiuser-MIMO transmitter design
Chuyi Qian (10-14): Opportunistic relaying protocols
Erik Yngvesson (13-17): Coexistence of Massive MIMO in unlicensed bands
Juan Carlos De Luna Ducoing (14-17): Advanced modulations for scalable multiuser MIMO
Abdullah Alonazi (11-16): Less-calibrated indoor mobile localization
Guangyi Wang (12-17): Estimation of pilot contaminated channels
Raouf Yamani (15-17): Low-complexity vector perturbation for MIMO nonlinear precoding
Teaching
EEEM017: Fundamentals of Mobile Communications
EEE3006: Digital Communications
Personal and tutorial tutor for undergraduate students.
Year 1 and Year 2 undergraduate examination officer