Investment Management MSc – 2022 entry
Key information
Full-time (with placement): 2 years
Start date: February 2023
Why choose this course
This course will teach you a systematic approach to decision-making in investment management. You'll learn from experienced industry professionals and academics, while developing the skills you need to succeed in investment management or investment analysis roles within the finance industry.
This course is ideal if you're looking to start a career in investment and private wealth management, investment banking, pension funds, insurance or alternative investment partnerships.
You'll learn how to use market-leading tools such as Bloomberg, with Bloomberg Market Concepts certification embedded in our course. Our course is affiliated with the CFA Institute and you can apply for a scholarship to sit the Chartered Financial Analyst exam during your studies. In addition, we offer the Schweser CFA Essential Study Package free of charge to all scholarship holders.
We're ranked in the top 10 for business and economics in the United Kingdom by the Times Higher Education World University Rankings 2020.
What you will study
This course combines thorough training in investment theory with the practical tools you'll need to solve real investment problems. You'll learn the analytical, decision-making, problem-solving, risk mitigation and technical skills you need to thrive in an increasingly complex global financial environment.
Our compulsory modules will give you an understanding of core investment concepts and are based on the CFA curriculum, while our optional modules allow you to tailor your learning to your own interests or your planned career path.
By the time you graduate, you'll understand the investment management process and will be able to make informed decisions at every stage.
Placement opportunity
Our two-year MSc Investment Management with professional placement year course enables you to spend time working in industry.
After 1 year of full-time study at Surrey you'll be able to spend up to an additional 12 months gaining paid, professional work experience with an organisation. You'll be responsible for securing your own job offer(s), however, you'll be supported in your search with a series of employability workshops and benefit from some individual coaching.
The University works closely with several potential employers to help facilitate successful placement applications and there are several resources setup by the Employability and Careers Centre to assist you.
If you decide not to complete a placement, or don't secure an offer from an employer, you'll complete nine months of teaching followed by three months working on your dissertation. This means you'll complete your course in 12 months studying full-time.
Teaching and learning
You'll benefit from lectures and seminars taught by experts with a track record of industry experience in a range of roles, including investment managers, investment analysts, investment strategists and leading academics.
Professional recognition
Association to Advance Collegiate Schools of Business (AACSB)
Accredited by the Association to Advance Collegiate Schools of Business (AACSB).
Chartered Financial Analyst Institute (CFA)
Recognised by the Chartered Financial Analyst Institute (CFA).
Careers and graduate prospects
We offer careers information, advice and guidance to all students whilst studying with us, which is extended to our alumni for three years after leaving the University. Our graduates have lifetime access to Surrey Pathfinder, our online portal for appointment and events bookings, jobs, placements and interactive development tools.
Some of our graduates have gone on to secure careers in the following roles:
Investment/Portfolio Manager
Investment Fund/Wealth Manager
Investment Analyst
Business Analyst
Financial Advisor
Investor relations
Consultancy.
Accreditations

Accreditation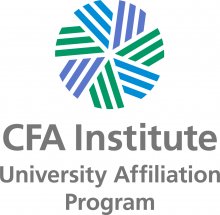 Academic year structure
Modules
Timetable
Contact hours
Entry requirements
A minimum of a 2:2 UK honours degree, or recognised international equivalent, in either Finance, Accountancy, Banking, Economics or Financial Services (including Insurance and Investment Management).
Applicants with a degree in Business Administration or Management can also be considered where Accountancy, Banking or Finance represent 25 per cent of the modules by weighting. If the 25% threshold is not met, suitable applicants may be offered a place subject to passing the CFA Institute Investment Foundations Program certificate prior to admission.
We will also consider a dual-discipline degree which includes Accountancy, Banking or Finance as either a joint or minor subject. If the relevant modules make up less than 25% of the degree by weighting, suitable applicants may be offered a place subject to passing the CFA Institute Investment Foundations Program certificate prior to admission.
We will take significant relevant work experience into consideration if you don't meet the above requirements. If you have at least one year of relevant experience in a full-time graduate-level role (or a minimum of two years' experience in a relevant graduate-level part-time role) please provide full details of your role and responsibilities in your personal statement and CV when you submit your application.
International entry requirements by country
Do I meet the requirements for this course?
We require you to submit a full application so that we can formally assess whether you meet the criteria published. Unfortunately, we are unable to provide an outcome based on an enquiry (via email, webform enquiry, phone or live chat).
English language requirements
| Course length | IELTS Academic requirements or equivalent |
| --- | --- |
| Full-time: 1 year | 6.5 overall including 6.0 in each category |
| Full-time (with placement): 2 years | 7.0 overall including 6.5 in each category |
| Part-time: 2 years | 6.5 overall including 6.0 in each category |
Credit transfer
The University of Surrey recognises that many students enter their higher education course with valuable knowledge and skills developed through a range of professional, vocational and community contexts. If this applies to you, a process called recognition of prior learning (RPL) may allow you to enter your course at a point appropriate to your previous learning and experience, or to join the start of a course without the formal entry requirements. This means that you may be exempt from certain elements of study in the course for which you have applied and be awarded credit based on your previous qualifications/experience. There are restrictions on RPL for some courses and fees may be payable for certain claims.
Please see the code of practice for recognition of prior learning and prior credit: taught programmes (PDF) for further information. Please email Admissions (admissions@surrey.ac.uk) with any queries.
Fees
Start date: October 2022
Full-time - 1 year
UK £13,500
Overseas £20,800
Full-time (with placement) - 2 years
UK To be confirmed
Overseas To be confirmed
Part-time - 2 years
UK £6,800
Overseas £10,400
Start date: February 2023
Full-time - 1 year
UK £13,500
Overseas £20,800
The 12-month placement option for this course costs an additional £1,850 on top of the base course fee listed above.
Please note:
These fees apply to students commencing study in the academic year 2022-23 only. Fees for new starters are reviewed annually.
If you are on a two-year or three-year part-time structured masters course, the annual fee is payable in Year 1 and Year 2 of the course.
Funding
Scholarships and bursaries
---
We're committed to making sure that we offer support for students who might need it.
Apply online
To apply online first select the course you'd like to apply for then log in.
1. Select your course
Select the course you wish to apply for.
2. Sign in
To apply online sign in or create an account.
Course

Status

Investment Management MSc

Full-time, 12 months, October 2022

Applications open

Closing date: Friday 22 July 2022

Investment Management MSc

Full-time (with placement), 24 months, October 2022

Applications open

Closing date: Friday 22 July 2022

Investment Management MSc

Part-time, 24 months, October 2022

Applications open

Closing date: Friday 22 July 2022
Terms and conditions
When you accept an offer of a place at the University of Surrey, you are agreeing to comply with our policies and regulations, and our terms and conditions. These terms and conditions are provided in two stages: first when we make an offer and second when students who have accepted their offers register to study at the University. View an example of our offer terms and conditions and our generic registration terms and conditions (PDF) as a guide as to what to expect.
Please note: our offer terms and conditions will generally be available in the September of the calendar year prior to the year in which you begin your studies. Our registration terms and conditions will vary to take into account specifics of your course and changes for the specific academic year.
Disclaimer
This online prospectus has been prepared and published in advance of the academic year to which it applies. The University of Surrey has used its reasonable efforts to ensure that the information is accurate at the time of publishing, but changes (for example to course content or additional costs) may occur given the interval between publishing and commencement of the course. It is therefore very important to check this website for any updates before you apply for a course with us. Read more.
In light of the COVID-19 pandemic, the University has had to change the delivery (and in some cases, the content) of its programmes, together with certain University services and facilities for the academic year 2022/23. These changes include the implementation of a hybrid teaching approach during 2022/23.
Campus location
Stag Hill
Stag Hill is the University's main campus and where the majority of our courses are taught.
Address
University of Surrey
Guildford
Surrey GU2 7XH