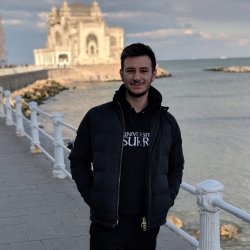 Georgian Vasilache
"I can truly say that Surrey has shaped me into the adult that I am today."
Course
Investment Management MSc
After completing my undergraduate studies in Accounting and Finance I knew it wasn't all over. Having spent the last three years in Guildford I can tell you that the University of Surrey is hard to leave behind. The beautiful campus is always filled with laughter from students everywhere you go, making it one of the friendliest environments to be in.
The main reason for choosing to study Investment Management is my passion for the ever-changing world of finance. This course provides hands on experience into investment management by giving you the opportunity to complete the renowned Bloomberg Market Concepts (BMC) module on the Bloomberg terminals located in Surrey Business School.
Knowing how the world is interconnected is crucial in finance. This programme equipped me with numerous quantitative and fundamental skills which allowed me to analyse financial markets and keep up to date with current world affairs. Being able to add value by applying knowledge is one of my personal interests and helped me decide that this course is right for me.  
"Surrey Business School also offers scholarships for MSc students including the Chartered Financial Analyst (CFA) exams which is one of the highest finance distinctions in the world. It is fascinating to see how the faculty is helping and encouraging students to achieve their future dream jobs."
The course is well structured and has a good combination of core and optional modules, allowing you to specialise in different fields of finance, including risk management, fixed income and equity valuation or corporate governance. This programme has got it all.
There are many opportunities to apply the knowledge learned, one of them being the Bloomberg Trading Challenge. This is where 250 teams from UK universities are given $1m virtual cash to invest in the equities markets over the course of three months. At the end of the competition, the first three teams which have generated the highest returns will be invited to the Bloomberg office in London to present their investment strategy, and this could potentially lead to a graduate job.
Each module has enabled me to develop crucial skills needed in the world of finance such as teamworking, communication, organisation, time management to name just a few. I can truly say that Surrey has shaped me into the adult that I am today.
The academic staff at Surrey Business School are professionals which have many years of experience working in the financial sector and this really contributes to the learning experience. They are very friendly, easy to approach and have an open-door policy during their office hours.
Outside of studies I've been widely involved with the University of Surrey Karate club which helped me keep fit and healthy. The club is run by professional instructors three times a week in preparation for the BUCS National Championships where the club has been in the top ten for three years running. There are plenty of societies and sports teams which regularly have socials bringing everyone together for bar crawls, pub quizzes and themed nights in the Students' Union Rubix club.
One of the best things about Surrey is the diversity. Being able to make friends from every corner of the world is probably one of the best things you can do. Surrey has given me the opportunity to make friends for life and it will always have a special place in my heart for that.
Discover more about postgraduate study at Surrey Business School.