Doing what comes naturally: Impact of gender diversity on corporate environmental strategy in emerging economies
This project investigates the effect of top management team (TMT) gender diversity on environmental management.
Overview
Drawing on upper echelon theory, we examine how TMT gender diversity influences firms to adopt ISO 14001. We further examine how this influence is affected by organisational, institutional and female executives' personal attributes.
Using Probit instrumental variable regressions, and a sample of 490 listed domestic firms from three highly polluted emerging countries (China, India and Pakistan), we find that the presence of women in TMTs is positively related to the likelihood of ISO 14001 adoption. Additionally, in countries with high institutional gender parity, in firms that have corporate social responsibility committees, and female executives have more discretion, the relationship between TMT gender diversity and ISO 14001 becomes stronger. Overall, our findings make important contributions to literature and practice.
Team
Principal investigator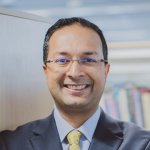 Professor Tazeeb Rajwani
Professor of International Business and Strategy, Head of Department of Strategy and International Business
See profile