Identifying the impact on and support needs of NHS staff following a colleague's suicide: A study to inform postvention guidance
A multidisciplinary team of researchers in clinical settings, academia and the charity sector as well as front-line medical staff have developed this project.
Overview
Between 2016 and 2019, the latest year in which data are available, an average of 10.6 people died by suicide for every 100,000 people in England and Wales; 23,687 people in total. Amongst health professionals, the suicide rate is 24% higher than the national average, largely explained by the increased risk of suicide of female nurses, male paramedics and female doctors. Suicide amongst female nurses is four times higher than the national average. Those affected by suicide are at greater risk of mental ill health and suicide attempt themselves.
Past research shows that if people affected by suicide receive support early on, it can help them come to terms with their loss and reduce the risk of further mental health problems and suicide. This is called postvention. It is therefore important that NHS staff receive the best support at the right time.
The full impact of experiencing a suicide on staff who work in health settings is unknown and there is currently no postvention guidance or benchmark standard to assist NHS organisations or managers to support staff. Our research will address the gap in knowledge by using the experiences of staff to build a better understanding of postvention need.
The NHS is a unique place to work that requires distinct, evidence-based solutions to the needs of its staff. This study will seek to understand the impact on, and support needs of, NHS staff following a colleague's suicide. This research is being conducted by a multidisciplinary team who include NHS staff who have been impacted by the suicide of a friend or colleague.
If you are interested in taking part, contact either of the study researchers: Johanna Spiers (j.spiers@surrey.ac.uk) or Hilary Causer (h.causer@surrey.ac.uk).
If you have any questions about this research, please contact the Chief Investigator, Ruth Riley (ruth.riley@surrey.ac.uk).
Aim of the project
To understand the impact of a colleague's suicide on NHS staff and their support needs, in order to inform postvention guidance.
Objectives
To undertake an integrative review of suicide impact and postvention interventions in other settings.
To explore the impact of colleague suicide on staff wellbeing and grief reactions to such an event.
To explore staff views about risk factors, which may have contributed to the suicide of their NHS colleague and warning signs the individual may have displayed.
To identify what helps and/or hinders bereaved colleagues to seek support, to characterise supportive work cultures, and to identify staff preferences for future support.
To explore how managers respond to and support their employees and colleagues following a death by suicide, and to identify current postvention activity.
To use the findings to:

Develop evidence-based postvention guidance for NHS organisations and managers to support and respond appropriately and effectively to bereaved or affected employees.
Apply for further funding to develop and evaluate the appropriateness and effectiveness of an empirically-informed postvention support package for use across the NHS.
Methods
We will conduct semi-structured interviews with NHS staff and managers impacted by the suicide of their colleague. We will explore the views of a range of staff working in different settings, including hospitals, ambulance service and General Practice.
This project was informed in collaboration with Junior Doctors, Paramedics and Nurses with experience of suicide bereavement.
Funding and Ethics
The study is funded by the Department of Health's National Institute for Health Research, Health Service and Delivery Research (Reference: 129341).
The study has been reviewed and approved by the Health Research Authority (21/HRA/4450). This is to protect your safety, rights, wellbeing and dignity. This study was also approved by the University of Birmingham's Research Ethics Committee (ERN_20-1566).

Stay connected
Latest tweets
@NHSPostvention
Important survey data evidencing the impact of working during the pandemic on healthcare workers experiences of sui…
https://t.co/YMRGrCSYv3
**POSTVENTION GUIDANCE LAUNCH EVENT** Join us online on 25th July 11.00 - 12.00 for the launch of our evidence-bas…
https://t.co/h5Y9KyUgdi
Team Biography
I am an applied medical sociologist and qualitative methodologist. My research uses qualitative and inter-disciplinary approaches to investigate the contexts/causes of distress and suicidality, including workplace injustices, working conditions and cultures, experienced by healthcare professionals. My research contests neoliberal individualised approaches which pathologise NHS staff. Instead, my work focuses on occupational, political, systemic and cultural contexts in which staff work and and how they impact on the emotional and psychological health of NHS staff.
My previous research explored contexts contributing to distress in GPs and then junior doctors; my recent research project explored the impact of NHS staff suicide on their colleagues and teams to develop the first evidence-based postvention guidance for the NHS. Biography
Anya Gopfert is a doctor, a senior public health registrar and an honorary lecturer at the University of Exeter. Anya has continuously advocated for working conditions for junior doctors, as a BMA representative and within her workplace. She has been a long-term advocate for health and wellbeing of NHS staff, including developing a stream of work at the Health Foundation on the health and wellbeing of lower paid NHS employees. Anya has experienced suicide bereavement after the death of her friend who was a doctor. Anya's experiences following the suicide have shaped the impetus for this study and need for research-informed postvention guidance. Dr Maria van Hove
Academic public health registrar
Biography
Maria van Hove is a junior doctor with experience in campaigning for improved working conditions for junior doctors and NHS staff. Maria is now an academic public health registrar in the South West, and is working on approaches to improve working conditions in the NHS. Maria is a previous National Medical Director Clinical Leadership Fellow at NICE. Maria has experienced suicide bereavement after the death of her friend who was a doctor. Maria's experiences have also shaped the impetus for this study and need for research-informed postvention guidance. Biography
Kathryn Grayling works for NHS Employers within the NHS Confederation and has a clinical background as a paramedic. Prior to this Kathryn was clinical fellow to the chair of HEE where she supported the delivery of the Secretary of State commissioned review into the mental wellbeing of the NHS workforce and learners. Kathryn has since advised and supported numerous ALB and research groups on NHS staff wellbeing and is currently working with NHS people directors nationally on workforce strategy and policy. Dr Stephanie Aston
Senior Research and Evaluation Manager, Samaritans
Biography
Stephanie is Senior Research and Evaluation Manager at Samaritans. She supports the organisation in developing knowledge, evidence and data to inform organisational and service development. Stephanie works closely with external researchers to gather evidence that can influence change and help improve services.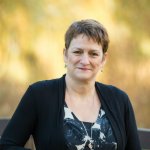 Professor Jill Maben
Professor of Health Services Research and Nursing Professor Carolyn Chew-Graham
Professor of General Practice Research at Keele University
Biography
Carolyn Chew-Graham is a GP Principal in Central Manchester, Professor of General Practice Research at Keele University, Honorary Professor of Primary Care Mental Health at Midlands Partnership Foundation Trust, Honorary Professor of Primary Care, University of Manchester, and Visiting Professor at the University of York. Carolyn's main areas of interest and expertise include the primary care management of people with mental health problems, multiple health conditions and unexplained symptoms; as well as the mental health and wellbeing of clinicians. Professor Louis Appleby
Professor of Psychiatry, University of Manchester
Biography
Louis Appleby is Professor of Psychiatry at the University of Manchester where he leads a research centre investigating suicide and self-harm. He chairs the Government's advisory group on suicide prevention. Biography
Nikolaos Efstathiou is a Lecturer in Nursing. His expertise lies in review methodology and bereavement, grief processes, critical and end of life care. He also has extensive experience of sensitive research with people at the end of life. Biography
Géraldine is an experienced therapist with a warm, caring, open and direct approach, and an active, therapeutic practice focusing on solutions and strategies to understand and address personal issues and problems. Holding Senior Registered Accredited Member status with BACP, her therapeutic background is based on a psychodynamic model, which means that she is interested in how our past and mental processes affect us. 
Having worked in varied professional settings, Géraldine enjoys working with people from all backgrounds. She has developed an interest in research and was a founding member of the Student Counselling Outcomes Research and Evaluation (SCORE) consortium, and the Mindfulness Skill Study at the University of Cambridge. Working in universities for over 20 years, she has worked with many young people with suicidal thoughts and chaired the BACP Universities and Colleges conference on working with suicide, and the University of Cambridge working group on developing a suicide prevention strategy.
Researchers Dr Johanna Spiers
Applied Health Researcher, University of Birmingham.
Biography
Johanna is an Applied Health Researcher at the University of Birmingham. She is a psychologist who uses qualitative methods to explore the lived experience of various mental and physical health conditions as well as the experiences of frontline healthcare workers.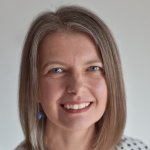 Biography
I am a Research Fellow currently working in a project team to identify the impact of colleague suicide on NHS staff, and their needs, to inform postvention guidance. I employ qualitative methods to explore experience, perception and meaning.
My previous research explored the impact of student suicide on staff in UK universities. Prior to my research career I worked in child protection and young people's mental health settings in the third and public sector. My research interests are informed by my practice experience. I am curious to learn more about the impact of adverse events in the workplace on individual practitioners, teams and workplace cultures.
Outputs
After Them: Postvention in the NHS
This is the story of three of the study's participants.
NHS Postvention Guidance Launch
A recording of our guidance presentation and launch from Tuesday 25th July 2023.
Information for families and participants
Information for bereaved relatives of NHS staff who have died by suicide
Bereavement can be the most distressing experience we will ever face and to lose someone who has taken their own life is unbelievably tough. That is why we are conducting this study that focusses on the impact on NHS staff when a colleague takes their own life, as we want to ensure that NHS staff receive the support they need. 
Rest assured that, throughout the study, we will not collect any personal or identifiable information about NHS staff members who have taken their own life, and information provided by participants in the study will remain strictly confidential.
If you want more information about the study and what is involved, please refer to the Participant Information Leaflet on this webpage. This also includes contact details of organisations which provide support to NHS staff.
 Alternatively, if you want to speak to someone about the study, please do not hesitate to contact the Chief Investigator, Ruth Riley (ruth.riley@surrey.ac.uk).
Information for participants