Engaging the public with our research
Here at the University of Surrey, we are committed to engaging a range of stakeholders with our research.
The National Coordinating Centre for Public Engagement defines public engagement as "The myriad of ways in which the activity and benefits of higher education and research can be shared with the public. Engagement is by definition a two-way process, involving interaction and listening, with the goal of mutual benefit."
Who we engage with
Our local Guildford community and civil society more broadly 
Patients and patients groups 
Businesses and the commercial sector
Schools and colleges.
As a signatory to the National Coordinating Centre for Public Engagement's Manifesto for Public Engagement, the University is committed to contributing to society through public engagement and engaging different communities with our research. 
How we engage with the public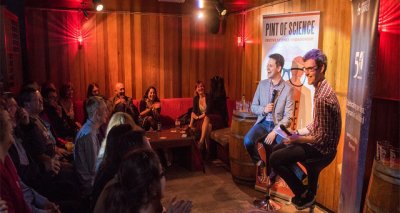 Many of our academics showcase their cutting-edge research at a number of national and international festivals. Recent University of Surrey exhibits and talks include our innovative space debris research at the Royal Society Summer Exhibition and Jim Al-Khalili introducing the exciting new field of quantum biology at New Scientist Live.   
National events
Most festivals run on an annual basis and some of the top festivals across science, social science and humanities include:
Local events
In addition to these national festivals, our academics take part in local events sharing their research accessibly with a wider, public audience in the community. These include:
Pint of Science
Pint of Science is an annual festival held every May providing researchers with a fantastic opportunity to take their research into the local community and pubs. Find out more about the Pint of Science in Guildford.
Bright Club
Bright Club is a collection of comedy-club-style events promoting public engagement by scientists and academics. Guildford is a host town and for the latest events and dates, follow @BrightClubGLD on Twitter.
If you are a Surrey academic and would like to get involved in public engagement initiatives such as Pint of Science and Bright Club, please email Public Engagement Manager, Ross Kelway.
Find out more
Discover more about our community engagement in Guildford and the surrounding area, as well as our specialist physics outreach, which includes our unique telescope dome on campus.
Many funding bodies offer support and advice around public engagement:
The UK Research Councils have dedicated information and calls for public engagement and have produced a helpful guide for evaluating public engagement activities.
The Wellcome Trust also offer a range of support, initiatives and funding for public engagement in science and health research.
For further resources on all aspects of public engagement, please visit the NCCPE website.