Revenue Management
We offers this two-day course aimed at helping businesses take a more dynamic approach to their revenue strategy.
Overview
The pace of change within the hotel, tourism and hospitality sector is intense. Keeping up with the latest strategy for revenue management is essential to ensure business growth. By participating in this course, individuals and organisations can introduce the latest thinking into their strategy and ensure maximum value is gained from each room and guest.
Our course leaders have 40 years' of experience between them within independent and large hotel groups. They understand and can articulate the challenges around seasonality, yield management and the pressure of adapting pricing to suit demand. 
The well-respected course includes competitive simulations and practical advice, which can be immediately transferred back to the organisation. We can deliver our teaching in your business, or individuals can join the open course.
Participants
The course is targeted at current revenue managers and colleagues seeking to develop their understanding of revenue management from serviced apartments, bed and breakfast, resort and spas or residential conference venues.
Topics
Revenue management: its evolution and future
The customer, who they are, how they book and how to reach them
Market segmentation
Distribution and transaction costs
Pricing and its relationship to value
The importance of online reputation and reviews
Trends around the management of big data.
Delivery methods
Practical examples, discussions and exercises are integrated throughout the programme to enhance and apply theoretical learnings.
In small groups, attendees will take part in a competitive simulation, managing their own 4* property for one year, responding to market conditions. Participants have the opportunity to make strategic decisions concerning:
Strategic planning and capital expenditure
Sales and marketing
Pricing and market segmentation
Distribution
KPI and financial analysis and interpretation.
Course leaders
The course will be delivered by Sylvia Ganbert, Teaching Fellow at the University of Surrey and Janel Clark, Head of Consultancy and Education at Next Generation. Sylvia has recently returned to the UK following 4 years in Dubai, working in some of the most exclusive properties within Tiara Hotels and Resorts, Fairmont Raffles Hotels International and InterContinental Hotel Group.
Between them, Sylvia and Janel have combined experience of over 40 years in the area of revenue management, having worked worldwide in both independent and large group hotel businesses. They are perfectly placed to provide sound teaching, demonstrating first-hand experience along with an understanding of current challenges and developments in the area of revenue management. Facilitators are approachable and welcome participants questions.
Dates
Our next course is on 11 and 12 June 2019.
Day one: 9:30am - 6:30pm followed by a drinks reception to actively encourage networking with other participants and speakers.
Day two: 9am - 5pm.
Location
The course will take place in a dedicated space at the University of Surrey campus in Guildford, set amongst the vibrant student atmosphere, with catering from Lakeside Restaurant.
Cost
£700 per person. This includes catering, parking, learning materials as well as a networking drinks reception at the end of day one.
Please note, there is a 10% discount for group bookings.
Apply
You can book your place on this course through our online store.
Testimonials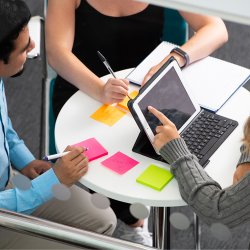 "Nathalie, I want to thank you, Janel and Sylvia for a wonderful two days. I thoroughly enjoyed this class and wish to now do the forecasting module. I really can't speak highly enough of the course."
Gary Redmond, General Manager, Batty Langley's Hotel