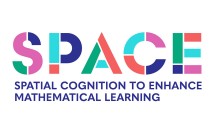 About the SPACE programme
In this study, researchers from the University of Surrey, Loughborough University, University College Dublin and Birkbeck (the SPACE team) are using LEGO® to train spatial skills. An independent evaluation team from the Centre of Evidence & Implementation (CEI) will assess whether the SPACE programme is effective and feasible for teachers to deliver in Year 2 maths lessons.
Information about the study
There is a known relationship between Lego and Mathematics. We have shown that, one reason for this link is that both Lego and Maths draw on common spatial processes, for spatial visualisation (using a mental blackboard and manipulating objects in your mind's eye), part/whole relationships, spatial working memory and spatial language (words like 'between', 'left', 'next to'). The development of these spatial skills enables children to use them effectively in their mathematics learning and is most effective for children from disadvantaged backgrounds. In this study we will work with schools to run a 6-week, teacher-led, whole class LEGO® intervention during Year 2 maths lessons. as a method for improving spatial and maths ability.  During the study the effectiveness and feasibility of running this intervention will be assessed by an independent evaluation team.
Where is the SPACE study being carried out?
The SPACE study is being conducted by researchers at the University of Surrey, Loughborough University, University College Dublin and Birkbeck. We will invite Schools, initially from Surrey and Portsmouth, to take part.
Who will be taking part in the study and what will they be asked to do?
Children in Year 2 in participating schools will complete twelve 30-minute structured Lego sessions over six weeks (two sessions per week) led by their classroom teacher. We will then measure the children's spatial and maths skills before and after the intervention.
Aims and objectives
The programme aims to improve spatial thinking and spatial language skills using structured LEGO® play, leading to improved mathematics outcomes.  
Objectives:
Train teachers to deliver the SPACE intervention
Provide teachers with a deeper understanding of the importance of spatial thinking for mathematics, and increased confidence to implement spatial activities and using spatial language.  
Establish the relationship between the SPACE programme, with children's spatial and maths abilities.