Our aim is to give all students the chance to explore innovative ideas and to develop your business skills whilst developing skills to use in your career.
We offer a range of activities and challenges to give you a taste of 'enterprise' and maybe even launch your own business.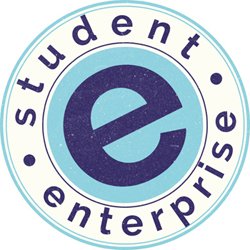 Enterprise spaces on campus
The enterprise team supports all students who want to develop their business into the real thing, that's what these spaces help with.
A space for 'your business'. The Studio is a dedicated incubator space for student and alumni businesses. It offers a collaborative office space, for you to work alongside other businesses and gain real life experience; of what it is like to run your own business in a safe supportive environment.
If you're interested in trying out your business in the Enterprise Studio, then please be in touch with the Enterprise team and email studententerprise@surrey.ac.uk or come to the office, ground floor of the Business School, 13 MS 01.
The space is a flexible presentation suite, meeting room and idea generation space. It has been created to allow students to develop their business from idea to launch. Additionally, all of Student Enterprise workshops will be ran out of the space
All student businesses working in the Enterprise Studio have access to the space.
Our dedicated food kiosk allows our Neu! Food competition winners to trial their food businesses. Our unique partnership with the campus-based Hillside restaurant allows you to market test and trial your food business for six weeks. If successful you're then eligible to pitch your busy directly to senior catering staff of why your business should remain trading on the kiosk for the rest of the year.
Here are some resources relating to Studio that you might find useful, click on them to view a .pdf copy.
Mentoring
Our mentors are local business professionals, passionate about their specialist area. They volunteer their time to help you by sharing their practical advice on overcoming the hurdles involved in setting up in business.
Nigel founded his own software company in 1987 specialising in national database systems. In 1995 the company, Pixology, started to develop its own digital imaging software products and later launched The Digital Camera Company, the first internet-based camera retailer.
In 2002 Nigel became the founding Chairman and Business Champion of the Government-funded Surrey Enterprise Hub and then, in the subsequent Innovation & Growth Team became more hands-on as a trained business mentor.
A few years ago Nigel started a new company, Passionate Innovation to help and inspire organisations to build an effective and continuing innovation culture.
Nigel has been the entrepreneur-in-residence at Surrey since 2006. He describes the role as "finding enterprising students and helping them do it".
Janet Preston is Managing Director of Cold Fuzion, her own independent business consultancy. She graduated from The University of Surrey with an honours degree in Physics, having completed a professional training year at the Institute of Oceanographic Sciences.
Today, Janet is a senior professional with proven experience in designing and managing major business change projects and programmes. She is widely recognised by her clients for sound intellectual ability, structured well-planned approaches, attention to detail and, equally importantly, for her good humour and skills in selling her ideas. She is bright, articulate, a strong team player with a deep passion for quality in everything she does and willingly develops skills in people around her.
Prior to becoming an independent consultant, Janet was a Partner at KPMG. She has also worked for a number of blue chip companies including Ernst & Young, Arthur D Little, Perot Systems and Hoechst.
In her spare time, Janet is Education Liaison Officer for the Institute of Directors in Surrey, a member of the Surrey Board of Young Enterprise and Chairman of the Surrey Organising Committee for Teen Tech.
Alec is an experienced business coach and mentor and has held numerous executive and non-executive roles in businesses from start-ups to multi-nationals since 1986. Current roles include non-exec Director at the Academy of Contemporary Music and CEO of his own software consultancy.
A "techie" at heart, Alec specialises in the technology sector but has coached in many others including retail, media, healthcare and engineering.
Alec is a Chartered Director, Chartered Engineer, Chartered IT Professional and a Fellow of the British Computer Society.
"I love the excitement of start-ups and new ideas."
Simon studied Communication Design and then worked in the industry for several years, quickly rising to Managing Director level. As Apple Macs appeared on the creative scene, he recognised the important part they were going to play and keen to harness their potential, started his own business in 1989, becoming one of the few agencies at the time to work almost entirely on Macs.
Almost 25 years later, FdK Design Consultants continues to thrive, having built its reputation on a deep knowledge of the design business and the effectiveness of good design when applied to all areas of a company's operations.
Simon is a member of the Design Business Association, the Institute of Directors and Surrey Chambers of Commerce and says of his experience of mentoring in the Young Enterprise scheme "It's been a great experience for me to be there at the beginning of the students' start-up companies. Their energy and enthusiasm is infectious and I think I have gained as much as they have from the process of helping them to organise and prioritise."
Steve is a business start-up coach, business author, entrepreneur and novelist. He started his career as an advertising account executive for two top London agencies working on blue chip clients in FMCG (Fast Moving Consumer Goods). His clients included Cadbury's, HJ Heinz, The London Evening Standard, Johnson & Johnson, Reckitt & Colman and Barclays Bank. He moved into integrated marketing communications with the focus on marketing strategy and promotion marketing with brands such as Fosters lager, Captain Morgan Rum, Lever Brothers, Shell UK Oil and Mirror Group Newspaper.
After years of providing consultancy advise, Steve came up with an idea for a new product in the gardening market, got a prototype made, produced a small initial quantity, trade marked the name and launched "Spanish Rings" - Spanish Style Flower Pot Holders. Spanish Rings created a Mediterranean-style hanging garden. At launch, the product won the New Product of the Year Award.
The highs and lows of running Spanish Rings Limited formed the raw material for the pre-start up book, "Success before Start-Up". Steve has gone on to provide start-up business coaching while Spanish Rings has evolved into an international mail-order brand.
Steve is in the process of updating and rewriting his book "Fast Track Your Business Writing Skills" to include advise on public speaking - and particularly addressing a business audience.
Business engagement
We are always looking to work with businesses or individuals who can help to inspire our students and foster their entrepreneurial spirit. Whether you can help us with a financial donation or simply by offering your time and expertise, we would be grateful to hear from you.
Our students really value interacting with successful business people so we would love to hear from you however you want to get involved.
Please email us at: studententerprise@surrey.ac.uk or call 01483 683489.
Inspire young people for their future in the business world.
Because your insight and experience can:
Help raise awareness of the breadth of opportunities available.
Develop the students' business awareness and employability skills.
Inspire young people to pursue a right career path for them.
Empower students who aspire to run their own businesses.
Guide and mentor prestart-ups and start-up businesses
What's in it for you?
Volunteering with us brings a range of benefits for you and your business, including:
Raising your profile, enhancing your reputation in your local community, and making a real contribution to your Corporate Social Responsibility commitments.
Extending both your professional and personal networks.
It's a fun and rewarding experience that really makes a difference to the students you encounter.
The short answer to that is however much time you could give! The longer answer is:
Available for an hour or two?
If you have just hour or two, consider the following:
Give a talk or be interviewed by students about your career and your company development
Run a workshop
Be a judge at our pitching competitions
Attend a student and business networking event
Available for a whole day? Once or twice a year?
You could help run one of the many business games that we facilitate.
Little time but can offer financial support
You could consider making a donation - it helps our students in numerous ways.
Transformers and Rectifiers made a donation we assigned to a prize fund at a Dragon's Den style pitching competition. The winners used the money to take their business idea to the next level. One student used their prize money for a prototype, Bluelephant was one such winner.
Alternatively, you could consider making a donation to our Student Enterprise Fund. Generous donations from the local business community provide valuable funding for pre-start up and early start up student businesses.