Events
Find out more about our events.
Hackathon17 | 13 - 15 June 2022

Students across all levels of study from Foundation Year to PhD can get involved in this SDG hack where interdisciplinary teams will be created to tackle some real-world problems!
In 2022 Hackathon17 tackles SDGS 2 & 3 – Zero Hunger and Good Health and Wellbeing so you will be faced with problem statements around these issues. Your team can choose to tackle an intrapreneurial consultancy-style challenge or create an entrepreneurial start-up to tackle an issue. The choice is yours!
The hackathon schedule in MySurrey Spark:
Monday 13th June – Day One (on campus) 10 – 4pm: team building and ideation day
Tuesday 14th June – Days Two (on campus) 10 – 4pm: Business, marketing & pitching Masterclasses
Wednesday 15th June – Day Three (on campus) 10 – 4pm: Pitch practice and live pitch competition
In between the fixed sessions you will meet with your team mates and have the opportunity to have pitch practice with MBA students' feedback in your teams. MySurrey Spark will be filled with refreshments, resources, cushions and blankets, to you can make yourselves comfortable as you work hard on solving your problems.
Hackathon17 is organised by Student Enterprise and representatives from all Faculties and sponsored by Yakult Science for Health.
GradInvest 2021 | 26 May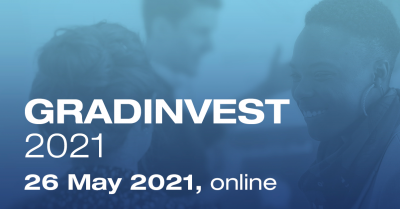 SETsquared's GradInvest 2021
Investing in business growth & graduate talent
26 May 2021, 9am online
Can you offer your expertise to help fledgling businesses? Are you looking for hot prospects to take part in your accelerator programme?
GradInvest 2021 offers you an exclusive opportunity to get early access to the hottest new start-ups being developed by graduates from five research-intensive universities (Bath, Bristol, Exeter, Southampton and Surrey) with proven track records for enterprise.
We're delighted to announce that Kidpreneur Klub, Instant Swim, Arkabs and LabCycle Ltd will be representing the University of Surrey.
13 ventures will showcase and pitch for your support to move to the next level. For some that will be seed investment, for others, it will be about finding the right grant funding, expertise, mentorship or accelerator programme to ignite their growth.
Find out more about GradInvest and register now: https://bcn.to/8zn
All the ventures are seeking investments in the range of £25k - £250k. See the full line-up at https://bcn.to/8z5
What it takes to become a successful entrepreneur
We don't currently have any upcoming events. Check back soon for further announcements.