Building An Entrepreneur - 11th March 2020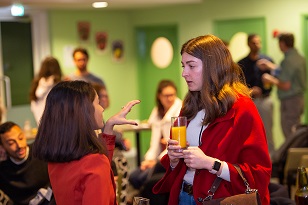 'Building an Entrepreneur' saw students and graduates presenting their ideas to an audience of fellow entrepreneurs, mentors, University staff and local residents. The event offered an inside look at how the Student Enterprise community cultivates start-ups for success, developing tomorrow's business leaders. 
Kat Mack, Student Enterprise manager, reflected: "It was a wonderful evening of inspiring business ideas from enterprises started right here on campus. Each presenter worked so hard to develop their pitch; the valuable feedback will help to guide the next stages of their development."
The evening was rounded off with drinks, nibbles and networking, giving presenters and potential mentors the chance to share contact details and explore opportunities.
Throughout the academic year, Student Enterprise run a range of workshops and 1-2-1 sessions on funding, mentoring support from business professionals, development advice and more -- all to support Surrey students and recent graduates.
Run as a cohort system, the initiative helps budding entrepreneurs at every stage of their enterprise skills development:
• Exploring their potential through practical enterprise workshops
• Experiencing the development of their idea through enterprise challenges 
• Executing their business idea in the dedicated campus incubator.
Caroline Fleming, Head of Incubation and Enterprise, oversees the work of the Student Enterprise office and commented: "It is really exciting to see our community of students and alumni create and grow businesses. By increasing the cohorts and supporting opportunities like 'Building an Entrepreneur' we show that skills, advice and support are accessible to anyone starting their enterprise journey. These skills, alongside their studies, can enhance longevity in careers of all descriptions." 
A massive thank you to our sponsor for the evening Santander Universities, who enabled us to cater and promote the evening. We'll be running the event again and will promote via our social media channels.
 For news and updates follow @surreystudententerprise on Instagram, Facebook and Twitter. For further information on Student Enterprise visit https://www.surrey.ac.uk/student-enterprise