PhD Accelerator
The mission of the PhD Accelerator programme is to cultivate a vibrant entrepreneurial ecosystem within our university, leveraging the incredible potential of our PhD students' research to drive commercialisation and start-up creation.
Join us on this exciting journey as we empower PhD students to shape the future, create ground-breaking start-ups, and make a difference in the world.
We're extremely excited to welcome PhD students into our entrepreneurial ecosystem and provide tailored support in research commercialisation! For a while now we've sensed the latent potential of our PhD community, and we're finally ready to bring them into the fold
Kat Mack, Student Enterprise Manager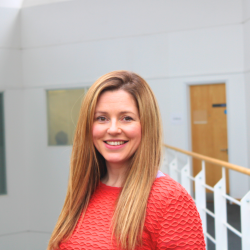 Comprehensive Support for Entrepreneurial Success
The PhD Accelerator programme offers comprehensive support to students embarking on their entrepreneurial journey, ensuring they have the resources, guidance, and networks necessary to succeed. Here's what participants can expect:
Mentorship from Industry Experts: Our students will have access to a curated network of experienced mentors who will provide invaluable guidance, industry insights, and support throughout their entrepreneurial endeavours.
Tailored Training and Workshops: We will offer a series of specialised training sessions and workshops that cover essential topics such as business planning, market research, funding strategies, intellectual property protection, and more. These sessions will equip students with the knowledge and skills needed to navigate the entrepreneurial landscape.
Access to Funding Opportunities: We understand that funding is critical for turning ideas into reality. Through the PhD Accelerator programme, students will have access to information and guidance on funding opportunities, including grants, Founderships, Inventorship Awards (in recognition for when you register your invention with a view to file a patent) and start-up funding, to help fuel their ventures.
Industry Connections and Networking: Building strong connections with industry professionals, potential investors, and fellow entrepreneurs is crucial for success. Our programme, in collaboration with the Surrey Centre for Innovation & Commercialisation will facilitate networking events, pitching sessions, and collaborations to help students forge valuable relationships and explore partnership opportunities. The University is also a member of the SETsquared Partnership providing further access to valuable networks and support programmes including Innovation to Commercialisation of University Research (ICURe).
Legal and Intellectual Property Support: We recognise the importance of protecting intellectual property. Our programme will provide guidance and assistance in navigating the patenting process and securing legal support for students' research and innovations. Here are some essential guides and reading:
How to Get Involved
PhD students interested to join the PhD Accelerator should register their interest here (requires Surrey account).
Their supervisors and university colleagues interested in learning more and contributing to the PhD Accelerator programme are encouraged to express their interest and learn more by contacting either Kat Mack (k.mack@surrey.ac.uk) or Geoffrey Knott (geoffrey.knott@surrey.ac.uk) - you can also see some FAQs below.
For Supervisors
We believe that this programme will not only benefit our PhD students but also contribute to the overall research and innovation ecosystem at the University of Surrey. We appreciate your continued support and collaboration in ensuring the success of this initiative.
FAQs
Not at all. The programme is designed to complement their research efforts by providing entrepreneurial training and resources. We understand that the completion of their thesis remains the top priority, and we will ensure that the programme activities align with their research timelines.
The programme aims to equip students with entrepreneurial skills, enabling them to commercialise their research and potentially create start-ups. By offering mentorship, training workshops, networking events, and legal support for patenting their research, we aim to enhance their professional development and provide opportunities for real-world impact.
Students will have access to expert mentors with industry experience who will guide them through the entrepreneurial journey. We will organise training workshops covering topics such as business planning, intellectual property, and funding opportunities. Additionally, networking events will connect students with industry professionals, potential collaborators, and investors.
The programme is designed to be flexible and minimise any additional burden on students. We understand the demands of their research work, and the programme activities will be scheduled to accommodate their existing commitments. We will work closely with students and supervisors to ensure a balanced workload.
Supervisors play a vital role in supporting students' participation in the programme. Your guidance and mentorship will be crucial in helping students identify commercialisation opportunities related to their research. Your expertise and industry connections can significantly contribute to their success, and we encourage you to collaborate with us in facilitating their entrepreneurial journey.
Participation in the programme is fully funded, and there are no financial obligations for supervisors or students. The resources provided through the programme, such as mentorship, training, and networking opportunities, are intended to enhance the students' entrepreneurial skills and prospects without any financial implications.
Absolutely! We highly encourage supervisors to engage in mentoring activities, share their industry experiences, or even participate as guest speakers in relevant workshops. Your involvement will enrich the students' learning experience and provide valuable insights into research commercialisation.