Student businesses on campus and beyond
Find out all about the businesses we've supported at Surrey. We support student companies to launch and thrive in our campus incubator and through the nurturing of an inclusive entrepreneurial community on campus. Students and graduate are guided and funded to create financially and socially sustainable businesses that contribute positive impact on the economy and society.
Below you can read about a range of ventures, from STEM outreach programmes to health tech innovations. Student Enterprise covers all sectors and supports those from all backgrounds and disciplines achieve their business goals as we strive to run an inclusive entrepreneurial environment on campus and for the future.
Stories
Are you thinking of starting a business? Student Enterprise can help you with developing your idea, skills support and funding. For an informal discussion email us at studententerprise@surrey.ac.uk. 
Pioneering Accessible Blockchain Innovation in Africa through music
"In the hallowed halls of the University of Surrey, where academic pursuits were the norm, I found my passion ignited by the realm of asymmetric cryptography and its profound impact on trust systems like blockchain. The concept of decentralization and trustless systems fascinated me, and I knew that I wanted to be part of this transformative sector", says tech founder Nnana Mbila.
NFTs - A Gateway to Innovation 
A pivotal moment came when he connected with his esteemed professor and project supervisor from the University of Surrey, who introduced him to the concept of NFTs. Although a relatively nascent innovation at the time, it held an allure that he says couldn't be ignore.
From Dissertation to Dream 
Late in 2020, Nnana embarked on a journey of deep study, culminating in a decision to delve into blockchain smart contracts and NFTs for his dissertation. As his knowledge grew, so did his passion, propelling him to seek out value gaps within the industry that he could address.
The Gas Fee Conundrum 
A glaring issue emerged - exorbitant gas fees were inhibiting the adoption and innovation of blockchain technology, particularly in Africa. With costs soaring as high as $90 to mint an NFT on the Ethereum blockchain, Nnana knew a solution was imperative.
The Birth of Afronifty With a vision to empower African blockchain enthusiasts and creatives, Nnana rallied a team of engineers to explore scaling solutions. Together, they embarked on the ambitious journey of building Afronifty, a platform that would democratize access to blockchain and smart contracts.
Music as a Catalyst 
A breakthrough came when they identified a unique value proposition in the music industry. Cover art NFTs emerged as a niche market with immense potential, and they set out to harness this opportunity.
An Angel Investor's Backing 
Fortune favoured Naz when he secured the support of an angel investor. Empowered by this backing, Afronifty expanded its outreach to musicians, witnessing an astounding growth from a mere 7 NFTs to over 2,500 cover art NFTs in just 18 months.
Support and Recognition 
The journey was not without its challenges, but Student Enterprise provided a steadfast foundation of support. Winning the Propeller Fund of £800 was a turning point, enabling us to test and refine our strategies. The Foundership Award funded by Santander Universities, with its £3000 cash prize, further bolstered our momentum.
Incubation and Global Recognition
Inclusion in the Setsquared incubation program proved transformative. Here, Naz and his co-founder honed their skills, pitching their idea to global investors. The accolades continued, with a recent triumph in the Start-up Hackathon Award from JKL Capital and Barclays, in partnership with the Surrey Academy for Blockchain.
As he reflected on this remarkable journey Nnana says, "I am filled with gratitude for the support and opportunities that have propelled Afronifty forward. Yet, we are acutely aware that this is just the beginning. Our vision for Afronifty is boundless, and we are eager to continue pioneering accessible blockchain innovation in Africa and beyond".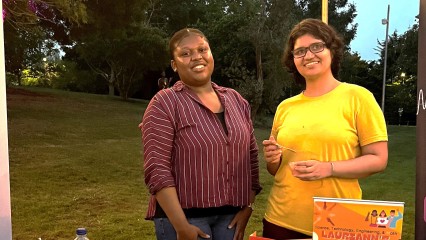 University of Surrey student, Lauriann Williams, launched her business Lauriann's STEM Club, with support from Student Enterprise at Surrey in 2021. Her business encourages females and ethnic minorities to pursue STEM (Science, Technology, Engineering & Math) careers and encourages diversity in STEM. Lauriann's organisation is a social enterprise which promotes STEM through delivering outreach workshops, activities, and events, inside and outside of school and she works predominantly with secondary schools within the London borough of Bexley and outer areas. Her organisation is run soley on volunteers and she has an internal team of around 5 employees currently. Lauriann is a huge advocate for STEM since she works full-time in the STEM field alongside studying her masters at Surrey. 
The launch of Lauriann's STEM Club was inspired by Lauriann who has an educational and professional background in STEM. Lauriann works as a Civil Engineer and her experience in the industry has sparked a passion to advocate for STEM careers, raise awareness about STEM, and encourage more STEM role models. Amongst her experience being a female and of ethnic background herself, she wanted to provide outreach in her local community to promote inclusivity in STEM careers to underrepresented communities. Lauriann has never let her gender or background become a barrier from pursuing STEM, which is why she wants to encourage young females to pursue STEM as well, so we can start to see more diverse role models for children. ''When growing up I always had the core skills that you would want from someone in STEM, in terms of my inquisitive mind and being a creative, and a problem solver. But I didn't see many role models in STEM that looked liked me. Despite this, I was very lucky that I had a family background related to construction. The fact that my Dad ran his own construction business made me feel that I can always pursue a career in construction. I do however remember in secondary school, an external organisation coming in to promote Engineering career options, and that opened my mind to various roles, related to engineering and construction that I could see myself doing''. 
Lauriann has always strived to give back to the younger generation in her free time by taking part in extracurricular activities and seeking volunteering opportunities. She explains what ignited her to give back. ''When I completed my undergraduate degree in Civil Engineering and found my first professional job, which was a graduate role as a graduate civil engineer, I then knew I wanted to share my knowledge that I learnt in the field with others, and also the skills I've developed throughout my degree, to help prepare others coming up the ladder. Lauriann has found supporting others an enjoyable experience and she has continued to seek other similar opportunities, where she later tutored science to kids from social mobility backgrounds, and became a volunteer for a charity called AFBE (Association for Black and Ethnic Minority Engineers), supported their subgroup 'Making Engineering Hot' where she did admin duties, planned, hosted and delivered outreach workshops to children to promote engineering careers, to Black and ethnic minorities. ''Volunteering for AFBE really inspired me to start my own social enterprise locally''. 
''When I started making steps for my idea for a business to become a reality, I was very grateful to receive a £500 Mini Propeller fund award by Surrey Student Enterprise. This grant allowed me to launch my business during the Summer of 2021, by delivering our first workshop to promote the Brand locally and engage with the community''. To date Lauriann's STEM Club has been trading for over 2 years and they have delivered a range of outreach workshops, activities, and events within schools in the community, which has had engagement with community leaders, kids, parents, and Teachers. ''We are continuously developing and improving our workshops each year. Our workshops vary from Engineering, Maths, Science, Technology and careers & Employability sessions''.
So far, Lauriann's organisation has delivered successful Engineering workshops and Coding workshops which are a huge hit in schools and have recently expanded their workshops to offer maths and science. ''All our workshops maintain learning elements to impart knowledge, and are tailored to any year group within secondary school. Our workshops include hands on activities to develop skills that can be linked to the real world in a STEM job, and we always maintain links to career opportunities, and career pathways through career talks from professionals. We mainly deliver outreach through our school outreach program and also provide these services outside of school through during half-term. Now is an exciting time as we are developing a mentoring program, and looking at ways we can deliver long term workshops, such as coding courses.
Laurian says ''Being a Registered CIC Community Interest Company means a lot'' and she values her business' social aims to narrow the gender gap in the STEM field, and encourage more kids to pursue more STEM subjects in schools, so they can have successful careers in STEM. Lauriann goes on to say "STEM is a male dominated industry and there are less females in managerial positions. There's also a commonality with less ethnic minorities pursuing stem subjects in schools, as well as in higher education degree courses at university. This is then reflected in the visible lack of diversity within the STEM Workforce. Lauriann's STEM Club aims to break the stigma around STEM being a men's job which is commonly associated with construction. These stigmas deter females from wanting to pick STEM subjects for GCSE's in school. Our aim is to also remove barriers that underrepresented communities face that prevent them from pursuing STEM subjects''. 
In summary ''Being a Civil Engineer is so fulfilling, it's great to know that the work that you do is contributing towards society and helping people. At the moment I wear many hats; I work fulltime, studying my masters part-time, and run a business. But I don't really mind because I love what I do. I think that it's also equally fulfilling to run your own business, and similarly know that you are helping in shape younger children's futures. I feel that the knowledge I have gained through my experiences can really benefit the younger generation, as I would have wished for organisations such as Lauriann's STEM Club to be around when I was growing up."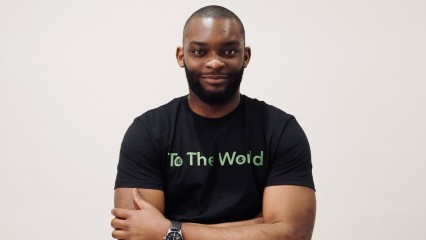 Nduka Nduka-Eze, an undergraduate engineering student at the University of Surrey, is on a mission to bridge the gap for Black entrepreneurs in higher education. His journey, which began during his industry placement year, has led to the creation of To The World Hub (TTW), an organization dedicated to funding and democratizing access to key figures and resources for Black entrepreneurs in higher education and early career.
From Startup Enthusiast to Changemaker 
Nduka's entrepreneurial journey started with a tech startup before TTW. As a Black student entrepreneur, he noticed a recurring pattern among his peers – a lack of access to the essential knowledge and support needed to thrive in the competitive entrepreneurial landscape. Many Black students, he observed, were highly entrepreneurial and driven by necessity but lacked the knowledge and connections necessary to scale their ventures
Balancing Risk and Impact 
Launching TTW was no small feat, especially while Nduka was balancing his time during his engineering placement at Johnson Controls. The endeavour required a significant investment of time and effort, but Nduka believed in the potential impact it could bring. "Sometimes the impact, if you get it right, is just too high that it would be an injustice not trying" he reflected, highlighting the sense of responsibility that compelled him to take the risk
The African & Caribbean Entrepreneurship (ACE) Award Summit TTW's inaugural Afro-Caribbean Entrepreneurship (ACE) Awards Summit, held on August 30th, was a resounding success in partnership with industry and the leading UK universities, including Surrey, SOAS, and York with over 150 attendees present. The best Black entrepreneurial talent in higher education in the UK across 6 industries; Technology, Sustainability, Social Impact, Creatives, Health, and Services competed for a fund of £4000 and gained recognition from key business figures present on the day which.
A Vision for the Future 
In addition to the regional Summit, TTWH plans to expand its impact by co-developing post-summit founder development programs with external partners for 2024. Ensuring mentor and resource access for their finalists and network. By 2025 they aim to take their mission to the global stage, with strategic focuses in the UK, Africa, Europe, and the USA. Nduka Nduka-Eze's journey from an engineering student to a changemaker exemplifies the power of determination, innovation, and a commitment to empowering the next generation of Black entrepreneurs. TTWH's vision for a more equitable and supportive entrepreneurial ecosystem holds the promise of creating lasting change for aspiring entrepreneurs nationwide and beyond.
Final year Nutrition BSc student, Sofia Wade, shares the story of how she turned her own experience with diet and exercise into a values-based health business that aims to improve other young people's relationships with food and fitness. She started her business Freedom Fit with the support of Student Enterprise.
In my second year I had the opportunity to embark on the PTY Enterprise Pathway and had the opportunity to spend the year creating my own business with support from Surrey Student Enterprise. I also had funding provided along the way to help me on my entrepreneurial journey.
In my mid to late teens, I started to gain a greater interest in nutrition. I strived to eat healthier, eating a predominantly whole foods diet. However, this new love I found for healthy food soon turned into an unhealthy obsession. Everything I ate had to be "clean" and along with the constant dieting came a tendency to overexercise. I soon ended up in a very vicious cycle of under-fuelling myself whilst barely providing my body with any rest.
Fast forward a few years, I have managed to undo many of these habits that initially started with healthy intentions but soon turned unhealthy. Through better educating myself in both nutrition and exercise, I have learnt more about how my body functions, how to fuel it right and focus on becoming stronger instead of my constant battle wanting to be smaller.
Through my own experience, and also through seeing others both close to me and online, go through a similar journey, I created FreedomFit. The nutrition and fitness company, without the restriction, without the obsession. There is so much conflicting nutrition and exercise advice out there online, a lot of which comes from unqualified people who don't have a full understanding of the topic area. The rise of health and fitness "influencers" has also exacerbated the problem as new, false advice can travel quickly, and it is easy for many to believe it (I used to be one of them). This can lead to a cycle of ongoing dieting habits and restricting certain foods or food groups.
This is why with FreedomFit I wanted to bring together highly qualified registered nutritionists and personal trainers. I wanted young adults to have a place to go to for advice and help when it comes to eating a healthy, balanced diet and exercising, knowing that the information provided was accurate and always backed by the latest science. This way both professions could work alongside each other to give the client the best possible experience.
After starting FreedomFit from scratch in July 2021, the company took on its first client in the first few months of 2022 and has now partnered with four different registered nutritionists so that the best fit for the client can always be found. My aim is to help better educate young adults when it comes to nutrition and exercise science, help them feel free around food and fitness and also work on building their confidence. To do this, FreedomFit provides online coaching (delivered via an app), online nutrition consultations and, once I have finished my degree, there will be the launch of online educational workshops.
In terms of setting up and launching a company, I was very fortunate to be in the position where I could use my placement year to solely focus on the business. This meant that all my time and energy could go into making it best suited to the clients' needs. The process has definitely helped me build my confidence and communication skills through hosting multiple meetings with the registered nutritionists and working with clients. Even though I started out with limited business knowledge, through being supported through Student Enterprise and the Enterprise Pathway educational huddles and through having a mentor, I have also started thinking more like an entrepreneur. It's been an incredible experience getting to start a business in a supported environment, leaving me in a good position with the business by the end of the year. This has meant that I have been able to continue working with clients alongside completing my final year.
You can follow FreedomFit on Instagram @freedomfit.uk or book a consultation via info@freedomfit.uk.
University of Surrey undergraduate student Anushka Das has taken her love of coding and computer science and created Codas Digital, a business that teaches coding to the next generation of computer scientists and developers.
Anushka shared how her journey to develop the business has progressed, 'when choosing my GCSEs my parents encouraged me to select coding as one of my options. The course was very male dominated but I enjoyed it and I learnt lots.' After completing her GCSEs course work and exam Anushka wanted to put the skills she has learnt into practice so set up a coding club at her local library, working as a volunteer 'running the club gave me a chance to hone my skills, teach others how to code plus develop my people skills. It gave me a chance to learn about different learning styles and the best way to communicate with groups when teaching coding and new skills'.
On completing the sessions, Anushka wanted to take the coding club to the next level by turning it into a business 'I came up with a business plan that outlined how coding will be a job of the future so getting young people and the wider community into coding at an early stage would benefit the community and businesses alike. I started up with my own funds which made me focus on how the money should be spent. At a later stage, I applied to Slough council who liked what Codas was achieving for the local economy and awarded a further £2,000 to help me to develop the existing sessions on offer.'   
In addition to help from Slough Council, Codas has receive support from Student Enterprise, part of University of Surrey. 'I applied for and won a Wates Enterprise award of £630 which was brilliant in helping to promote the business. In addition the team have supported my business with helping me to develop my pitching skills, encouraging my ideas, giving feedback and helping me to find opportunities that I probably would not have found'.
Anushka has continued to develop her business whilst completing her studies as a student and business owner 'we started off with 6 people working on Codas and now we have 13 and currently we are building a curriculum so that there is a recognized coding qualification gained. At the session, attendees bring their own laptops so after the sessions they can continue to practice their skills and build confidence in coding'.
Anushka continues to develop Codas Digital whilst studying with ambitions to continue the business 'I'd like to keep things running whilst completing my degree whilst at university. I want to scale things up further by working with schools and working with Arts Award and City & Guilds to develop a qualifications in coding delivered by us'. Whilst juggling multiple priorities Anushka shared her top tips for running a business 'be organised at all times in order to manage your time and work load. It's important that I'm professional and demonstrate confidence in my topic so children and adults have confidence in the service we offer. I feel a sense of responsibility in helping people so I get a real buzz from watching people develop and learn coding skills'.
Setting up a business can be challenging so what advice would Anushka offer to anyone thinking of doing the same? 'The best part of setting up and running a business has been seeing the kids develop and the parental recognition for the skills they are learning. Its hard work but I love the independence of running my own business. My advice for anyone thinking of starting up is to believe in yourself – even in the tough times. Reach out for help as you will find lots of people willing to help you regardless of your age, gender or idea – just go for it'.  
HOP was formed by three University of Surrey students to help individuals to take control of their long-term health and wellbeing through the foods they eat. HOP uses the alternative protein source of crickets to create a nutrient rich bar which delivers benefits to people and the planet. The team completed courses in MSc International Business Management (Matt), BSc Accounting and Financial Management (Ash) and PhD Mechanical Engineering Geoff, which has given the company a rounded approach in setting up and running the business. Geoff took some time to outline the business journey of HOP.
The team came together 2 years ago with a shared interest in nutrition, exercise (gym and racket sports) and how a protein rich diet can improve health and all round performance 'we started to talk about alternative foods as protein sources to maximise health benefits but also the impact that traditional sources of protein like meat can have on the environment'. The team settled on exploring the growing interest in insect protein which can provide higher levels of protein. In addition with good education and understanding this new option can encourage consumers to eat a wider diet whilst exploring new options and supporting the long term future for the environment and sustainable foods.
HOP was set up in 2018 'we were able to develop the idea and received mentor support from Howard and Nigel in the Student Enterprise team. We also applied for and won some funding in the form of a BESSS award (Business Enterprise Student Support Scheme) along with a SetSquared Researcher to Innovator opportunity to hone our skills in developing the businesses'. The team have kept at the forefront of their minds that Hop is a people focussed company with the planet in mind. Each Hop Bar made saves 22 litres of water which the team have made a key part of their message – donating some of their profits to Water Aid for each bar sold.
During the research phase, the first bars were made in November 2017 and tested by some rock climbers who rely on good protein sources to increase their climbing ability. During this time, the team also created a brand, website and literature to promote HOP. The business has continued to develop whilst Geoff and the team have finished their studies and begun new jobs 'we are working with a farm in Devon to source crickets. Currently, we source crickets from Asia and the bars are made in Europe but we really want to source and make the product in the UK'. In the long term, growing the business is the key aim for the team 'we want this to be a long term business so making HOP bigger and sustainable to employ staff and to have premises would be the goal. We'd also like to develop a wider range of food products and educate consumers on alternative sources of protein from insects'.
As a team developing a business Matt, Ash and Geoff have been able to support each other but what have they learnt about being entrepreneurs whilst developing HOP ' be prepared and plan for the unexpected, various contacts can help you to find solutions even if it does not seem obvious at first. Being able to pitch well and deal with questions, especially around a protein source that is very new to the UK has helped us to refine our message. Collaboration has also been key for us to run the business and to link up with others'.
Running a business can be a challenges so Geoff shares his top tips on making it happen ' you will end up working long hours but make sure you balance that with taking breaks to avoid burning out. Make good use of any resources available as it could make a real difference to finding solutions to any issues you encounter. The feeling of building something from scratch is a great, especially when it could make a major difference to people and the planet'.
Student Enterprise story: Hamalie.com
Theresa Olloh founded Hamalie in 2018 as celebration of African fashion & lifestyle, exploring, discovering and showcasing its vast diversity and uniqueness across the different countries. The brand partners with contemporary African brands to supply their products; fashion and skincare items directly from Africa. The brand supplies accessories, clothing and homeware items directly from Africa. Now a University of Surrey Alumni, Theresa shared her experience of setting up Hamalie.
Theresa developed the idea for an online African goods store whilst studying 'the rise of interest in African items on social media and my interest in African art and culture made me think that it was something I could do as a business idea. I decided to create an online shop to host a range of brands to increase the coverage of Nigerian brands as they get very little showcasing in the UK'. Theresa connected with Student Enterprise to get support for the business idea and to also apply for the Tier 1 Graduate Entrepreneur visa scheme 'after attending the Student Enterprise summer school I decided I wanted to start the business and getting support from the team would help me to move things forward. The team have helped me to develop the idea, understand what it takes to run the business and to look for ways to grow the idea'. Theresa successfully gained her Tier 1 visa in 2017 and is currently working towards developing and growing her business in the UK.
After plenty of research and planning including developing a website and social media outlets Hamalie launched in January 2019. 'One of the biggest challenges was pitching the idea to African businesses to be happy to list their products on the Hamalie website. For the initial launch I was able to get 3 companies to engage with the Hamalie'. Launching in this way has helped Theresa to start the business in a manageable way with the view to scaling the business up as the range grows 'now we have an online presence I've been able to get more suppliers engaged with the brand plus I'm looking to partner with more brands across the continent to provide more variety and affordable entry level products to help customers engage more with the site'.
Theresa shared some of her challenges with running an online shop 'finding a range of African brands to engage with platform took a while but now they can see how they are gaining UK visibility this has improved. We currently hold small ranges of stock but I hope to increase this to reduce waiting times to increase repeat sales. I've learnt so much from launching the business including pricing, VAT and negotiation skills when it comes to costs. To scale the business I'll be looking to gain support in the form of investors and to recruit staff'.
So what are the highs and lows of running a business 'time management has been a big thing for me as I am working whilst developing the platform. Being organised and ensuring we have a good communications strategy to ensure consistency across the brand. Pitching my idea and engaging with people about my brand has been really enjoyable. I'd say to anyone thinking of starting up to go for it – no two days will be the same and you will work hard. Be open to opportunities as you never know where they will come from. Be realistic too – it could take some time to get going but once you do the opportunities that come up are amazing'.     
The Wigglyline company was set up to develop ways to create social care solutions using technology to build a people-focussed approach to health and wellbeing. The team is run by 3 University for Surrey graduates and CEO Ty Hassan (graduated in April 2019) shared his experience of setting up the company and how The Wiggling Line Company has developed.
'Our company was born out of a need to simplify monitoring of healthcare needs, based on the experience of my family. My original idea was focussed on monitoring taking medication, however as I carried out more research, I saw that the competition was million years ahead. But, after attending an annual hackathon competition aiming to solve problems in the care sector and being chosen as finalists, we identified a gap that can be filled by offering a system that could track night-time activity including sleep patterns, we could deliver a wider range of benefits.' With an idea settled on, along with a clear plan of the health and social care benefits, the team set about creating a brand and business. Initially Ty and James won a research award of £500 by being finalists of the Care Innovation Challenge, they followed it up by performing in depth market research, identifying potential customers and began development. This opportunity was promoted by Student Enterprise to encourage students to widen their entrepreneurial experience. 'the team at Student Enterprise have been with us every step of the way from pointing out funding opportunities to helping us to develop a good pitch and mentoring support'. Further funding has been recently awarded via the Wates Enterprise fund, a family run Surrey based fund that aims to support student and graduate business ideas that can make a difference in the community. The Wiggly Line company has been awarded £8,000 in funding for further development 'we are thrilled to have received the funding as it will allow us to set up another pilot scheme alongside the one we already have, plus we'll be able to develop things a bit further and develop further plans'. 'We run the business from home and the Enterprise Cube on the University of Surrey campus so this funding will be directed towards development to continue the progress we have already made'.
As graduates, the team want to continue to build the business 'we currently have a pilot scheme up and running with a care home to monitor the activity of residents at night. This includes monitoring the daytime health plus if patients and residents get up in the night. Many health emergencies happen at night so if we can find a way to lessen the health scares plus provide monitoring to aid staff support and residents' comfort, this will deliver a wealth of benefits in healthcare'. The founders always ensured that data is carefully stored and resident consent is always gained ahead of anyone taking part in the pilot. The team are also working with the sleep research centre to support their findings and data 'I already had a contact – a lecturer from my course who has been an excellent support for us and is Director of Sleep Research worldwide.'  https://www.surrey.ac.uk/surrey-sleep-research-centre
Ty shared what he felt were the best things about running a business 'it's been an amazing journey to develop something that is based on improving people's lives and their day-to-day experiences. We don't want to replace carers and health care professionals, we want to enhance and support what they do.
Ty also shared some of the challenges they have face 'one of the biggest has been to be able to work on the business full time. It makes a world of difference to be able to do so but financially that can be tricky. As a team we work well together so we've been able to get to develop the business whilst juggling multiple priorities' And to anyone thinking of starting up a business 'making it happen is the best feeling. It's important that you keep going and not let setbacks put you off. Also make sure you take time out to avoid burn out – otherwise you could miss things if you are working all the hours and not taking time out'.
University of Surrey student Jessica Rawlinson begun studying for a degree in midwifery in 2017 after a career change. Whilst working for Boots the Chemist with a range of staff, Jessica took a particular interest in the work carried out by the pharmacist including the health of mothers and new babies. On becoming a mother herself, Jessica decided that re-training as a midwife would be her new career path. Studying at the University has given her a new focus for the future Jessica says 'when I arrived at the hospital to have my baby, I was supported by an amazing midwife so this confirmed my decision to re-train for a more rewarding career'.
Training to be a midwife includes lots of intense training and placements to develop learning along lectures. Jessica's business idea developed from the need to understand all of the teaching 'I'm a visual learner, so lots of words on the page of a book or a presentation is tricky for me to absorb fully. So after lectures, I'd write up my notes and draw pictures along the way to help me to clarify my understanding'. In addition, Jessica's placements would help her to create helpful diagrams to aid her revision which helps her to fully absorb the detail in order to support mothers to be. Once she had a full set of notes and diagrams Jessica started to think of who else could use them 'I started to wonder if I had struggled with all the notes, if anyone else had encountered the same. I shared my notes and diagrams with my friends and they were so grateful and encouraged me to share them more widely'.
As a user of social media, Jessica carefully shared her images with other student midwives and set up a website 'it was April 2018 and I thought it would remain as a small interested community who wanted help to study. But the business (started as a support system idea) has grown so much that formalising it as business seemed like the natural next step'. The student midwife study gram offers study guides and revision flash cards on a range of topics around midwifery. The company also offer study notes on specific topics plus wall art for labour wards. The business has taken off quickly so Jessica reached out to Student Enterprise at the University of Surrey for support and advice ' it's been a bit of a whirlwind and I felt like I needed some guidance on running a business and Student Enterprise have really helped'. Jessica has had one to one advice sessions gaining advice on building on the business whilst studying. In addition Student Enterprise is helping Jessica to explore ways of scaling the business up and she is hoping to apply for funding with Student Enterprise in future.
The company now receives orders from the UK and further afield including France, Japan and Spain 'the response to student midwife study gram has been incredible and a bit unbelievable really! It has all happened based on my struggle to manage my study notes so it's a good feeling that in solving an issue for myself I've been able to help others'.
Running a business can be challenging especially if you are studying at the same time so how does Jessica do it? 'Time is a major issue for me as there never seems to be enough hours in the day! But I aim to carve out slots of time so I can manage my business and studies plus look after myself and family. I've got a good support network which has been invaluable during this time and I'd recommend the same to anyone else starting a business'  And what advice would Jessica pass on to anyone thinking of starting a business 'it's great to do something you have a passion for and a career you love. It will keep you going during the tough times. Always remind yourself of what your original inspiration was for starting as it will keep you on track'.