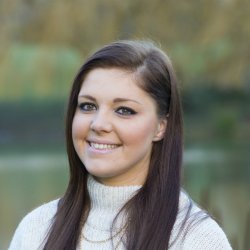 Alice Kelly
"My placement was an amazing opportunity in which I was able to develop as a person and enhance my employability"
Course
International Hospitality Management
Placement company
Planet Hollywood, Orlando, FL
"The fact that Surrey was number one for hospitality, event management and tourism courses was a big factor for me when deciding which university I wanted to go to. Also the fact that the course offered a placement year really appealed to me because it was a good opportunity to get some real world experience.
I completed my placement at the corporate offices of Planet Hollywood located in Orlando, Florida. I decided I wanted to look for a placement abroad as it was such a good opportunity to experience living in another country and a different culture – an opportunity I wasn't sure when I would get again.
I came across the Planet Hollywood opportunity on the placement list provided by the University. I was based in the corporate office where I rotated through multiple departments completing a variety of projects involving food and beverage, finance and HR. The office was a very fun place to work because there were always competitions and themed days between departments, adding a fun vibe to the daily workload. We also took part in volunteering by helping disabled children play baseball, which was a lot of fun!
"My greatest achievement of the year was definitely completing my placement and the success following on from it."
I also completed Manager in Training programmes in three of the concepts owned by Planet Hollywood, which involved working in Downtown Disney. These programmes were by far my favourite part of the placement because I learnt so much about operational roles and processes, and had a lot of fun at the same time.
Another highlight of my placement was going to Las Vegas for a seven day business trip. We went to recruit employees for a new restaurant opening and I got the chance to see a very different part of America.
I would definitely recommend a Professional Training Year to others as it is a very rewarding experience. It makes you a lot more employable from the experiences you get over the course of the year and you grow as a person, for me my confidence grew tenfold throughout the year. It also gives you the opportunity to increase your professional network from the people you meet and work with throughout the year."
Discover more about our hospitality, events, tourism and transport programmes, including our BSc International Hospitality Management.