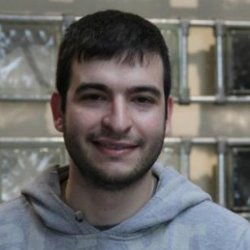 Andreas Antoniades
"One of the best things about studying at Surrey is the friendly environment within the Department of Computer Science. Staff treat research students as peers, and openly discuss research opportunities."
"I did my undergraduate degree at the University of Surrey and, in my final year, spoke with my supervisor about trying to publish a research paper on my dissertation. Dr Cheong Took, who is also my PhD supervisor, supported me in doing this and, to our surprise, the paper was accepted by a top tier conference. This led to me being offered a PhD studentship by the Department.
My PhD revolves around deep learning and how we can use it to diagnose and evaluate the treatment of epileptic patients.
While deep learning is most often associated with achieving high accuracy predictions, it can also offer meaningful insights from data. My aim has been to further understand these biologically-inspired models – also known as neural networks – and use them as a qualitative measure to assist clinicians both in their initial diagnosis, and for on-going treatment, of epileptic patients.
"During my PhD I've produced a number of articles, had the opportunity to present my work at top tier conferences around the world, and organised workshops to enable my peers to use these methods."
I've also had the opportunity to work with numerous researchers and scientists including a biomedical signal processing researcher from the University of Edinburgh, medical clinicians from King's College Hospital, and an expert epileptologist from Kingston Hospital NHS.
One of the best things about studying at Surrey is the friendly environment within the Department of Computer Science. Staff treat research students as peers, and openly discuss research opportunities.
I've also enjoyed the campus and the range of events on offer. Guildford is a pleasant place to live and the distance to London is minimal.
When I finish my postgraduate studies at Surrey I'd like to enter industry in a research and development role, applying all that I've learned. In the long-term, I'd like to see the methodologies I've developed introduced within the healthcare industry."
Discover our programmes in computer science, including PhD in Computer Science.