"The Health Sciences staff are very friendly and work hard to help you achieve your best."
"I chose to come to Surrey because I was impressed with the facilities and excited by the opportunity for an elective placement in the second year. The distance between the university and home was also appealing - far enough away that I would fully immerse myself in university life, but close enough to visit occasionally.
I lived on campus for my first year and it was great. There were 14 of us in one flat, which meant there was always someone to talk to. Being on campus also meant I was close to everything.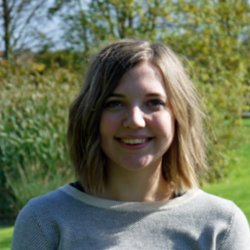 Annie Wallace
The Health Sciences staff are very friendly and work hard to help you achieve your best. I feel very well supported by all teachers, especially my personal tutor and my practice liaison tutor.
In healthcare you get to meet such a fantastic array of people, both staff and patients, which makes the caring side of nursing so fulfilling. 
During the course, I've undertaken a wide range of different placements in the community and in hospitals. I really love how hands-on placement can be; you're encouraged to practise your clinical skills by staff who are always supportive and aware of your learning needs.
While on placement at a children's hospice I worked closely with a young boy who, due to illness, found it difficult to move unaided. We were able to take him and his sister into the hydrotherapy pool where he could move freely. He absolutely loved it in the pool, as did his sister. It was a great feeling to have been able to help the family create happy memories during a difficult period of their life.
For my elective placement I went to a paediatric cardiology ward. I would definitely recommend an elective placement, as it is a great chance for you to explore another area of nursing, or to gain more experience in an area that you know you enjoy.      
I've changed a lot since coming to university. I was incredibly shy when I first moved to Surrey, and was anxious about a number of things from my course, placements, making friends and living alone for the first time. Now I have much more confidence.  I joined the Ultimate Frisbee club, despite having never even heard of the sport before. This was one of my best decisions as it's very social and you get to meet people on different courses in different years."
Discover more about our health sciences, nursing and midwifery programmes, including our BSc Nursing Studies (Registered Nurse Children's Nursing).
Webinars
Join a webinar and speak to our current students