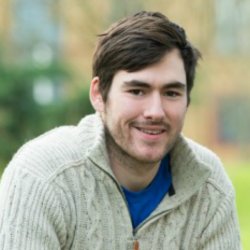 Ben Elphick
"Real-world experience through industrial placements has helped me gauge what really happens in the industry and it's given me an edge when completing coursework."
Course
Civil Engineering
Placement company
Skanska UK
"When looking at universities, Surrey stuck out ahead of the rest due to its strong ties with industry through its scholarship scheme. I did attend an Open Day and it really helped to influence my decision to come to Surrey as it gave me a feel for the university and it was really helpful to speak to current students to ask about their experiences. The continual professional development throughout the degree course also made Surrey more attractive than other universities, and the high level of professional training has helped me to secure a job straight out of university. 
Overall I have had 17 months of professional training during my degree, a years Professional Training placement and two summer placements - all with Skanska UK. I have worked in a variety of places and on different types of projects. My first summer I worked on the Borough Viaduct project in the heart of central London. My year was spent working on the M25 Section 5 Managed motorways project in North London. During my final placement I was in Peterborough working for the Anglian Water Alliance looking at the upgrade of various waste water treatment works.
Working on site did mean long hours but I really enjoyed my time being out on site and getting stuck in. I was responsible for day-to-day site activities include short-term planning, health and safety, cost management, quality management and daily problem solving. One of the highlights of my placements was on my year placement when I was involved in night time closures of the motorway to install overhead gantries. It was amazing to be involved in a process that was so time sensitive yet so well-organised.
"If you want to understand the industry you are entering into there is no better way than to get out there and experience it."
During all of my placements I have managed to prove myself and have been treated as a Graduate Site Engineer. This greatly proved my confidence as my placement company showed faith in me and saw me as more than just a placement student.
The University being right next to Guildford town centre has made my time at Surrey really enjoyable.
Living in such close proximity to so many things keeps my life active and interesting. Surrey Sports Park is easily accessible and an abundance of student housing means living close to coursemates and friends is really easy.
I'm part of the Canoe club and have been involved throughout my time at Surrey. It has allowed me to make new circles of friends outside of my course and we regularly go away for trips. As a club we are spoilt by the facilities we have at Surrey Sports Park, making the club very enjoyable and accessible."
Discover more about our civil and environmental engineering programmes, including our MEng Civil Engineering.